Winners announced - Archibald, Wynne and Sulman Prizes 2021
4 June 2021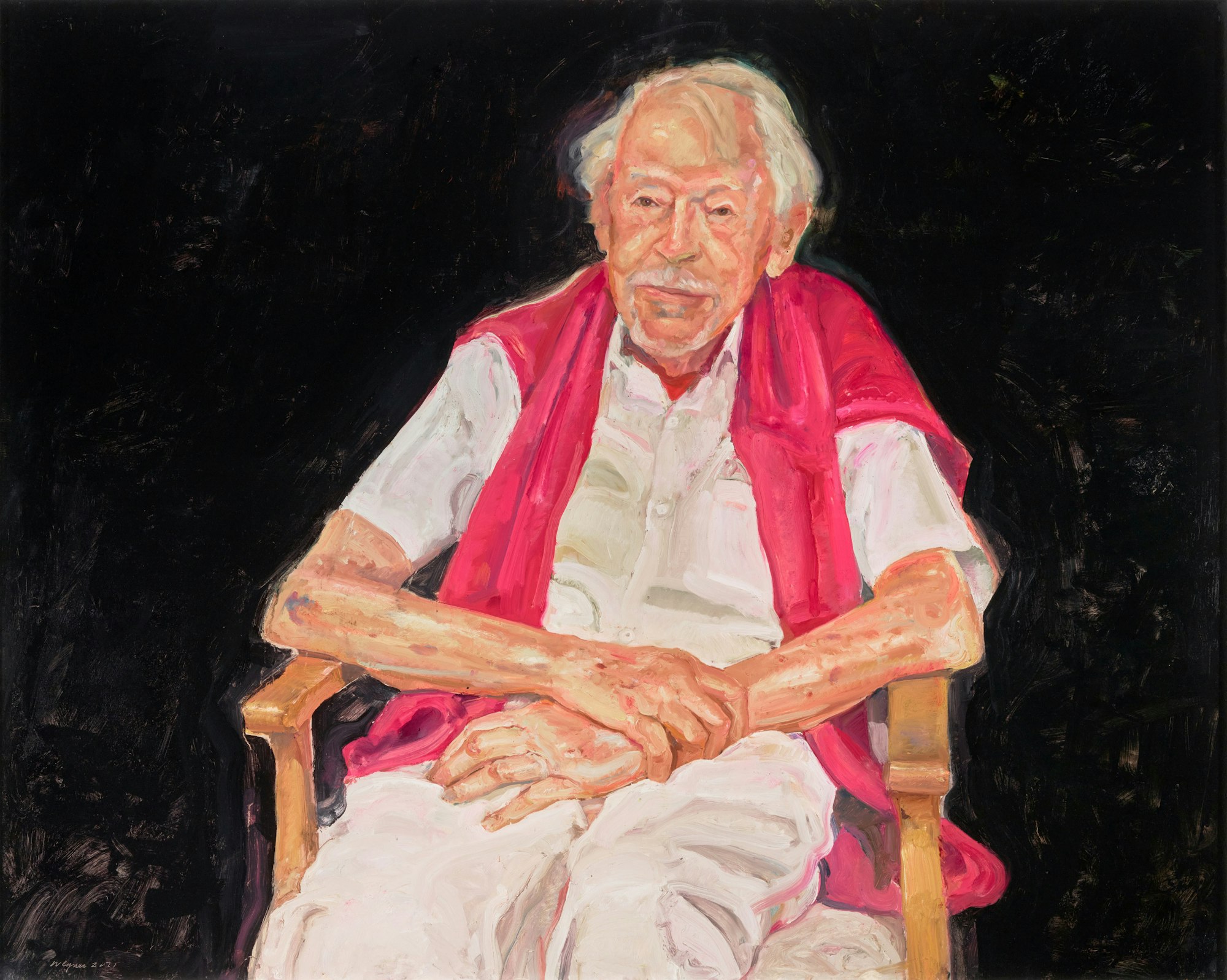 Peter Wegner wins Archibald Prize 2021 for portrait of artist, centenarian and Archibald alumnus Guy Warren
Melbourne-based artist Peter Wegner has won the 2021 Archibald Prize and $100,000 for his portrait of artist Guy Warren AM, titled Portrait of Guy Warren at 100.
A six-time Archibald Prize finalist, Wegner painted 100 year old Warren, coinciding with the 100 year anniversary of Australia's oldest and most-loved portrait award.
Speaking from Melbourne, Wegner was emotional when Art Gallery of NSW director Michael Brand delivered the news that his 'brilliant portrait' of Guy Warren was the winner of the 2021 Archibald Prize.
'When Michael called, my wife burst into tears, and I was speechless. This is an unbelievable moment in my life. It's the culmination of years of my time in the studio and validation of my work.
'When I think about the canon of all the previous winners and I get to be one of those names, especially in the 100th year, it is just an extraordinary feeling. I am humbled.
'Guy Warren turned 100 in April – he was born the same year the Archibald Prize was first awarded in 1921. This is not why I painted Guy, but the coincidence is nicely timed,' Wegner said.
'I have been working on a series of drawings of people who have turned 100, beginning with my Aunty Rita seven years ago. I've gone on to draw more than 90 centenarians. I chose to paint Guy Warren because he is one of the most incredible centenarians l have ever met. This portrait honours Guy in the 101st year of his productive and meaningful life,' Wegner added.
Wegner was an Archibald Prize finalist in 2020, 2016, 2011, 2004 and 2000, and was also a finalist in the Archibald's 'Sporting Portrait Prize' in 2000. He is a four-time finalist in the Dobell Prize for Drawing and was awarded the Doug Moran Prize in 2006. His works are held in the collections of the Art Gallery of NSW, National Library of Australia, National Portrait Gallery, State Library of Victoria, and several regional galleries.
Warren won the 1985 Archibald Prize with a portrait of artist Bert Flugelman, which is included in the Archie 100: A Century of the Archibald Prize exhibition at the Art Gallery. This is the seventh time he has been an Archibald subject, including a self-portrait in 1996. Warren started his working life at The Bulletin magazine, which was founded by JF Archibald, whose bequest established the Archibald Prize in 1921.
Brand said Wegner's painting was selected as one of 52 finalists and then as the winner from 938 entries for the Archibald Prize 2021.
'Peter Wegner's tender portrait of Guy Warren provides a moving insight into the artist's state of mind as he navigates his 101st year with characteristic grace and good humour. The fact that Warren was himself an Archibald Prize winner in 1985 adds a wonderful layer of history to the poignancy of the portrait. Who wouldn't want to look this content at the age of 100?' said Brand.
The Archibald Prize winner is decided by the Art Gallery's Board of Trustees. Board president David Gonski said, 'I wholeheartedly congratulate all finalists in the 2021 Archibald, Wynne and Sulman Prizes. The Wynne and Archibald Prizes, which are selected by me and my fellow trustees were especially difficult to judge this year, with a number of worthy contenders. But the decision was unanimous, and I applaud the winners.'
The Archibald, Wynne and Sulman Prizes, the Young Archie competition and the Archibald Prize regional tour are all generously supported by presenting partner, ANZ.
Mark Whelan, Group Executive, Institutional at ANZ was delighted to hear that Wegner had been selected as the winner of the Archibald Prize 2021.
'To be awarded the Archibald Prize is a significant achievement and we congratulate Peter. The Archibald Prize is one of Australia's most distinguished awards, which showcases the depth of Australia's artistic talent and makes it accessible to all of us. We are proud to have supported this iconic exhibition for twelve years,' said Whelan.
Highly commended – Archibald Prize

This year two highly commended honours were awarded to Sydney artist Jude Rae for her self-portrait Inside out and Brisbane artist Pat Hoffie for her portrait of her daughter titled Visaya in a c-collar.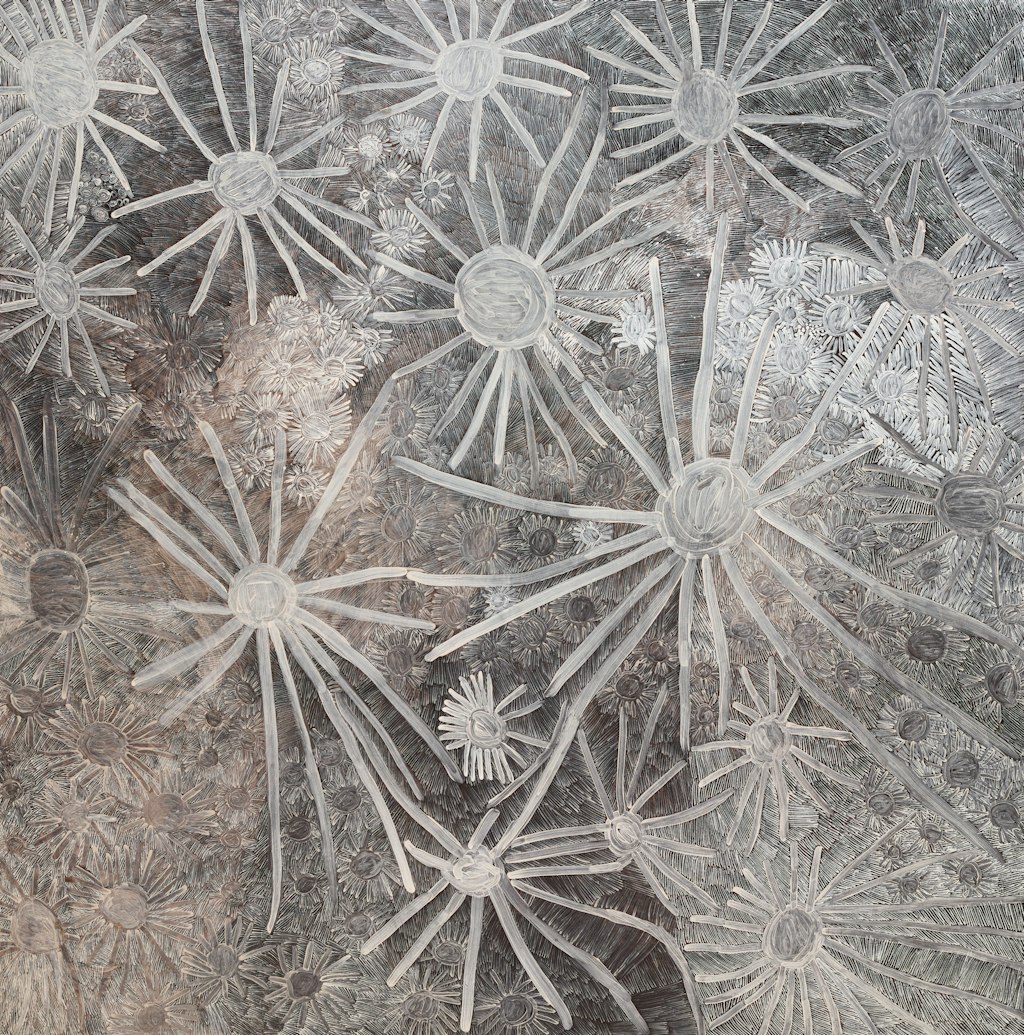 Nyapanyapa Yunupiŋu wins the Wynne Prize 2021 and $50,000 for her painting Garak – night sky
The Wynne Prize is awarded annually for 'the best landscape painting of Australian scenery in oils or watercolours or for the best example of figure sculpture by Australian artists'.
Second-time Wynne Prize finalist Nyapanyapa Yunupiŋu is a Yolŋu painter and printmaker who lives and works in Yirrkala in north-eastern Arnhem Land. Her painting Garak – night sky represents Djulpan, the Seven Sisters star clusters that are also known as Pleiades.
Djulpan, the Seven Sisters, are one of the first creations. They left the ancestral elders Nyiwuṉba and Rranyirranyi at the islands called Djakapurra, Gurrarri, Nalkuma, Dhakalŋa, Bandayŋa, Ŋarrayarri and Wärru. They paddled until they arrived at Nanydjaka (Cape Arnhem). There they rested for some time to gather their strength, then set off again along the coast, passing the Gumatj lands near Manydjarrarrŋa (Daliwuy Bay). They travelled past the Dhuwa lands, Bariŋurawuy and Ŋumuwuy (Turtle Beach), and landed at Gärriri (the Yirritja side of the creek at Rocky Bay). They paddled up the beach called Dhuraka (Rocky Bay) and this is where the Djulpan ended their journey.
'I was born on the beach at Yirrkala near where the Dhawu (large Banyan tree) stands. My father, Muŋgurrawuy, lived there with my mum, Buŋay, who was one of his many wives. I used to watch my father painting and he would tell me that later I would paint on my own. I spent many hours watching him,' said Yunupiŋu.
'The songline of the Djulpan Seven Sisters starts all the way north in the islands of Maŋgatharra (Indonesia) and ends right here. Right now is the season when we can see them in the stars, and they cry for us. I share this prize with my seven sisters, some of whom have passed away.'
Art Gallery director Michael Brand said: 'Nyapanyapa Yunupiŋu's astonishingly evocative painting of the Seven Sisters, or Djulpan, constellation shows this senior artist from Yirrkala again pushing herself towards remarkable innovation.
 'This is a painting where the night skies and creation stories come together and take form on the artist's Country, and provide viewers with a unique vision of the Australian landscape,' said Brand.
 Roberts Family Aboriginal and Torres Strait Islander Prize – Wynne Prize
Wynne Prize 2021 finalist Tjungkara Ken has been awarded the 2021 Roberts Family Prize for her work Seven Sisters. 
Finalists in the Wynne Prize are eligible for the Roberts Family Aboriginal and Torres Strait Islander Prize, an annual prize of $10,000 awarded to an Aboriginal and/or Torres Strait Islander artist. Ken, who lives in Yirrkala, NT, is the fourth recipient of the prize, which was established in 2018.
Trustees' Watercolour Prize – Wynne Prize
Sydney artist Noel McKenna has won the 2021 Trustees' Watercolour Prize for his work South Coast headland (2), Ottoman rose.
Finalists in the Wynne Prize are also eligible for the Trustees' Watercolour Prize valued at $5000. Sydney artist Noel McKenna's work, South Coast headland (2), Ottoman rose, is based on an old photograph of a coastal scene he took many years ago.
John & Elizabeth Newnham Pring Memorial Prize – Wynne Prize 
Armidale, NSW-based artist Leah Bullen has been awarded the John & Elizabeth Newnham Pring Memorial Prize for her work, Arid garden, Wollongong.
The Pring Prize may be awarded to the best watercolour by a woman artist and was established following a bequest by Bessie Pring – herself a watercolourist, who died in 1965 – in honour of her parents. It was first awarded in 1966.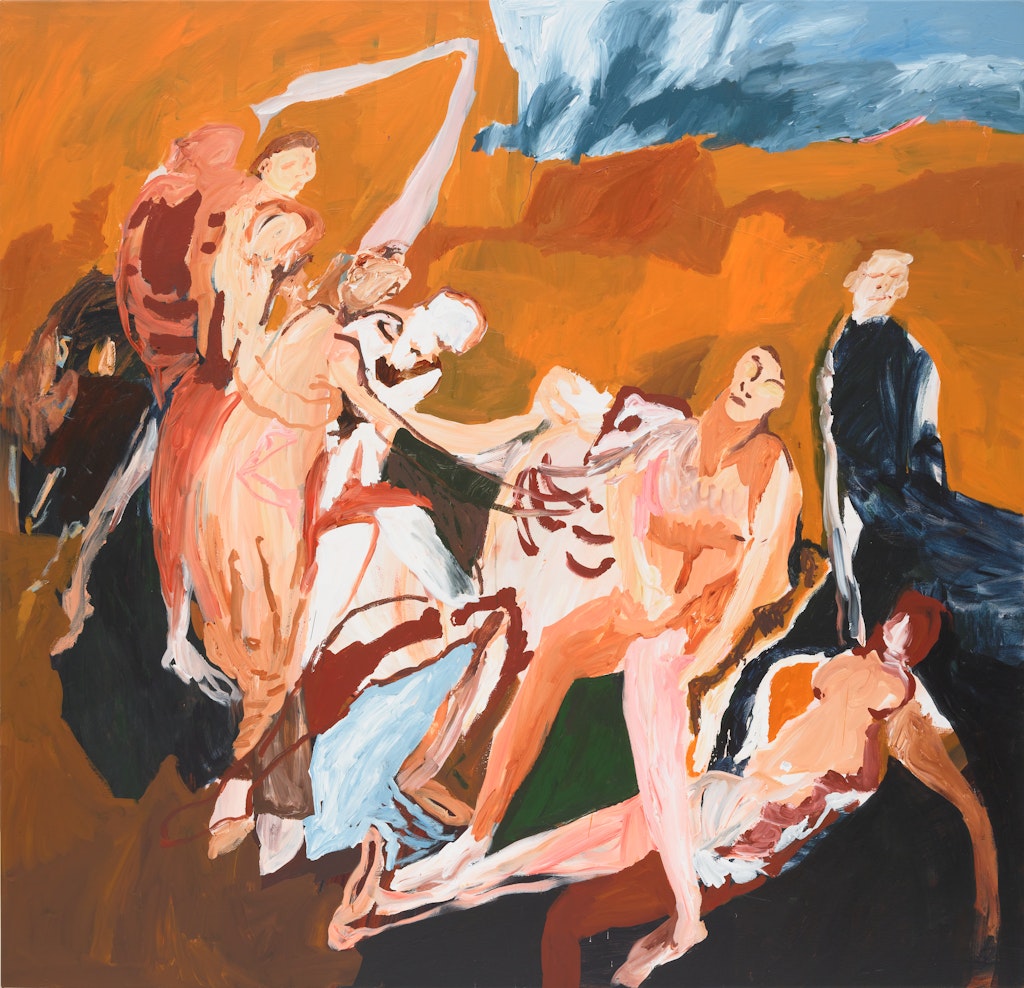 Georgia Spain wins Sulman Prize 2021 for her work Getting down or falling up
The Sulman Prize, valued at $40,000, is awarded for the best subject painting, genre painting or mural project by an Australian artist. Each year a guest artist judges this prize. In 2021 artist Elisabeth Cummings selected 21 finalists for the Sulman Prize.

On hearing that her work Getting down or falling up had been awarded the Sulman Prize, first-time Sulman Prize finalist Georgia Spain said 'I am incredibly overwhelmed and grateful to be awarded this year's 2021 Sulman Prize. It is a huge honour to be hung in the Art Gallery of NSW and in the company of so many wonderful artists. I have great admiration for Elisabeth Cummings as a painter and am humbled to be chosen by her for this year's prize.'
Getting down or falling up explores the idea of physical tension and connection captured in moments of conflict or pleasure. Limbs reach, push, pull and flail to reflect the feeling of getting up and falling down, over and over again.
About the winning work, Cummings said: 'Getting down or falling up is a strong, confident image full of energy and movement. Georgia Spain's use of the figure is imaginative and very much her own, and the painting is well resolved, vibrant and alive.'
Born in London and based in Sandford, Tasmania, Spain was one of the recipients of the 2020 Brett Whiteley Travelling Art Scholarship. She holds a Bachelor of Fine Arts from the Victorian College of the Arts where she was a finalist in the Majlis Travelling Scholarship and the recipient of Lionel Gell Foundation Scholarship.
All finalists in the Archibald, Wynne and Sulman Prizes 2021 will be exhibited at the Art Gallery of NSW from 5 June to 26 September 2021. Archibald, Wynne and Sulman Prizes 2021 ticket holders can use the same ticket to see Archie 100: A Century of the Archibald Prize, a landmark exhibition exploring the rich history of the Archibald Prize, any day and time during the exhibition period.
For safety, tickets are dated and timed with limited exhibition capacity. Over the course of the exhibition visitors are strongly recommended to pre-book to avoid disappointment. Audiences also have the opportunity to purchase a Gallery Pass to the Archibald, Wynne and Sulman Prizes 2021, Archie 100, and Hilma af Klint: The Secret Paintings ($42 adult/ $37 concession/ $34 member).
Finalist works in the Archibald Prize 2021 will also tour to six venues in regional New South Wales and Victoria from 8 October 2021:
Gippsland Art Gallery | 8 Oct – 21 Nov 2021
Hazelhurst Regional Gallery & Arts Centre | 4 Dec 2021 – 16 Jan 2022
Maitland Regional Art Gallery | 22 Jan – 6 Mar 2022
Cowra Regional Art Gallery | 18 Mar – 1 May 2022
New England Regional Art Museum | 13 May – 26 Jun 2022
Manning Regional Art Gallery | 8 Jul – 21 Aug 2022
The Art Gallery will continue to be guided by the NSW Government's health guidelines.

Join the conversation #ArchibaldPrize