Sol LeWitt: Affinities and Resonances
18 July 2022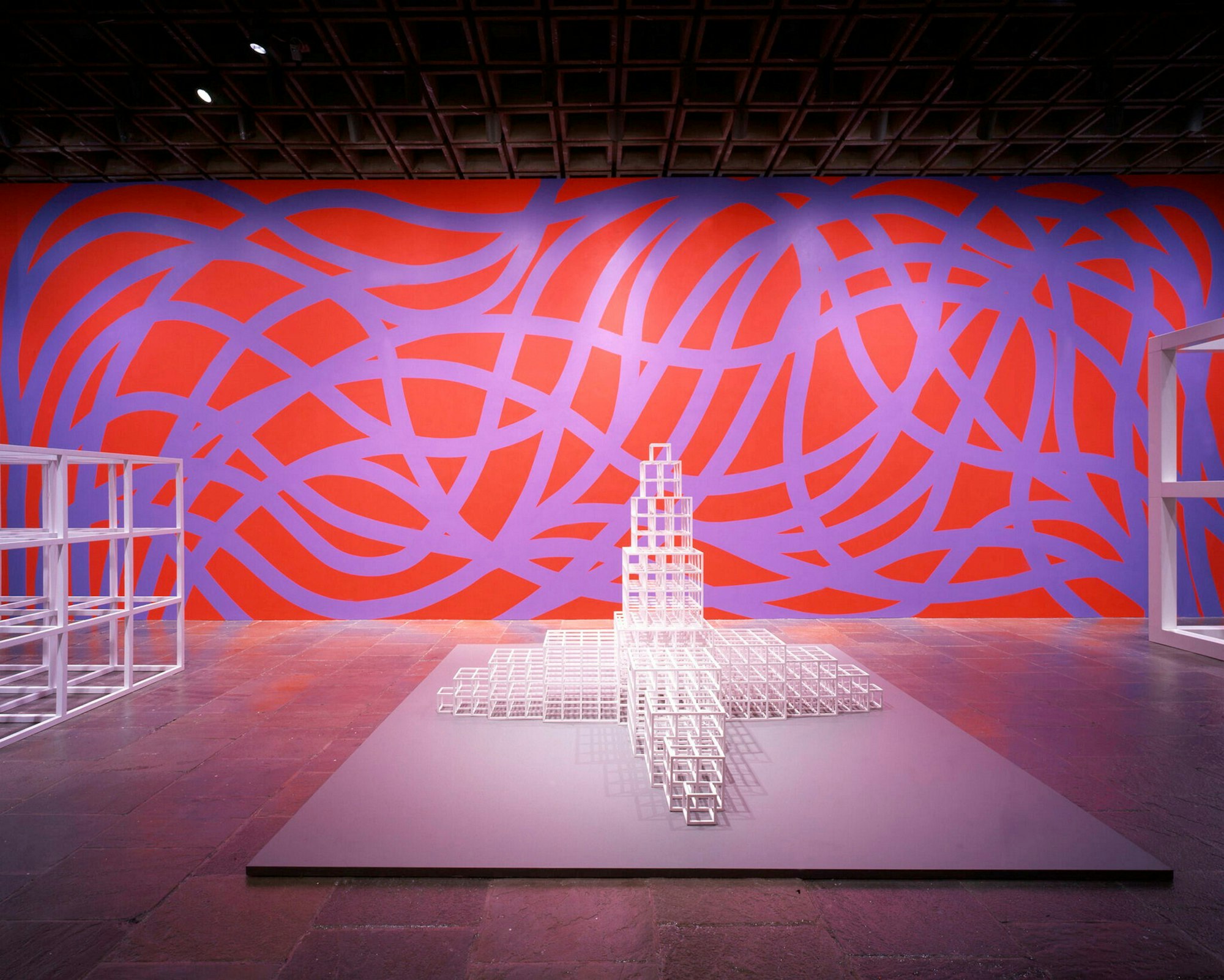 A new exhibition exploring American conceptual artist Sol LeWitt's affinities with Australian Central Desert Painting and revealing the musical resonances of his work will open at the Art Gallery of New South Wales next month.
Sol LeWitt: Affinities and Resonances, a collaboration between Kaldor Public Art Projects and the Art Gallery of NSW, features LeWitt's work in conversation with paintings by Anmatyerre artists Emily Kame Kngwarreye and Gloria Tamerre Petyarre. The exhibition, which opens on August 27, introduces three new musical commissions, each of which have been developed collaboratively by an American musician and an Indigenous Australian musician in response to a LeWitt work of art.
LeWitt was a pivotal figure of late 20th Century American art who coined the term 'conceptual art' and whose ideas continue to influence artists around the world. He travelled to Australia on several occasions at the invitation of Kaldor Public Art Projects with whom he collaborated on two previous projects: Project 06 at the Art Gallery of NSW and National Gallery of Victoria in 1977 and Project 11 at the MCA, Sydney in 1998.
For Sol LeWitt: Affinities and Resonances, LeWitt's Wall drawing #955: loopy doopy (red and purple) will envelop the southern wall of the John Kaldor Family Hall at the Art Gallery of NSW in tangled bands of vibrant colour. Belonging to a series the artist commenced in 1998, the work bears a striking resemblance to paintings by Kngwarreye who LeWitt first encountered in 1997, and who features in the exhibition. He described feeling a "great affinity" for her work and went on to become an avid collector of paintings by Kngwarreye and other Central Desert artists, acquiring 36 paintings and drawings for his personal collection between 1998 and 2005.
Work will begin on Monday 18 July on installing Wall drawing #955: loopy doopy (red and purple), a large-scale colourful wall painting that spans more than 30 metres in length and soars nearly 10 metres high across the walls of the John Kaldor Family Hall and will take several weeks to install. It will be painted on the same wall where LeWitt's pencil work All two part combinations of arcs from four corners, arcs from four sides, straight, not-straight and broken lines in four directions was drawn in the Gallery for Kaldor Public Arts Project 06 in 1977.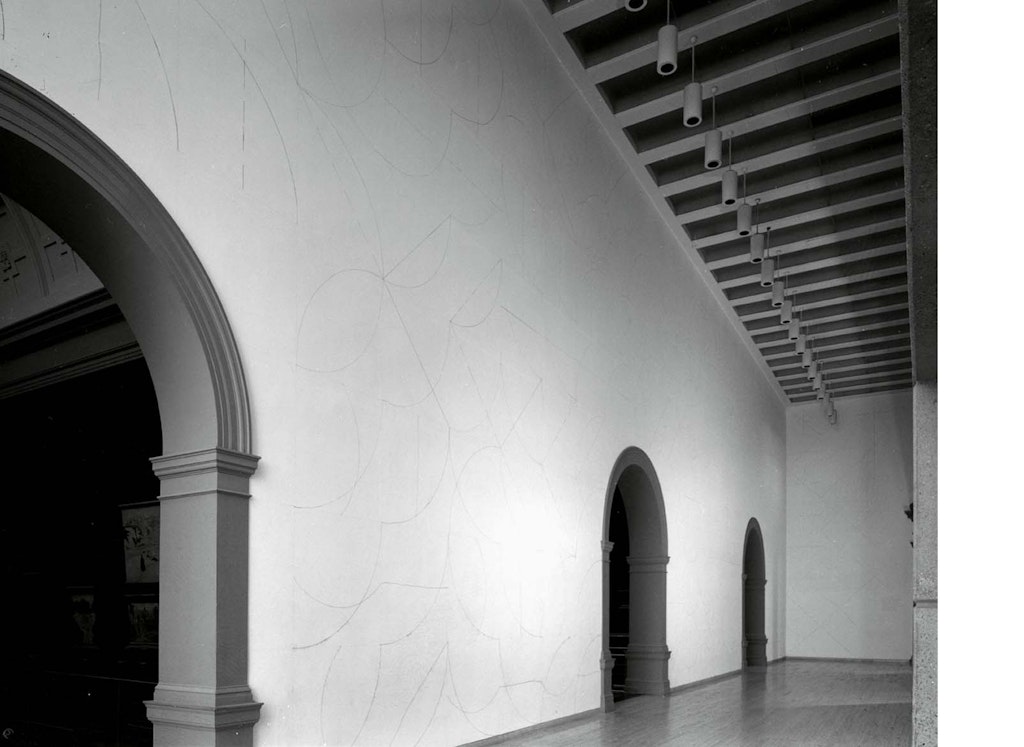 Art Gallery director Michael Brand said: 'The Art Gallery of NSW has one of the most significant collections of Sol LeWitt works in the world, thanks to the Kaldor Gift. Our connection to Sol LeWitt runs deep, literally – in fact if you scratch beneath the surface of paint on one of the walls in the John Kaldor Family Hall you would likely find his original mural from the 1977 exhibition. Sol LeWitt: Affinities and Resonances brings full circle our collaboration and shines an important new light on LeWitt's connection to First Nations artists.'
Nicholas Chambers, senior curator, modern and contemporary international art, Art Gallery of NSW, said: 'Wall drawing #955: loopy doopy (red and purple) belongs to a series commenced in 1998 that LeWitt devised after creating drawings with two pencils taped together which he moved around the paper in undulating, wave-like gestures. Loopy doopy was first installed at the Whitney Museum of American Art in 2000 and takes on a new form here at the Art Gallery where it spans the entire wall and is punctuated by the neo-classical architecture of our 1897 building. The tangled bands of colour in the wall drawing bear a striking resemblance to works by Emily Kngwarreye. His collection of works by Kngwarreye and other artists of the Central Desert region underline the extraordinary visual dialogue between two seemingly disparate art making traditions.'
Over his 40-year career, LeWitt created more than 1,200 wall drawings in different sites and locations around the world. Many of LeWitt's artworks were conceived as sets of instructions which could be executed by others directly onto a wall.
John Kaldor AO, Director of Kaldor Public Art Projects, met LeWitt when he saw the artist's first wall drawing at Paula Cooper Gallery in New York in 1968. A revolutionary break with the conventions of the time, it recalled the Italian Renaissance frescos, and led to Kaldor inviting LeWitt to Australia to make wall drawings for Project 06 in 1977.
Kaldor said: 'Sol LeWitt was one of most important artists of his time, his works are in every major museum around the world. When I met him he was at the start of his career. His early works were very minimal and intellectual. LeWitt coined the term conceptual art – that the idea is the artwork and the act of creation. It can be carried out by others with precise instructions from LeWitt.  He often likened his process to that of a composer creating a score that would have subtle differences with each new performance. This concept, that the making is secondary, was groundbreaking.'
Sol LeWitt was an avid collector and listener of music – from contemporary to American Jazz and European classical forms – and Sol LeWitt: Affinities and Resonances includes three newly commissioned musical works made in response to Wall drawing #955: loopy doopy (red and purple) which will be available via QR code to listen to in the Art Gallery or downloaded for later listening. Each new composition has been developed collaboratively by an Indigenous Australian musician and an American musician: Chuck Johnson with JWPATON; Steve Gunn with amby downs; and Claire Rousay with E.Fishpool, who will perform at the Art Gallery of NSW during the exhibition.
Jonathan Wilson, curator, music and community at the Art Gallery of NSW, said the newly commissioned music and upcoming live performances 'act as a sonic bridge between the visual works in the exhibition' and will be unique to the Gallery space and the artworks – completing a synergised visual and musical experience.
'Using Sol LeWitt's Wall drawing #955: loopy doopy (red and purple) as an alternative form of musical notation and built through a series of new commissioned collaborations between Indigenous Australian and American musicians, three new pieces of music come to life at the Gallery and the digital music world,' he said. 'The new music covers multiple genres – at moments expansive and singular in others. Padded ambience collides with rhythmic, glitchy harmonies and melodies while clusters chords disorientate and swirl in sync with the hard edge 'waves' in the Loopy doopy (purple/red).'