Pat Larter: Get Arted
Friday 13 November 2020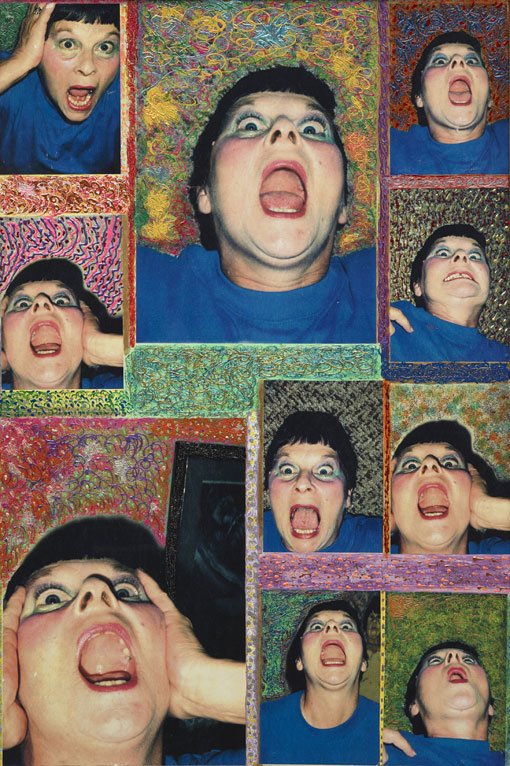 The Art Gallery of New South Wales is delighted to announce the first solo exhibition in a public art museum of Australian artist Pat Larter. Spanning more than 20 years of Larter's art practice, Pat Larter: Get Arted, reveals a collaborative, provocative, witty and joyful body of work that challenges conventions and stereotypes of female desire and sexuality.
Moving across performance art, film, mail art and eventually to painting, Larter's work from the 1970s to mid 1990s blurred the roles of wife, muse, collaborator, subject and artist to explore ideas about gender and the body.
From her home in Luddenham, west of Sydney, Larter became one of the major voices in the international – and fiercely anti-establishment – mail art movement, coining the term 'femail' art. Her involvement in the movement saw her participate in hundreds of international exhibitions. Larter corresponded with artists from all corners of the world, sending them photographs of her performances as well as her films, screenprints and collages.
Co-curator Lisa Catt said Larter was and still is most recognised as the muse of her partner, fellow artist and collaborator Richard Larter, who painted, photographed and sketched her with a prolific and insatiable zeal.
"Pat Larter: Get Arted seeks to address the lack of institutional recognition Pat received during her lifetime. Tracing Pat's work from the early 1970s until her death in 1996, this exhibition explores the commitment and energy she brought to her practice, and the generosity of spirit she offered to all those she knew.
"Pat brought her inimitable brand of feminism to everything she did. From her performances – where the traditions of vaudeville and burlesque theatre meet 1970s gender and body politics – to her transgressive and bawdy contributions to the mail art movement, Pat's work is both a provocation and a delight to encounter," Catt said.
Co-curator and senior librarian Claire Eggleston said Larter's archive was gifted to the National Art Archive at the Art Gallery of NSW by Richard Larter in 1999.
"Primarily drawn from the Gallery's National Art Archive, Pat Larter: Get Arted showcases a selection of the riches of Pat's extensive archive of film, photographs, video of performance, mail art, collage and printmaking.
"This exhibition is an opportunity to delve into a diverse, humorous and daring body of work that deserves its place in Australian art history. It highlights an extraordinary career and bold artistic legacy that continues to resonate today," Eggleston said. 
Pat Larter: Get Arted explores how Larter questioned tropes about women and sex. Rather than censoring, silencing or concealing, Larter held a mirror to her audiences and asked them to reflect upon how the female body is reproduced and consumed by society. Tracing Larter's celebration of her body and her sexuality through a prolific, yet under recognised, artistic career, the exhibition presents a pioneering feminist perspective and a rallying call to 'get arted' and join her fun.
Content advisory: This display contains sexually explicit imagery in the form of original artworks.
On view
until 21 Mar 2021
Art Gallery of New South Wales
Art Gallery Road, The Domain, Sydney
Admission
Free
Media contact
Hannah McKissock-Davis
Tel 02 9225 1671
hannah.mckissock-davis@ag.nsw.gov.au