Gallery reopens June 1
A message from the director, Michael Brand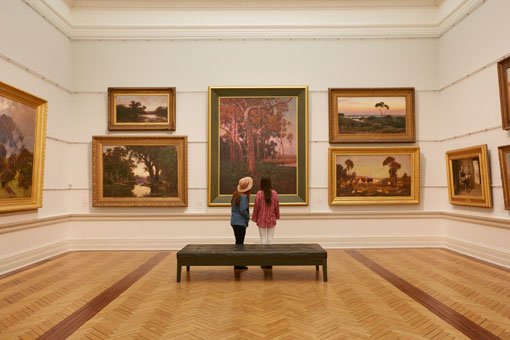 Art is a source of hope and inspiration in difficult times and we've been very much looking forward to welcoming everyone back to the Gallery, again providing access for all to our State's exceptional art collection and special exhibitions. Sharing the vision of artists is at the heart of all that we do, and we're excited to be re-connecting artists and audience on-site.
Our plans for our reopening focus on the health and safety of everyone at the Gallery in the Domain and also at our Brett Whiteley Studio in Surry Hills. We are currently putting in place all the measures that will ensure our art museum is a safe place to visit, and a safe workplace for our staff and volunteers.
This includes limiting visitor numbers while COVID restrictions are in place through timed ticketing and ensuring social distancing and recommended hygiene measures. Visitors will be able to enjoy, free of charge, our collection galleries, the 22nd Biennale of Sydney: NIRIN and three exhibitions: Shadow Catchers and Under the Stars (which both opened briefly before we closed on 23 March), and Some Mysterious Process, a new exhibition I have curated.
We are looking forward to being able to announce new dates for the Archibald, Wynne and Sulman Prizes 2020 exhibition, postponed until later in the year. We are also in the process of planning other programs we can host while social distancing measures are in place.
We will continue to affirm the power of art to connect people through our Together In Art project. Open, heartfelt and responsive, Together In Art launched during our closure and continues to offer a daily boost of art and imagination online, in a world where we are all seeking meaning. It is also a place where we welcome the voices of artists, performers, arts workers, Gallery staff and, of course, our audience.
As a state institution we will continue to be guided by the National Cabinet and our Premier based on expert public health advice. We are also liaising with our international colleagues regarding global art museum best practice during COVID restrictions.
We look forward to seeing you at the Gallery again very soon.