Flatlands: photography and everyday space
This exhibition examines photography's role in transforming the way we perceive the world of the everyday.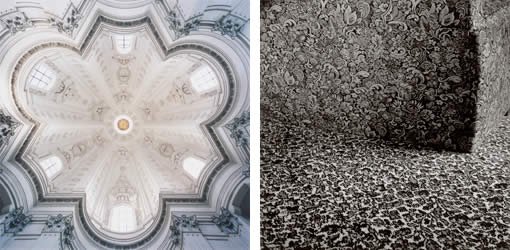 A new exhibition, Flatlands: photography and everyday space, examines photography's role in transforming the way we perceive, organise and imagine the world. The 39 works by 23 Australian and international artists have been drawn from the Gallery's permanent collection of 20th century and contemporary photography.
Definitions of space have always depended on the scientific, social and cultural aspects of the human experience. At its birth in the 19th century, photography's monocular vision was seen as the ultimate tool for representation and classification. Elusive phenomena such as distance, depth and emptiness seemed within grasp. Yet, limited to freezing single moments or viewpoints in time, the photograph's ability to objectively represent the world was under question by the turn of the 20th century. Technological advancements, such as faster exposure times transformed the potential of the medium to not only show things that escaped the eye but new ways of seeing them as well.
Embracing partiality and ambivalence, modernist photography sought to capture the fragments, details and blurred boundaries in the expanses we call personal space. What the photograph began to reveal were dimensions which German cultural theorist Walter Benjamin described in 1931 as the 'optical unconscious' of reality. The works of photographers such as Melvin Vaniman, Frederick Evans, Harold Cazneaux, William Buckle, Franz Roh, Olive Cotton, David Moore, Josef Sudek, Minor White and Robert Rauschenberg explore the intangible in spaces which define our physical and spiritual relationship with reality. Windows, doorways, ceilings, staircases – these mundane and ordinary passageways – suddenly acquire a centrality and metaphysical depth normally denied to them.
The edges between sacred and profane, public and private, natural and artificial, real and dreamed environments became further entangled in the subjective visions of late 20th century and contemporary photographic work. For Daido Moriyama, Fiona Hall, Pat Brassington, Simryn Gill, Christine Godden, Geoff Kleem, Leonie Reisberg, Ingeborg Tyssen, David Stephenson and Justine Varga, space is seen to be a product of the perception of the individual. Photographs are able to reveal realms outside of the scientific – that is, those created by emotion, memory and desire.
As Fiona Hall commented in 1996, 'our belief might be maintained, for at least as long as the image can hold our attention, in the possibility of inhabiting a world as illusory as the two-dimensional one of the photograph.' Collectively, these images destabilise naturalised certainties while activating the imaginary dimension and the unsettling, albeit poetic potential of photography to impact and alter our view of the world.
On view
13 Sep 2012 – 3 Feb 2013
Art Gallery of New South Wales
Art Gallery Road, The Domain, Sydney
Admission
Free
Media contact
Susanne Briggs
Tel 02 9225 1791
Mob 0412 268 320
susanne.briggs@ag.nsw.gov.au