Daniel Boyd: Treasure Island
3 May 2022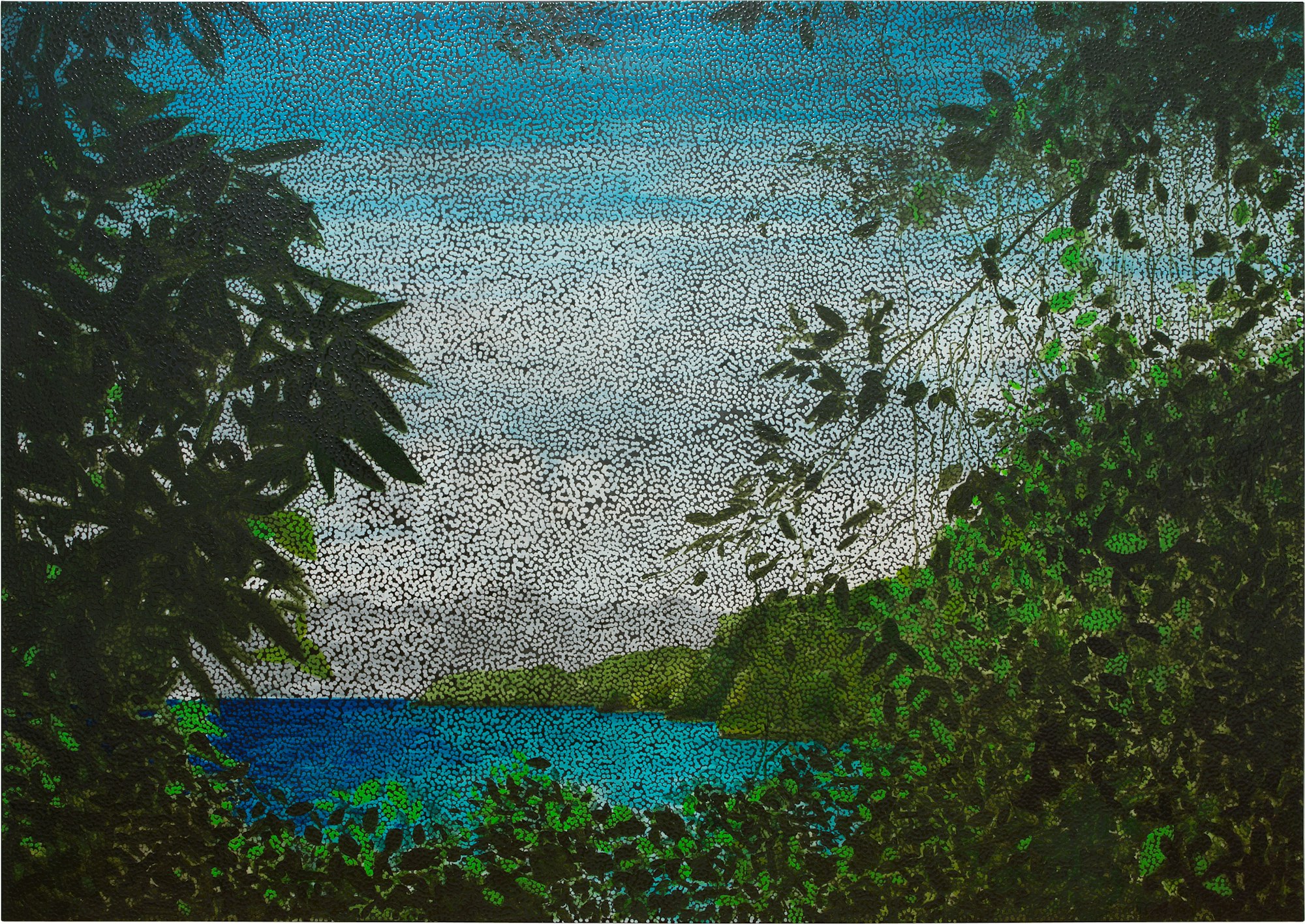 Daniel Boyd: Treasure Island is the first major Australian solo exhibition by contemporary artist Daniel Boyd held in a major public art museum. Opening at the Art Gallery of New South Wales next month, the exhibition maps two decades of Boyd's practice, tracing his deep thinking around ideas of legacy and inheritance and his continued engagement with the colonial histories of Australia.
Boyd is one of Australia's most celebrated contemporary artists. A Kudjala, Ghungalu, Wangerriburra, Wakka Wakka, Gubbi Gubbi, Kuku Yalanji, Yuggera and Bundjalung man with ni-Vanuatu heritage, Boyd came onto the Australian art scene in 2005 with his No Beard series of appropriated historical portraits. He has since developed a distinctive style of image-making that fragments the picture plane. While still based on found source material, Boyd's recent works complicate our understanding of perception.
Boyd has exhibited widely internationally with works displayed at the Natural History Museum in London; the 56th Venice Biennale All The World's Futures exhibition; the 경로를 재탐색합니다 UN/LEARNING AUSTRALIA exhibition at Seoul Museum of Art; and more recently a solo exhibition at Kukje Gallery in South Korea.
Daniel Boyd: Treasure Island features over 80 works from across the artist's career, including distinct early works from the 2000s – among them several of his No Beard series – through to recent and new works, and commissioned spatial interventions. The exhibition unpacks the ways in which Boyd holds a lens to colonial history, explores multiplicity within narratives and interrogates blackness as a form of First Nations' resistance.
Working with an idiosyncratic painting technique that partially obscures the composition, Boyd refigures archival imagery, art historical references and his own family photographs, asking us to contend with histories that have been hidden from view.
Curated by Erin Vink, curator of Aboriginal and Torres Strait Islander art, and Isobel Parker Philip, senior curator of contemporary Australian art, the exhibition is displayed non-chronologically with each room articulating a different facet of Boyd's practice.
A site-specific installation at the entrance of the exhibition will introduce visitors to one of the main motifs in Boyd's practice, the lens. A large-scale mural made of reflective aluminium panels covered in a field of apertures, this work is an intervention into the act of seeing. The idea of revealing and concealing is further explored in works which showcase Boyd's unique way of seeing the world through philosophical theories, including Gestalt theory, the allegory of Plato's cave, dark matter, and Martinique-born poet and scholar Édouard Glissant's notion of the 'right to opacity'.
Central to the exhibition are works that consider the notion of legacy, cultural survival, inheritance and family lineage. As an artist of Aboriginal and ni-Vanuatu heritage, Boyd considers his own sense of place and identity through imagery of his family, as revealed in the intimate Untitled (TBOMB) 2020, one of the artist's first large-scale works drawing from lived experiences and personal memories.
Also featured are works such as Untitled (FF) 2017, Untitled (BGTJS) 2017 and Untitled (LW) 2017-2018, which unpack links between interconnected global histories, all too often unacknowledged, of slavery in the Caribbean and Australia.
Art Gallery of NSW director Michael Brand said this exhibition reinforces the Art Gallery of New South Wales' commitment to exhibiting Australian artists.
'Boyd is a prolific artist whose unique visual language is continually reshaped through the distillation and development of his thinking. The Art Gallery has actively responded to the shifts in Boyd's work, acquiring a number of works that evidence the continuing trajectory of his practice including the extraordinary Untitled (PW) 2014, which won the 2014 Bulgari Art Award.
'The Art Gallery is delighted to hold the first major monographic exhibition of this artist's work in a major Australian public art museum, making Boyd's practice available to the widest possible audience,' said Brand.
Boyd said that this exhibition allows us to share experiences and make parts of Indigenous knowledges more accessible.
'I'm hoping to converge these understandings in this exhibition. The installation is meant to represent the relationship between one point of view and another perspective. It is about looking at physical forms of plurality, but also at multiplicity. I think sharing your experiences helps to open peoples' eyes to different types of realities and helps us to be empathetic; to understand responsibility and accountability,' said Boyd.
The exhibition is accompanied by a richly illustrated publication, featuring an introduction and individual essays by the exhibition's curators, Erin Vink and Isobel Parker Philip, and commissioned essays and creative writing by First Nations authors, including Daniel Browning, Dr Léuli Eshrāghi, Jazz Money, Dr Michael Mossman and Nathan 'mudyi' Sentance.
Daniel Boyd: Treasure Island will be on display at the Art Gallery of NSW from 4 June 2022 to 29 January 2023. Entry is free.
Philanthropic partner
The Susan Chandler Bequest
Art Gallery of New South Wales support partner