Australia's first Children's Art Library open for the school holidays at the Art Gallery of New South Wales
13 January 2023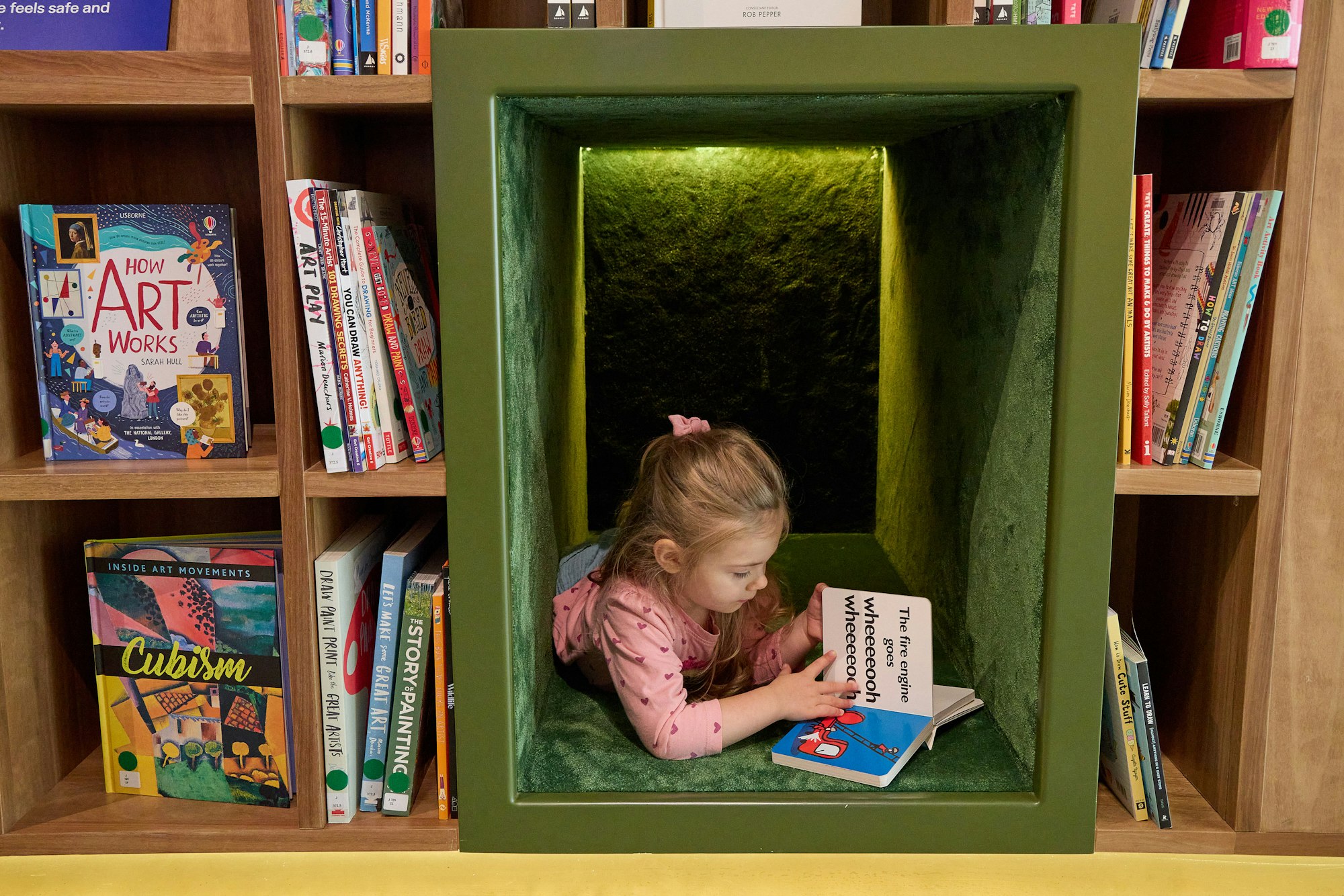 The Ashley Dawson-Damer Children's Art Library – the first of its kind in Australia – has opened at the Art Gallery of New South Wales, providing a relaxing place of wonder for children and their families and carers during the school holidays.
Welcoming, colourful and decorated with childhood illustrations by Australian artists including Grace Cossington-Smith, Grace Crowley, Adrienne Doig and Margaret Olley, the Children's Art Library is a light-filled architecturally designed space with reading towers and terraced seating for children primarily aged 0-12 to enjoy while exploring books.
Over 1400 titles have been purchased for the Children's Art Library to provide delight, educate and spark the imagination of young visitors. These include books about artists and by artists, about art history featuring acclaimed illustrations, books in languages other than English, as well as books for children with disabilities or who have access requirements.
In this special place, free activities for children and families are regularly programmed, including storytime sessions, sensory and tactile experiences, performances, and new artist-led artmaking experiences with children as vital co-creators.
Minister for the Arts, Tourism and Aboriginal Affairs Ben Franklin said: 'The Children's Art Library is an exciting new destination for young people and families. It's one of the many new free experiences at the Art Gallery created as part of its recently opened expansion proudly supported by the NSW Government. We are committed to creating accessible opportunities for everyone to enjoy the arts, and this art library will welcome children here to explore, learn and have fun at this much-loved institution.'
The Children's Art Library is located inside the newly relocated and expanded Edmund and Joanna Capon Research Library, which houses over 100,000 books and 1400 periodicals, and the National Art Archive, all on lower level 3 of the original building.
These new facilities for art scholarship and education were created as part of the transformation of the Art Gallery known as the Sydney Modern Project, which includes the revitalisation of the original building and the construction of the new SANAA-designed building.
Designed by award-winning Australian architectural firm Tonkin Zulaikha Greer (TZG), the Children's Art Library has been made possible through a generous gift by Ashley Dawson-Damer AM, a member of the Art Gallery's Board of Trustees from 2014 to 2022, and is named in her honour. Bob and Paula Cameron are the major supporters of resources for the library.
Art Gallery of NSW director Michael Brand said: 'Australia's first ever Children's Art Library is a unique gift to new generations of young visitors to the Art Gallery. I thank Ashley Dawson-Damer for her exceptionally generous support which has made the creation of this beautiful library possible. Like many adults, Ashley continues to find joy and delight in books for children and is a great ambassador for lifelong learning through books. We encourage young people and their parents and carers to enjoy this new collection of books by artists and about the wonderful world of art.'
Ashley Dawson-Damer said: 'I am so pleased to help make this ambitious project possible and share my life-long passion for learning with generations to come. As children, the worlds we're taken into through books stay with us our whole lives and contribute to the foundations of ourselves. Childhood should be a time for discovery and wonder, and a Children's Art Library has the capacity to provide young minds with inspiration and awe. The Art Gallery, with its reach of appeal to a very wide and diverse community, is uniquely placed to inspire the children of our present and future generations.'
The Art Gallery's Head of Research Library and Archive Steven Miller said: 'The new space will also enable young people to better access the library's existing collection and objects from the National Art Archive and support students with independent study and research. The Art Gallery's research files on Australian art, artists and organisations comprise over a million items, from early exhibition catalogues and pamphlets to diverse formats documenting contemporary art practice.'
The Edmund and Joanna Capon Research Library, the National Art Archive and the Ashley Dawson-Damer Children's Art Library are free and open daily.