Brett Whiteley: Blue and White
Rare exhibition of Brett Whiteley ceramics
27 May 2022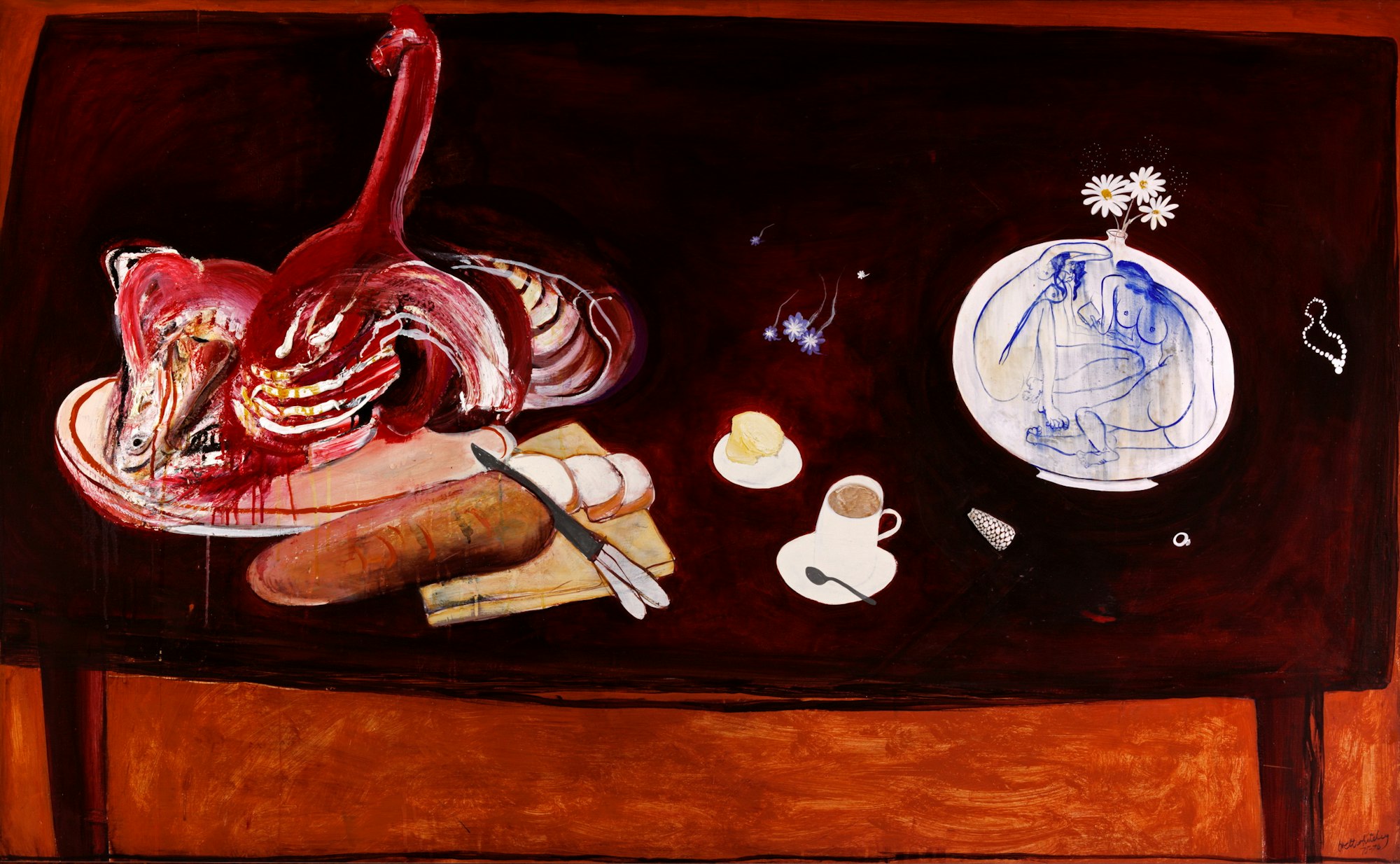 A new exhibition featuring the most comprehensive display of Brett Whiteley's painted ceramics and focusing on his passion for the colour blue has opened at the Brett Whiteley Studio in Surry Hills.
Over 40 ceramics – dating from the 1970s and 1980s – feature in the exhibition Brett Whiteley: Blue and White, which examines the connections between the Australian artist's work across various mediums and the use of the colour blue in his practice.
Whiteley's recognisable iconography – sex, nudes, religious imagery, and nature – span across mediums including ceramics, paintings, prints and drawings, enabling the exhibition to trace and amplify these themes. Works including the deep ultramarine The Balcony 2 and Self-portrait in the studio, which includes a blue-and-white vase on a coffee table, are displayed alongside Whiteley ceramics.
The colours of the artist's ceramics, from which the exhibition takes its name, follows a long tradition of Brett and his former wife Wendy Whiteley collecting the popular blue-and-white porcelain ware – originally invented in China then traded throughout Europe and North America in the 16th century – for their home.
Whiteley's ceramics were primarily thrown (the creation of ceramics on a pottery wheel) by others, with a small number of hand-formed works made by the artist. He used rounded, organic thrown forms by potters including John K Dellow, Derek Smith, Harriett Collard and Shiga Shigeo, built to Whiteley's specifications.  He then applied his painted decoration in the rich, deep blue for which he became known and which features prominently in his iconic Sydney Harbour paintings.
Art Gallery of New South Wales Director Dr Michael Brand said this exhibition showcases one of the lesser-known aspects of Brett Whiteley's art making.
'During the 1970s and 1980s, Brett Whiteley was a creative force like no other in Australia, and this exhibition delves deep into our collection to take a focused look at Whiteley's ceramics and shine a new perspective on the importance of the colour blue in his practice,' Dr Brand said.
Brett Whiteley: Blue and White curator Leanne Santoro, assistant curator of Australian art at the Art Gallery of New South Wales, said Whiteley's ceramics were another, less known, method to express his artmaking.
'For Whiteley, ceramics were another dynamic means to express his artmaking. He viewed the objects as akin to sculptures and his interest lay in the shape and decoration of the vessels to convey his artistic expression,' she said.
Beatrice Gralton announced as senior curator of the Brett Whiteley Studio
The Art Gallery of New South Wales is pleased to announce the appointment of Beatrice Gralton as senior curator of the Brett Whiteley Studio in Surry Hills.
With over two decades working in Australian and international art museums – including the Corcoran Gallery of Art and School of Art and Design in Washington, D.C. and the National Gallery of Australia in Canberra – Beatrice has extensive collection management, exhibition production and commissioning experience and has been widely published.
Gralton returns to Sydney for the role from Seattle where she spent the past two years consulting in the arts sector. Prior to that she was Head Curator, Visual Arts at Carriageworks where she was responsible for major visual arts projects and exhibitions working with artists including El Anatsui, Rebecca Baumann, Christian Boltanski, Nick Cave, Song Dong, Katharina Grosse, Zhang Huan, Kate Mitchell, Mike Parr, Ken Thaiday Snr., and Reko Rennie.