Archibald Prize 2021 ANZ People's Choice award winner announced
31 August 2021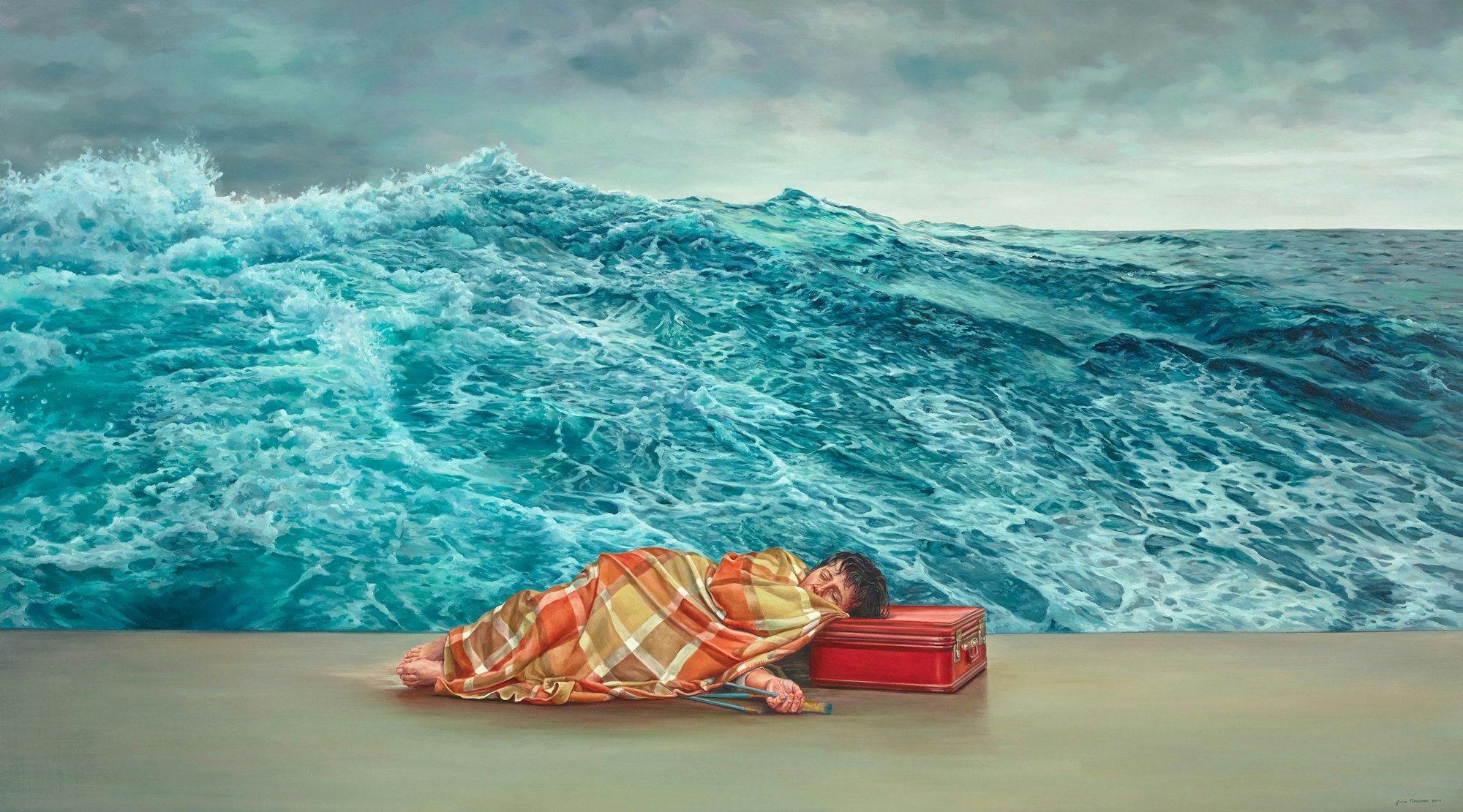 Julia Ciccarone wins Archibald Prize 2021 ANZ People's Choice award for poignant self-portrait
Two-time Archibald Prize finalist Julia Ciccarone has been awarded the 2021 ANZ People's Choice award for her self-portrait The sea within, painted at home during the 2020 Melbourne lockdown in response to 'radical changes affecting culture and nature'.
Based in Alphington, Victoria, the artist painted herself lying barefoot, with wet hair and clutching paint brushes in her hand, wrapped in a blanket from her childhood, and resting her head on a suitcase her father brought to Australia from Italy when he migrated in the 1950s. 
Speaking from home, once again in lockdown, Ciccarone said she is humbled and astounded to have received this year's ANZ People's Choice award.
'When I painted this work, life was intense and overwhelming. It's hard to believe that we are still experiencing times of great uncertainty, more than a year on. I believe we share in a collective trauma. But the ocean – which features large in my life and art – is my healing place,' said Ciccarone.
'Water is a universal symbol of the unconscious mind. Whenever I dive into the ocean, I am diving into my own subconscious, awake and aware.
'It brings me great joy to know that so many people connected with my work.'
Born in Melbourne in 1967, Ciccarone completed a Bachelor of Fine Arts at the Victorian College of the Arts in 1988. In 1991, she lived and worked in Italy as the recipient of the Verdaccio Studio awarded by the Visual Arts and Crafts Board of the Australia Council. She was a finalist in the 2013 Archibald Prize and 2014 Sulman Prize, and semi-finalist in the 2014 Doug Moran National Portrait Prize.
Art Gallery of NSW director Michael Brand said Ciccarone's moving portrait was the favourite among visitors to the Archibald Prize exhibition and the 360-degree immersive virtual visit in the 100th year of the renowned prize.
'Always a highlight of the Archibald Prize, the ANZ People's Choice award is an opportunity for our visitors to cast their vote and tell us which work speaks to them the most,' said Brand.
'Julia Ciccarone is an accomplished painter whose highly detailed work immediately struck a chord with audiences. Her depiction of vulnerability in a time of uncertainty continues to resonate as we once again navigate life in lockdown and seek both solace and shared connections through art,' he said.
This year, the prize money for the ANZ People's Choice award is increasing from $3,500 to $5,000 for the winning artist. One person who voted for the People's Choice award-winning painting was also selected at random to win the People's Choice voters' prize.
This year, the lucky voter is Cathryn Dearinger from Lismore, NSW who receives a $2,000 cash prize from ANZ.
'I remember Julia's artwork vividly. I connected with the painting on so many levels. Julia's representation of the unconscious mind as the ocean and the suitcase representing our body, the empty vessel waiting to be filled with stories and memories aligns with my own experience as a Yin and Bhakti Yoga teacher,' said Dearinger.
'I have thought about Julia's painting many times on my beach walks. She captures the beauty, power and endlessness of the ocean in her work perfectly. Thank you to the Art Gallery of NSW and ANZ for this very generous prize.'
The Archibald Prize People's Choice was first awarded in 1988 – now supported by presenting partner ANZ – and this year 7,811 visitors to the Archibald, Wynne and Sulman Prizes 2021 exhibition and the virtual visit voted for their favourite portrait.
ANZ Group Executive Institutional, Mark Whelan, said: 'Congratulations to Julia Ciccarone on winning the 2021 ANZ People's Choice award. We are pleased to increase the prize money in our twelfth year supporting this competition, as it continues to delight, provoke and engage us and the wider community. We are proud to continue to be an integral part of the Archibald Prize, especially in its centenary year.' 
The Archibald, Wynne and Sulman Prizes, the Young Archie competition and the Archibald Prize regional tour are all generously supported by presenting partner, ANZ.
Due to the extension of the Greater Sydney lockdown until 30 September, the Archibald, Wynne and Sulman Prizes 2021 exhibition will not reopen in Sydney. All Archibald Prize 2021 finalists can be viewed on the Art Gallery website and the Archibald, Wynne and Sulman Prizes 2021 exhibition can be experienced via the 360-degree immersive virtual visit as part of the Archie at Home suite of digital content.
The Archibald Prize 2021 exhibition will tour to six regional venues in regional New South Wales and Victoria, beginning with Gippsland Art Gallery on 8 October 2021. 
In line with public health orders, the Art Gallery of NSW is temporarily closed to the public.
Join the conversation #ArchibaldPrize