Anne Judell wins Dobell Prize for Drawing 2011
Announced today at the Art Gallery of New South Wales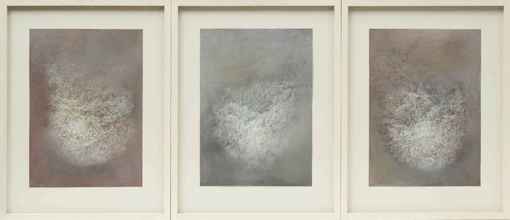 Friday 2 December 2011
It was announced today at the Art Gallery of New South Wales that Anne Judell is the winner of the 2011 Dobell Prize for Drawing for her work Breath, a triptych in pastel on fine paper.
Anne Judell was awarded $25,000 for winning Australia's most important prize for drawing. A record number of 734 entries were entered this year, of which 49 are included in the exhibition, on display from today until 5 February 2012.
A frequent inclusion in the exhibition of finalists of past Dobell Prize exhibitions, Judell's work is widely admired amongst artists, critics and collectors of contemporary Australian art.
Her drawings and pastels are often described as abstract because she deals with the ineffable:
Art, for me, is the mystery itself, as well as being the means to explore the mystery.
– Anne Judell
The prize was judged this year by the distinguished artist Guy Warren. Of the winning entry he writes:
Although there are many works in this year's Dobell which call urgently for serious consideration, the chosen work demands attention by calling softly. In a world of clashes and chaos this work speaks of something different. With dense layers and subtle surfaces it talks of the mystery of growth, of essences and fragility, of quiet contemplation. It is like a thought once understood and lost, which one tries to grasp again.
Born in Melbourne in 1942, Anne Judell studied at RMIT, has lived and travelled in Europe and the USA and moved to Sydney to live in 1977. Since 1992 she has lived and worked in the southern highlands of New South Wales. The Campbelltown City Art Gallery staged a survey exhibition of her work in 2002.
The Dobell Prize for Drawing, initiated by the Trustees of the Sir William Dobell Art Foundation is an acquisitive award, first awarded in 1993.
On view
2 Dec 2011 – 5 Feb 2012
Art Gallery of New South Wales
Art Gallery Road, The Domain, Sydney
Admission
Free
Media contact
Claire Martin
Tel 02 9225 1734
Mob 0414 437 588
claire.martin@ag.nsw.gov.au