Art Gallery of New South Wales unveils important works in the new Yiribana Gallery
13 October 2022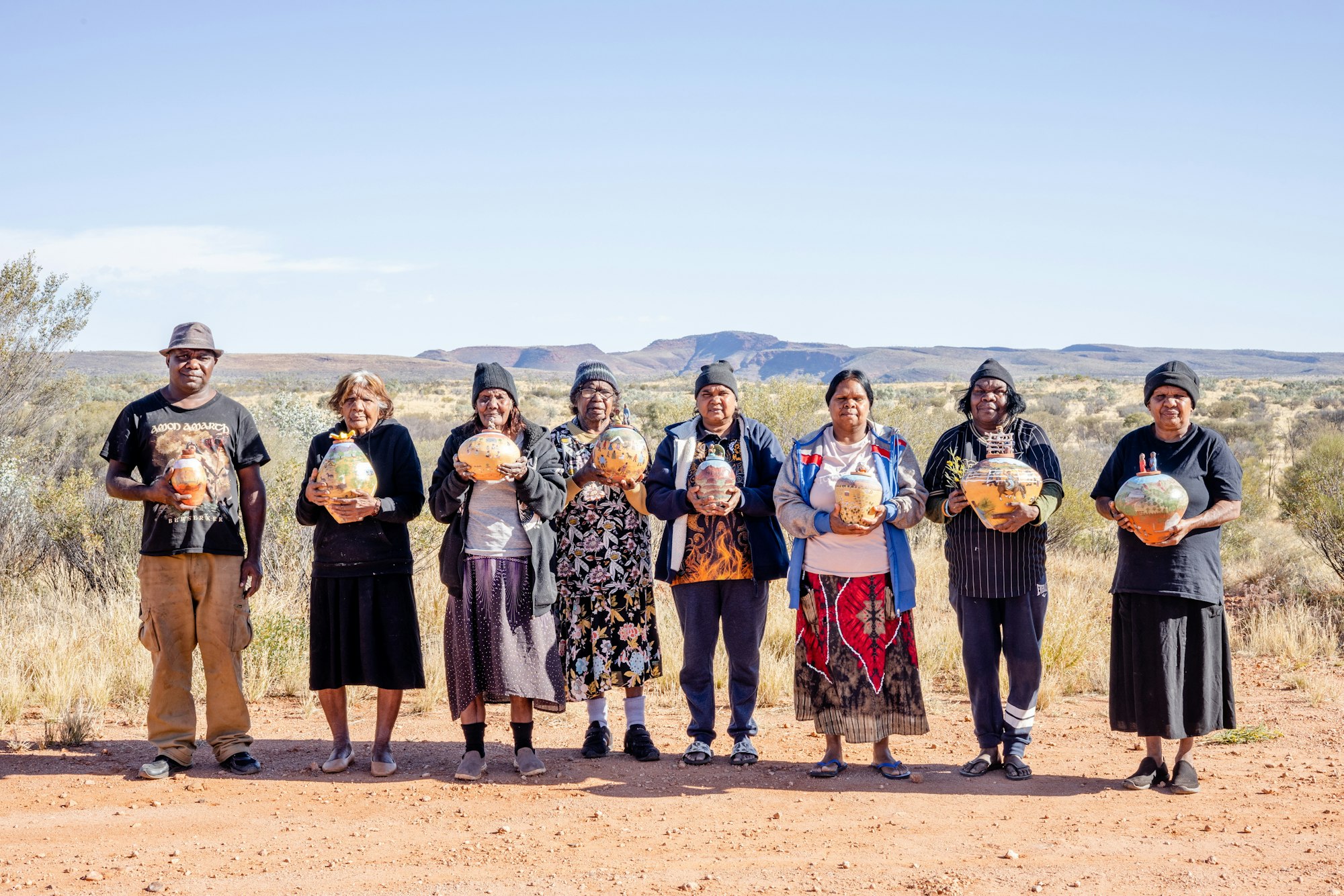 Over 160 works, including special new acquisitions and projects, have been installed in the inaugural display of Aboriginal and Torres Strait Islander art in the newly relocated Yiribana Gallery at the Art Gallery of New South Wales – the first gallery visitors encounter in the new building which opens on December 3.
The Art Gallery's Aboriginal and Torres Strait Islander curatorial team have worked in close collaboration with artists from across the country – from New South Wales to the Anangu Pitjantjatjara Yankunytjatjara Lands, Arnhem Land, Cape York Peninsula and the Zenadth Kes/Torres Strait Islands – to develop new and distinct projects inspired by ideas of generosity and care that emphasise connections between people.
NSW Minister for the Arts and Aboriginal Affairs Ben Franklin said: 'It is fantastic that visitors from across Australia and around the world will experience these wonderful new works that honour the importance of Aboriginal and Torres Strait Islander cultural traditions and their place in our shared history and identity. They add to the Art Gallery's internationally renowned art collection, which will be displayed in this exciting destination unique to the world.'
Yiribana means 'this way' in the Aboriginal language of Sydney and was the name given to the Art Gallery's dedicated space for the display of Aboriginal and Torres Strait Islander art when it opened in November 1994.
Art Gallery of NSW director Dr Michael Brand said that the Yiribana Gallery has a rich legacy of highlighting the depth and dynamism of Aboriginal and Torres Strait Islander art practice.
'Relocating Yiribana from the lowest level of the existing building into the new building elevates a central focus of Aboriginal and Torres Strait Islander art and culture across our transformed art museum,' Dr Brand said.
'The expanded gallery has allowed us to grow our First Nations collection to include ambitious projects such as large-scale sculptures and objects including Lorraine Connelly-Northey's major commission Narrbong galang (many bags). Connelly-Northey's series of 10 sculptures, made from rusted and salvaged metals, is prominently displayed in the 20-metre-long Yiribana loggia, which is visible to the public from both inside and outside the new building during night and day.'
The new Yiribana display is inspired by a word from the Sydney language, burbangana, meaning to 'take hold of my hand and help me up'. The works on display touch on moments of burbangana in different ways.
Art Gallery of NSW senior curator of Aboriginal and Torres Strait Islander art, Cara Pinchbeck, said that burbangana is akin to an invitation.
'Some works in the new Yiribana Gallery consider notions of care and guidance through familial relationships. While others offer philosophies for living and profile the intricacies of cultural inheritance or examine the ongoing complexities of history and resilience. Artists invite us into their world to share perspectives, insights and knowledge in the hope of inspiring understanding and eliciting moments of connection,' Pinchbeck said.
Following on from the 2016 exhibition Art from Milingimbi: taking memories back, the Art Gallery invited the artists from Milingimbi Art and Culture to think of a project they had always wanted to do and that would enhance its existing collection. This led to the creation of distinct weavings made by women, using natural fibres, dyes and pigments, within an intergenerational artists' camp. Establishing greater gender parity within the collection from this important community, while supporting the sharing of knowledge and techniques, the project resulted in beautiful weavings such as a Gurne-garnjirra (fish-trap fence) Biḏ'yunawuy miṉḏirr (painted conical baskets) and Gay'wu (string bags).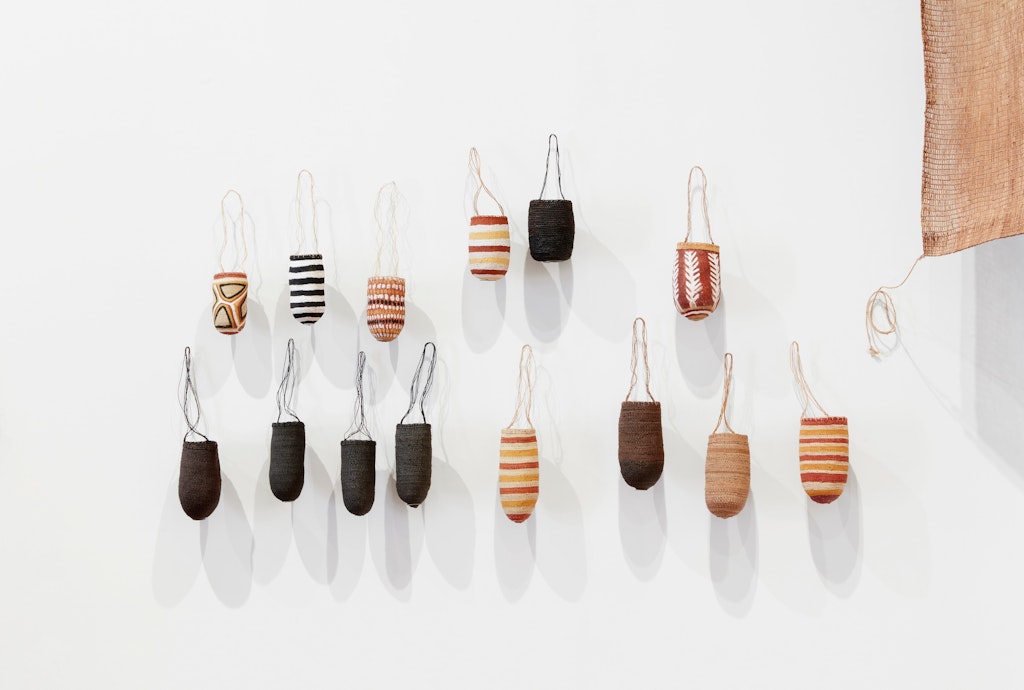 Artists from the Wik and Kugu Arts Centre were invited to make a pack of their renowned ku' or 'camp dogs', that will be located in various groups across the new and existing buildings, including in Yiribana. In Aboriginal communities across Australia, camp dogs often dominate the landscape, and with this project, 9 Wik artists from Aurukun in the Cape York Peninsula have hand carved 26 dogs using wood and painted with natural pigments. Each showcasing individual personalities, some friendly, some cheeky, and some slightly menacing.
Artists from Hermannsburg Potters chose to focus on the history of outstations in Central Australia in a special new series of terracotta pots. Each vessel depicts a different moment on outstations in and around Ntaria/Hermannsburg, telling stories of life in the bush whilst celebrating the strength and resilience of the artists' families and communities.
A group of meticulously carved works on metal highlights the inventive way artists from Yirrkala in northeastern Arnhem Land are working with materials. Led by Gunybi Ganambarr, these artists at Buku-Larrŋgay Mulka Centre transform reclaimed pieces of scrap metal – such as old road signs – into elaborate works detailed with inherited designs. Building on the Art Gallery's commitment to artists from New South Wales, Andrew Snelgar's shields pay homage to historical works in the collection and evidence ongoing cultural practices within the south-east of Australia.
Artist and designer Grace Lillian Lee has made Belonging, a new suite of woven body sculptures informed by her continued exploration in celebrating her cultural lineage, as a proud Meriam Mer woman. While a large-scale ink drawing by senior Pitjantjatjara artist Iluwanti Ken from Tjala Arts, was commissioned by the Sir William Dobell Art Foundation to commemorate the opening of the new building. The work depicts the story of the mother eagles hunting. A recurring feature in Ken's practice, the Walawulu (eagle) teaches Anangu women how to care for and nurture their children.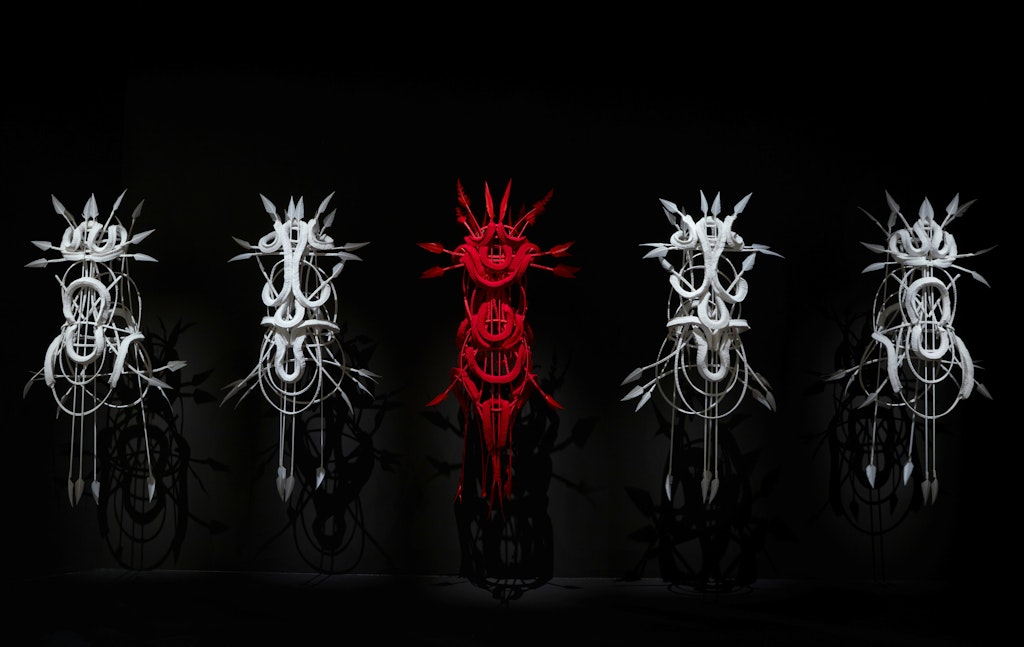 Other recent acquisitions are displayed alongside collection highlights – including works by Richard Bell, Emily Kame Kngwarreye, Yhonnie Scarce and Rover Thomas – showcasing the diversity of practice across the country, and across time, media and art styles.
Milingimbi Art Centre artists: Freda Wyartja Ali, Bonny Burarngarra, Margaret Gamuti, Helen Ganalmirriwuy Garrawurru, Margaret Rarru Garrawurra, Mandy Batjula Gaykumaŋu, Lily Roy, Sabrina Roy, Sia Rose Walabanda
Hermannsburg Potters artists: Hayley Panangka Coulthard, Beth Mbitjana Inkamala, Judith Pungarta Inkamala, Abel Pareroultja, Anita Mbitjana Ratara, Andrea Pungkarta Rontji, Rona Panangka Rubuntja, Dawn Ngala Wheeler
Wik and Kugu Arts Centre artists: Bruce Bell, Vernon Marbendinar, Bevan Namponan, Garry Namponan, Leigh Namponan, Leo Namponan, Lex Namponan, Keith Wikmunea, Roderick Yunkaporta