Art Gallery of New South Wales announces Australia's first Children's Art Library as part of Sydney Modern Project expansion
20 December 2021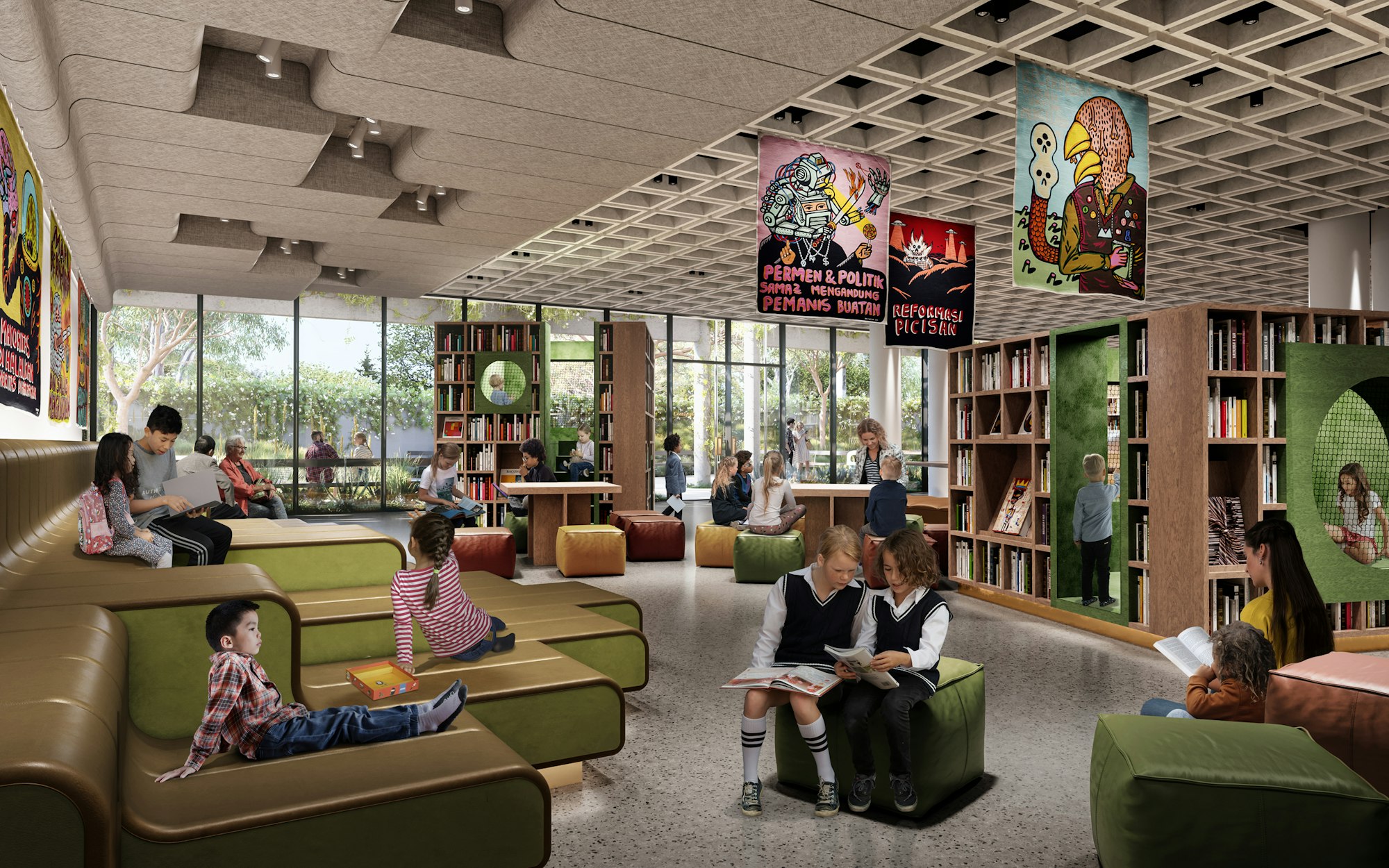 Designed to provide a sense of wonder for children and their families, the Art Gallery of New South Wales today announced that Australia's first art library for children will open next year in the original building as part of the Sydney Modern Project revitalisation program, currently underway.
In a welcoming, colourful and light-filled architecturally designed space, books about artists and by artists, books about art history and books featuring acclaimed illustrations will fill the shelves of the Children's Art Library, providing delight and stimulating the imaginations of its young visitors. Books in various languages will be available, as will a range of books in accessible formats for children living with disabilities or who have access requirements. The collection will include books by Aboriginal and Torres Strait Islander artists and writers.
The new space will also enable young people to better access the library's existing collection and objects from the National Art Archive – including childhood illustrations of artists such as Margaret Olley and Grace Crowley – and support students with independent study and research. A suite of programming and projects will include sensory and tactile experiences from the archives, performances, and new artist-led artmaking experiences with children as vital co-creators.
Designed by leading Australian architectural firm Tonkin Zulaikha Greer (TZG), the library has been made possible through a generous gift by a donor, to be announced when the new space opens in 2022. The Children's Art Library will complete a suite of beautiful new facilities for art scholarship, research and education in an exciting new precinct on Lower Level 3 of the Art Gallery's original building.
Art Gallery of NSW deputy director and director of collections Maud Page said: 'The Art Gallery of NSW is renowned for its art collection and exhibitions and from next year our Children's Art Library will also offer families with young children a welcoming place designed especially for them.
'In addition to exploring our gallery spaces or exhibitions – or as a dedicated visit to the library – this will be a place where children can, above all, be inspired and look, read, learn and imagine,' Page said.
Art Gallery of NSW head archivist Steven Miller, said: 'The Children's Art Library will be a place of active engagement and exchange, as well as quiet contemplation and deeper connection. Both will provide children with the opportunity to discover and explore the creative world, primarily through the eyes of the artist.'
TZG director Peter Tonkin, said: 'In designing the library for kids, we imagined engaging, child-scaled spaces that could ignite their natural delight in art. We created child-sized 'cubby houses' for reading, tables for engaged learning, and a really big comfortable lounge for parents to read with their kids, and older children to relax with a book.'
Along with the new Edmund and Joanna Capon Research Library, the National Art Archive and the Children's Art Library, other spaces in development on Lower Level 3 of the Art Gallery include a spectacular new double-height reading room, an expanded Members' Lounge, and a new hub for the Gallery's guides and volunteers, generously supported by Jillian Segal and John Roth in honour of Jillian's mother Mignon Segal, a longstanding guide. The Domain Theatre foyer is also being upgraded and all spaces – designed by TZG and currently under construction by Kane Constructions – will be fully accessible.
The revitalisation program in the existing building is designed to restore original architectural features, provide more space for art display and research, enhance the visitor experience, and support sustainable operations. The Sydney Modern Project transformation also allows for a rehang of the Art Gallery's collection.
While this program of works takes place throughout 2022 and some spaces remain temporarily closed, the Art Gallery remains open. Families visiting in 2022 will be able to view ARTEXPRESS 2022, the free annual exhibition of outstanding NSW student artworks developed for the HSC, which opens in early February. In May, the popular Archibald, Wynne and Sulman Prizes 2022 will be on display, alongside the Young Archie competition in its 10th year.
From January to April 2022, visitors to the Art Gallery will be able to explore four exhibitions, Family: Visions of a Shared Humanity (until 13 February), The Purple House (until 27 February), Matisse Alive (until 3 April) and the Sydney International Art Series exhibition Matisse: Life & Spirit, Masterpieces from the Centre Pompidou, Paris (until 13 March).
Opening in March, the 23rd Biennale of Sydney titled rīvus presents participant artworks and projects that explore connections and disconnections with rivers, wetlands and other salt and freshwater ecosystems. The 2022 Biennale of Sydney is led by a Curatorium of local curators, including Paschal Daantos Berry (Art Gallery of NSW), Anna Davis (MCA Australia), Hannah Donnelly (I.C.E.) and Talia Linz (Artspace) with international artistic director, José Roca.
In June, the Art Gallery will celebrate the interconnected histories of First Nations people through the first major monograph to be held in an Australian public institution by contemporary Australian artist, Daniel Boyd. Daniel Boyd: Treasure Island features over 80 works from across the artist's near two-decade career and unpacks the ways in which Boyd holds a lens to Australia's colonial history.
2022 also sees the Art Gallery continue its commitment of taking art to the regions, with a national touring program showcasing work from some of Australia's most dynamic artists. The touring program includes three Archibald Prize exhibitions, Archie 100: A Century of the Archibald Prize, Brett Whiteley: Drawing is Everything, and William Kentridge: I Am Not Me, the Horse is Not Mine.
For more information on the Art Gallery's 2022 exhibitions and dates, please visit our website.
About the Sydney Modern Project
The Art Gallery of New South Wales' Sydney Modern Project is an important expansion and transformation of one of Australia's pre-eminent art museums: a new standalone gallery building, the revitalisation of its late-19th-century building, a public art garden and civic space for all. Construction of the Art Gallery's new building designed by Kazuyo Sejima + Ryue Nishizawa / SANAA, with Architectus as executive architect, is underway by Richard Crookes Constructions and is scheduled for completion in late 2022. The Art Gallery is Australia's first art museum to be awarded the highest environmental standard for design with a 6-star Green Star rating. Together with the NSW Government's $244 million in funding, the Art Gallery has raised more than $100 million to support the expansion project. It is the largest government and philanthropic arts partnership of its kind in Australia to date. Infrastructure NSW is the delivery agency for the project on behalf of the NSW Government and the Art Gallery, which remains open during construction.