2020 Brett Whiteley Travelling Art Scholarship
Five artists awarded prestigious scholarship in 2020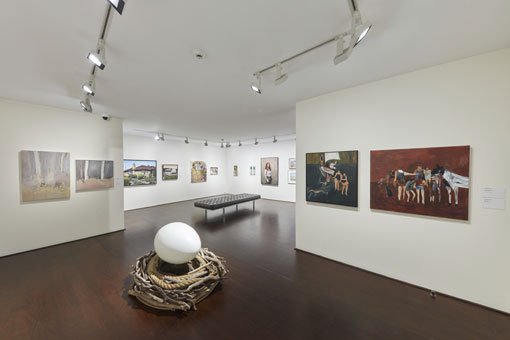 Wednesday 14 October 2020
Awarded for the past 21 years to a young Australian painter aged between 20 and 30 years, the Brett Whiteley Travelling Art Scholarship in its 22nd year has been awarded to five artists, each of whom receive $10,000 and the offer of a two-week residency at Shark Island Institute in Kangaroo Valley, New South Wales.
Guest artist judge Lucy Culliton selected 11 finalists and five Scholarship recipients from 129 entries. Recipients include Charlie Ingemar Harding (Victoria); Emily Grace Imeson (NSW); Dan Kyle (NSW); Lily Platts (NSW) and Georgia Spain (Tasmania).
Culliton said the best thing about judging the 2020 Brett Whiteley Travelling Art Scholarship during COVID was that she was able to choose five recipients instead of one.
"I'm really looking forward to seeing what these young artists produce during the residency at Shark Island Institute where they have the opportunity to work together should they wish," Culliton said. 
Curated by Wendy Whiteley, works from each artists' winning body of work will be on display at the Brett Whiteley Studio in Surry Hills from 15 October until 15 November 2020. The exhibition will also include works by finalists Amelia Carroll, Alice Palmer, Cosima Scales, Ondine Seabrook, Lilli Stromland and Christopher Zanko.
Alongside the 22 Brett Whiteley Travelling Art Scholarship works in this exhibition, visitors to the Brett Whiteley Studio will also be able to view the exhibition Feathers and Flight on until 2021.
Art Gallery of New South Wales director, Michael Brand, said that in one of the most challenging years the arts community has ever experienced he's delighted that the Scholarship could be awarded, albeit in a different format.
"That the Scholarship this year is shared between five artists instead of a single artist speaks to the moment we're in, where we all need to work together and find new ways of thinking for the benefit of our community.
"The Scholarship remains a prestigious, national painting award and I welcome all five recipients to the Brett Whiteley Travelling Art Scholarship alumni who have, like Brett Whiteley before them, had their worlds open up as a result of being offered this opportunity to spend time creating work in a new location," Brand said.
"I thank Shark Island Institute for hosting this year's two-week residency when we couldn't offer a residency at the Gallery's Cite Internationale des Arts studio in Paris. I've no doubt each recipient will find inspiration immersed in the stunning landscape of Kangaroo Valley in regional New South Wales," Brand added.
The residency will take place from Monday 16 November to Sunday 29 November 2020 (COVID restrictions pending). During the residency the young artists will be offered a mentoring session by Ben Quilty, a former recipient of the Brett Whiteley Travelling Art Scholarship.
Brand also thanked the Brett Whiteley Foundation for extending the scholarship this year to five artists, and increasing the value of the scholarship by $10,000 – from $40,000 in previous years for an individual artist, to $50,000 shared between five artists.
Funds for the Scholarship were generously allocated by Mrs Beryl Whiteley (1917–2010) in memory of her son, both to encourage excellence in painting and to offer young artists the same opportunity to develop their careers as were afforded to Brett.
View the recipient works online
ABOUT THE ARTISTS
Charlie Ingemar Harding
Artist statement
My proposal for the scholarship this year was an eclectic one, it consists of still life, figurative and abstract oil painting. This eclecticism best represents my painting practice as a whole. The two paintings that have been selected for exhibition, The Grand Event and Tree trunks, fish bowls, ladders and rocks, deal with differing subject matter. However, both have a similar fluid and hazy temperament, where colour and the handling of paint is championed. The Grand Event might bring to mind an idea of a cabal, an invitation only scene where foul play could be present. Tree trunks, fish bowls, ladders and rocks is dealing with colour. There are colour fields and marks that mingle and dance. They overlap, layer, cross paths; losing and finding themselves.
Quote:
"It was such an exciting time three years ago when I was first a finalist in the Whiteley Scholarship and I dropped everything mid uni semester to hit the road from Melbourne with my best friend, Oliver. We are big admirers of the work of Brett Whiteley and there we are about to go to the exhibition of finalists where my work was to be displayed among Brett Whiteley's works, in his personal studio. This trip was our introduction to Sydney and places like Surry Hills and the beautiful Lavender Bay. We had stars in our eyes. Meeting Wendy Whiteley was a humbling experience and one that has stayed with me since. To be a recipient of the scholarship this year just builds on that experience. What a great honour. While I am very disappointed to not be able to be there in person for the announcement and exhibition, I cannot wait to experience the residency, to learn from my fellow recipients and from an artist of such note as Ben Quilty. I will be there, whatever it takes," said Charlie Ingemar Harding.
Emily Grace Imeson
Artist statement
Experience, memory, and knowledge of the land inspires me and provides an understanding of the evolutionary connections between humanity and nature. Set in foundations of 'en plein air' painting, my practice later works with sensory recollections to provide distortions of visual representations. Through these abstractions I am seeking new perspectives; of painting, of the land, and how humans interact with the world that sustains them.
Quote:
"Being a recipient of the Brett Whiteley Travelling Artists Scholarship 2020 is a great complement to my emerging practice. Not only will it provide opportunities to develop and evolve as an artist, the support and encouragement is priceless. It is hard to express my gratitude, I have been working towards this goal for many years. The artists associated with this award have been a great inspiration, as the art of Brett Whiteley will always be. I am grateful to be recognised as a worthy scholar. Thank you, Lucy Culliton, Wendy Whiteley, the Art Gallery of NSW, and the Brett Whiteley Studio," said Emily Grace Imeson.
Dan Kyle
Artist statement
In my work I want to capture ever changing portrait of the Australian bush. Hovering somewhere between figuration and abstraction, my painting is a direct response to my daily experiences living in the bush. From my studio on the fringe of the Wollemi National park I witness the landscape in all of its stages of change. I study the daily changes in light, temperature and atmosphere, from early morning right through to sundown, and the changes from catastrophic events like drought and bushfire, their aftermath and also the future of our neglected natural environment.
Quote:
"I am absolutely honoured to be one of the recipients of the 2020 Brett Whiteley Travelling Art Scholarship – something I have dreamt about since I was a teenager. I'm thrilled to be sharing this year's prize with the other winners. For me, having more winners than one is really exciting – changing five lives instead of one. For that I want to thank Wendy Whiteley and the Brett Whiteley Studio, the Art Gallery of NSW and of course the judges. COVID has bought many challenges to the arts this year and your combined efforts to transform and keep the prize going is praiseworthy," said Dan Kyle.
Lily Platts
Artist statement
In this series, I stepped away from my usual vibrant colourful paintings and instead, explored the beauty in shapes and lines that is created by working tonally. Finding myself in lockdown in Melbourne at the beginning of the year, I saw my works become smaller and more intimate in the same way as my everyday experiences and interactions. I have chosen to use the motif of the green plastic chair as I am drawn to the simplicity of its form and sense of familiarity. Observing the way the chair shadows become distorted and flattened, I tried to capture the different angles that are formed as the arms and holes in the chair twist and move in the sunlight to create abstracted, stretched shapes. These works explore objects in a monochromatic format and experiment with placing an equal importance on the shadows and reflections to the three-dimensional object itself. It is a light-hearted ode to a ubiquitous and familiar garden object.
Quote:
"This year has been a challenging one for many industries, especially the arts and I feel extremely lucky and privileged to be presented with this Scholarship. It provides me with a great opportunity to further my career and will allow me to engage with fellow artists and creatives," said Lily Platts.
Georgia Spain
Artist statement
Painting, for me, is a way to process and engage with the world around me. I am interested in human behaviour and using narrative and storytelling to explore the cultural, political and personal. My work frequently looks at ideas around human spectacle, theatricality, ritual and ceremony. In my paintings, physical connection is explored through bodies in groupings, often touching on an instinctual engagement between people in crisis or communion.
Quote:
"I am so honoured to be one of this year's recipients of the Brett Whiteley Travelling Art Scholarship. Being offered this opportunity is hugely beneficial to my growth and development as an artist in so many ways. I look forward to sharing the time of the residency with a group of passionate young artists and seeing how my work may evolve outside of my usual studio. It is deeply meaningful to me to be following in the footsteps of some of Australia's best painters, and of course be following a path paved by Brett Whiteley himself!" said Georgia Spain.
About the Brett Whiteley Studio
Brett and Wendy Whiteley first bought the former Surry Hills warehouse in 1985, converting it into a studio and exhibition space where Brett lived and worked from 1988 until his death in 1992. The space opened to the public in 1995, two years after it was purchased by the NSW Government.The Brett Whiteley Studio offers visitors the unique opportunity to experience the atmosphere of the artist's working space, with paintings, art materials, Whiteley's collection of art books and objects that inspired him, alongside the graffiti wall covered with his quotes and images.The Studio is managed and owned by the Art Gallery of NSW. Free admission is made possible by J.P. Morgan, principal sponsor of the Brett Whiteley Studio.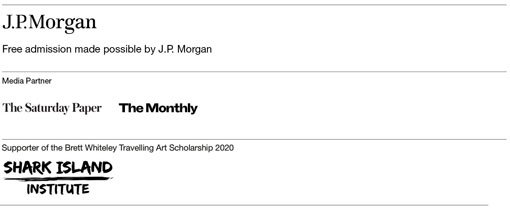 On view
until 15 Nov 2020
Art Gallery of New South Wales
Art Gallery Road, The Domain, Sydney
Admission

Friday – Sunday only
Free admission made possible by J.P. Morgan
Media contact
Sarah Shields
Tel 02 9225 1674
sarah.shields@ag.nsw.gov.au