Arts in health outreach program: transforming clinical settings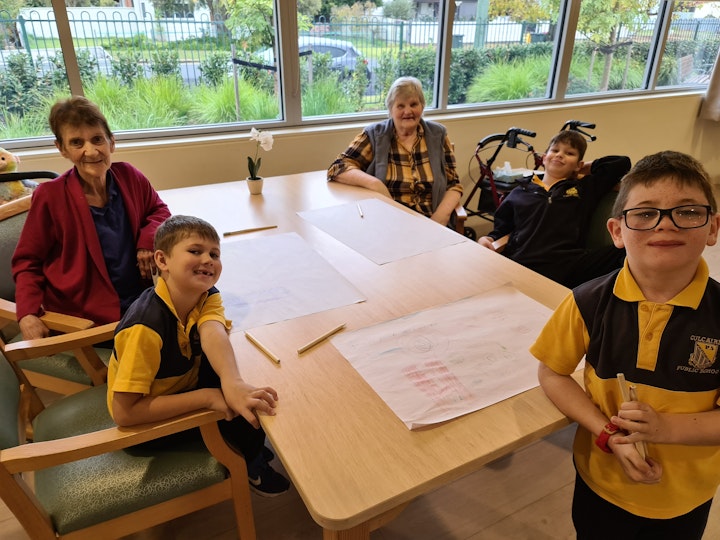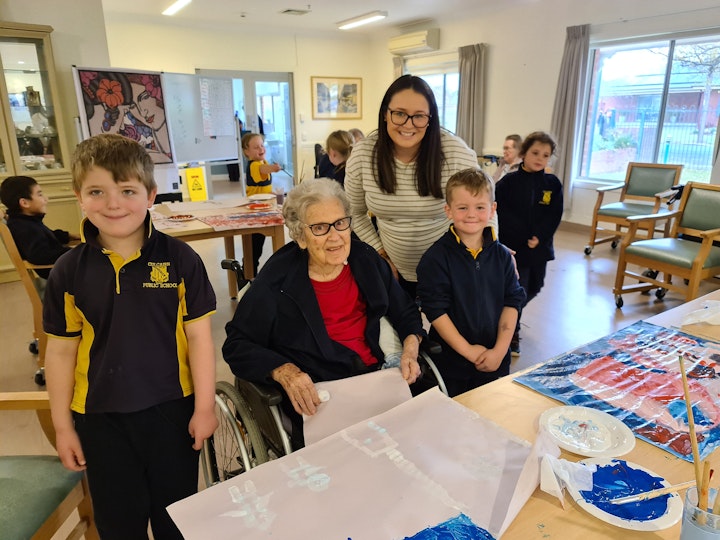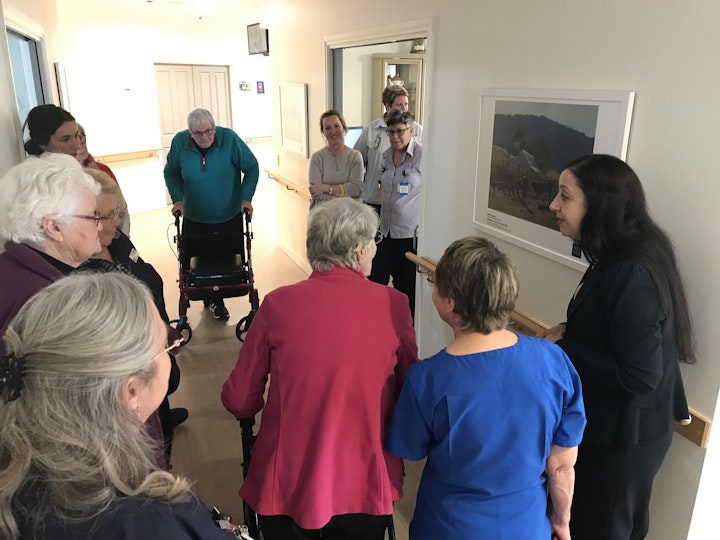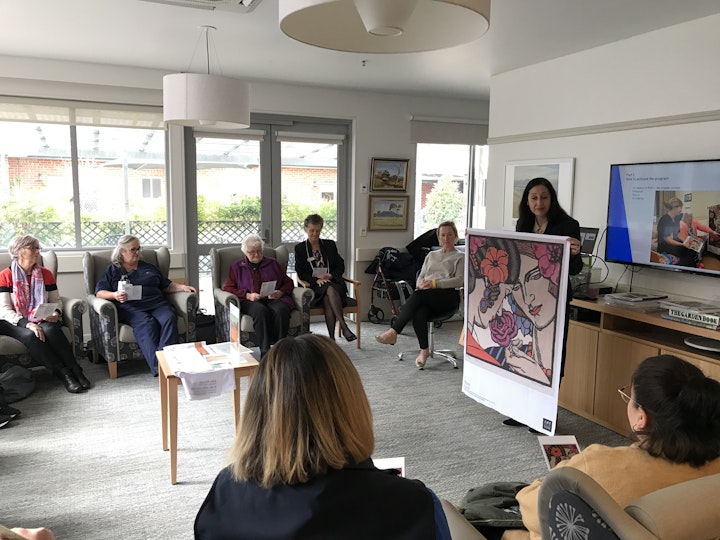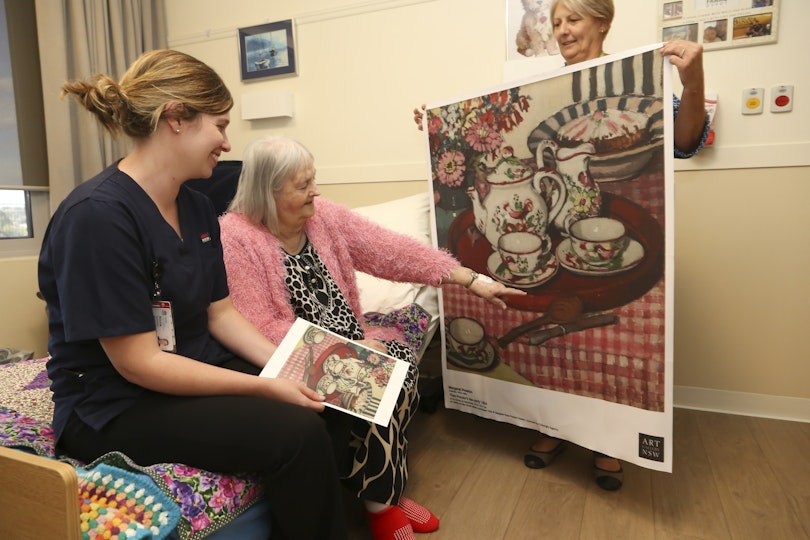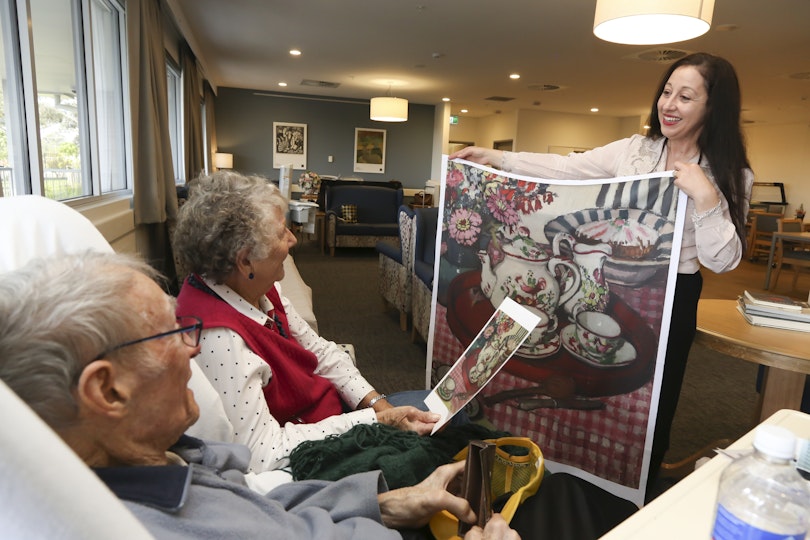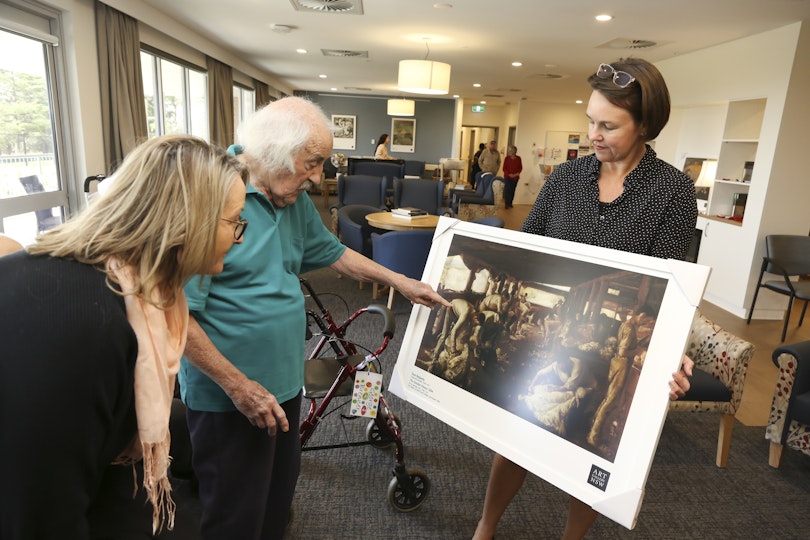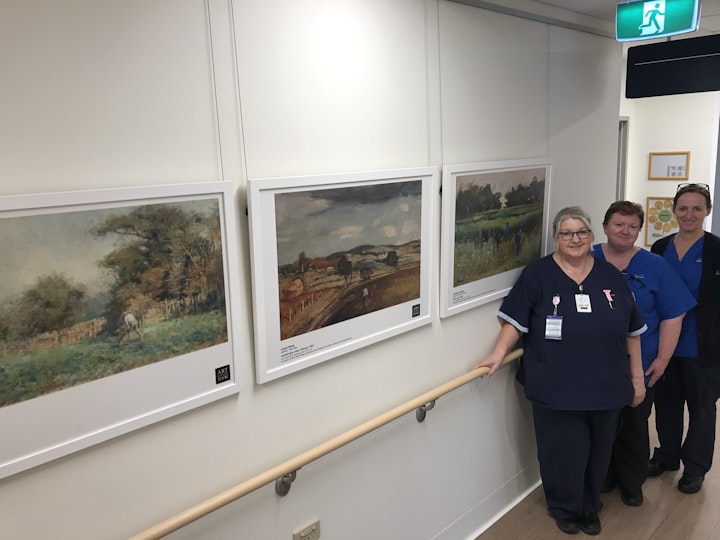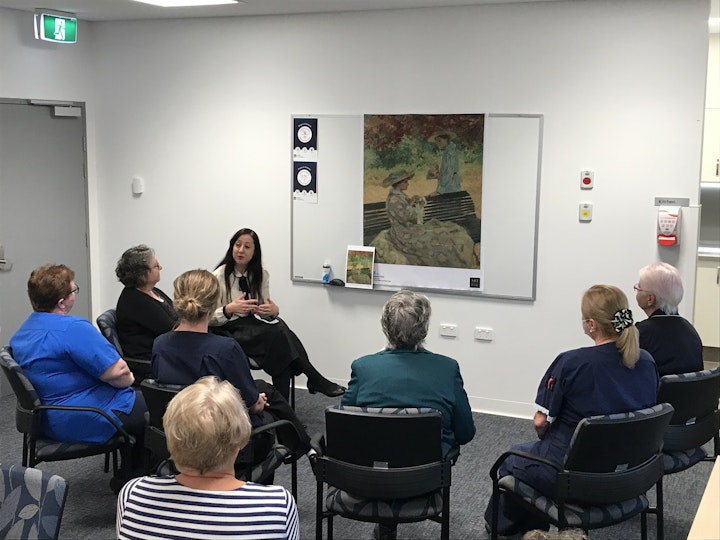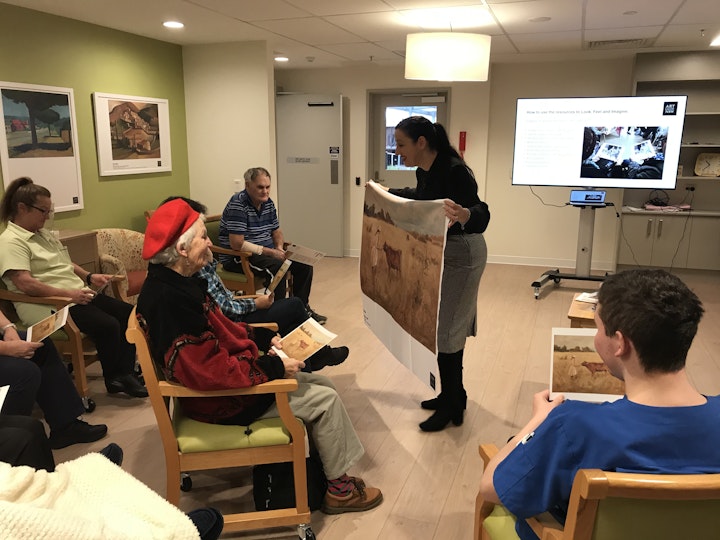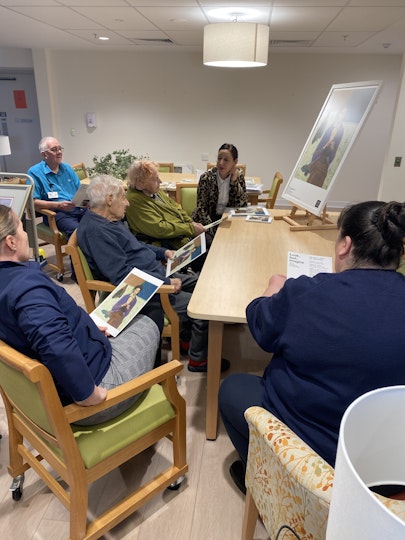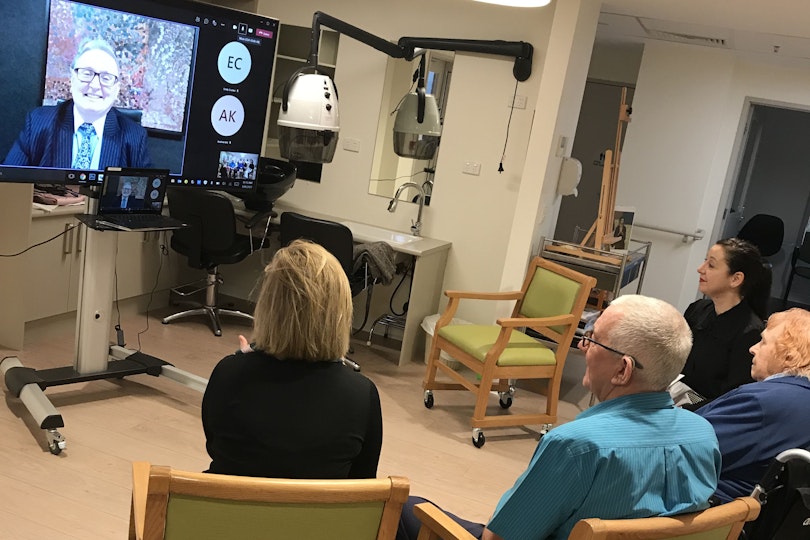 The Arts in Health MPS Pilot Project is an innovative program which provides aged care residents at three facilities in the Murrumbidgee Local Health District with access to professional and quality arts engagement experiences taking the program into regional NSW.
The project is a collaboration between Murrumbidgee Local Health District, Health Infrastructure and the Art Gallery of New South Wales.
Commencing in April 2021, this is a three year initiative delivered at Murrumburrah-Harden Health Service, Culcairn and Tumbarumba Multipurpose Services. The sites were selected as they are recent redevelopment projects delivered under the MPS Stage 5 Program by Health Infrastructure.
Impact

"Not only does the program create really beautiful spaces for residents, staff and families to be in, it improves the lifestyle of the residents.

Staff are realising there was much more to know about the residents as people. The art is creating different conversations and moods and changing the nurse and patient experience. It goes to show the program is providing a more uplifting environment for staff to work in"

Brigette Uren, Program Director Arts, Health Infrastructure

The program supports non-pharmacological approaches within residential aged care settings. Research indicates engagement with the arts for those living with dementia, stimulates brain function resulting in improved speech, which is important for communication with families, staff and residents to engage with each other. This has positive benefits on many of the behavioural impacts of a dementia diagnosis.

Importantly, the program's social and cultural approach provides a meaningful way for aged care residents to connect with others, particularly during periods of isolation due to the COVID-19 pandemic. Innovative approaches that maintain communication and relationships are vital to ensure ongoing connection with communities.

Program Outline

The Pilot Program is modelled on similar Art Gallery of NSW programs created for people with a lived experience of dementia.

 A curated display of 20 high quality, framed reproductions and an associated program of purposeful activities and materials will be provided at each facility to engage aged care residents in self-guided, one-on-one and group activities led by trained staff.

 The artworks and resources will be rotated across the three sites annually so that residents can enjoy the full collection of 60 artworks and associated activities.

 An evaluation will be undertaken of the pilot program over the three years to assess its suitability for future implementation across the state.

Artworks

Works selected from the Art Gallery of NSW Australia collection include Indigenous and non-Indigenous artists such as Roy Kennedy, Margaret Preston, Arthur Streeton and Thea Proctor.

Standards

The Program aligns with the National Safety and Quality Health Service (NSQHS) Standards, the Aged Care Standards which support consumer dignity and choice, supports for daily living, comprehensive care and partnering with consumers.

Training

The Art Gallery of NSW and Health Infrastructure is providing professional training and on-going professional development opportunities to health staff and guidance for community and family members to equip them to facilitate the program directly in their communities.

Residential aged care environments are governed by a set of standards. The MPS Arts in Health initiative directly relates to several of the Aged Care Quality Standards and National Safety and Quality Health Service Standards.

1. Aged Care Quality Standards

Commonwealth subsidised aged care services, such as Murrumburrah-Harden Health Service, comply with the Aged Care Quality Standards. The Quality Standards which can be linked to the aims of the Arts in Health initiative include:

Standard 1: Consumer dignity and choice encompasses dignity and respect, identity, culture and diversity, cultural safety, choice and dignity of risk. These concepts recognise the consumers sense of self. They also highlight the importance of the consumer being able to act independently, make their own choice and take part in the community. These are vital in fostering social inclusion, health and well-being.

Standard 4: Services and supports for daily living covers a wide range of options that aim to support consumers to live as independently as possible and enjoy life. Specifically Standard 4 (3) ensures that there are supports in place to improve a consumers well-being and quality of life using a consumer-centred approach. At its core is the concept of treating the consumer as a whole person and considering their physical and mental health, their spiritual, emotional and social life. It is about making sure consumers are socially connected, can have the relationships they choose and have control over their lives.

Standard 5: Organisations service environment ensures that the service environment, furniture and equipment support a consumers quality of life as well as their independence, ability and enjoyment. Core to this concept is a sense of belonging for the consumer.

Visit the Aged Care Quality and Safety Commission webpage for more information

2. National Safety and Quality Health Service Standards

For MPS sites, such as Culcairn and Tumbarumba, the National Safety and Quality Health Service Standards can also be linked to the aims of the Arts in Health initiative. They include:

Standard 2: Partnering with consumers ensures person centred care and there is a focus on community and consumer involvement. Specifically consumers have an integral role in the healthcare they receive and are involved in the governance, design, measurement and evaluation of healthcare. These systems need to reflect the diversity of the consumers who use the service or the diversity of the local community.

Standard 5: Comprehensive Care intention is partner with consumers when providing comprehensive care and minimising patent harm. It ensures that consumers are involved in their own care in a way that meets their information needs and there are systems in place for shared decision making. It also discusses collaborating with patients, carers and families to manage or minimise risks of delirium, self-harm or aggressive or violent behaviour.

Visit the Clinical Excellence Commission webpage for more information

Partnership

The project is a collaboration between Murrumbidgee Local Health District, Health Infrastructure and the Art Gallery of New South Wales. 

Funding

The pilot initiative is funded as part of the NSW Government $297 million Multipurpose Service (MPS) program, providing improved access to health and aged care services in rural and remote communities. In-kind support is provided by the three partnering organisations with the Multipurpose Service Program funding the production of the prints and resources.

Research

The program is based on research by the Art Gallery of NSW and University of NSW Liveable Communities Together: Art and Dementia program.

Watch a short documentary Together: Art and Dementia on the program developed for people living with dementia.

Read the report Arts engagement for people living with dementia .

WoMAP: an Art Gallery of NSW collaboration with Sydney Local Health District How creative arts are helping enrich the lives of people with a lived experience of dementia. Watch a video featuring the WoMap program .

"While dementia impacts cognitive and physical functioning and memory, consciousness and emotions remain intact. This means people living with dementia show affective responses and can experience the pleasure of looking at and talking about art"

Dr Gail Kenning, University of Technology Sydney and University of New South Wales 
Artworks from the Art Gallery of NSW collection