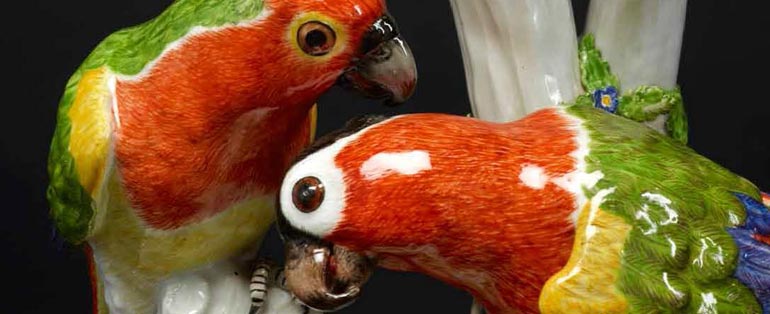 Parrots model 1745 (detail), Meissen
Kenneth Reed Collection
A magnificent selection of 18th-century porcelain, ranging from the pleasingly eccentric to the the sublimely beautiful.
The mastery of porcelain technology in the 18th century opened up a new avenue of creative energy in Western art and design. This was also a period when the cultures of West and East met and began to interreact, with consequences that turned human culture into a global phenomenon for the first time.
This story is told in the Kenneth Reed Collection through some 200 items from 27 factories – Austrian, German, English, French and Italian – including the great factories of Meissen, Chelsea and Sèvres.
Highlights include a spectacular group of parrots originally modelled at Meissen by Joseph Joachim Kändler for Augustus III's consort, Maria Josepha of Austria. Superlative examples of Vincennes and Sèvres include a rare rose marbré tea service and a unique piece of experimental hard paste from the early 1760s. English examples include an array of Chelsea figures and wares from all periods of the factory's production.
The works are all part of a bequest to the Art Gallery of NSW from a private collector, Kenneth Reed, and are currently on permanent loan.