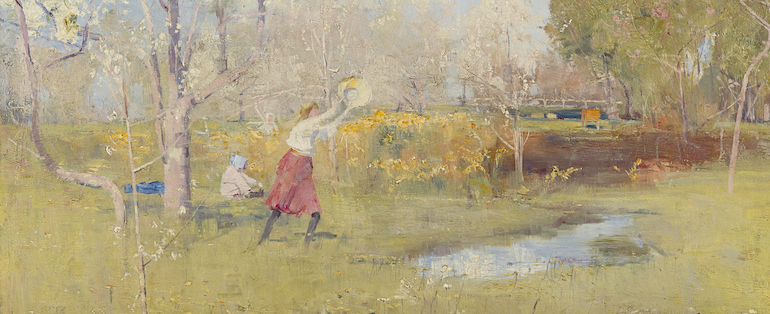 Arthur Streeton Butterflies and blossoms 1889 (detail). National Gallery of Victoria, Melbourne, purchased with the assistance of a special grant from the Government of Victoria 1979
For families
Young visitors to the exhibition can get closer to the art of Arthur Streeton with a free printed children's activity trail, activity sheet and specially made labels just for kids. There are also special ticket prices for children and families, and kids under 5 can see it for free.
During your visit
Children's labels
Within the exhibition you'll find special labels just for kids that encourage young visitors to look closely and discover more in a way that is meaningful for them, with active prompts that develop creative thinking and visual literacy.
Free children's trail
Pick up the free printed children's activity trail at the exhibition entrance. These little booklets encourage children to draw, write and use their imagination to form their own ideas and responses to the art of Arthur Streeton.
After your visit
Activity sheet
Be inspired by Arthur Streeton's art and make some art of your own at home. Pick up the free activity sheet at the exhibition entrance filled with ideas to get your creative juices flowing.
Ticket prices
Kids under 5 get in free. Children aged 5-7 are $12. A family ticket for two adults and up to three children is only $56.