Self-portrait

Renaissance to contemporary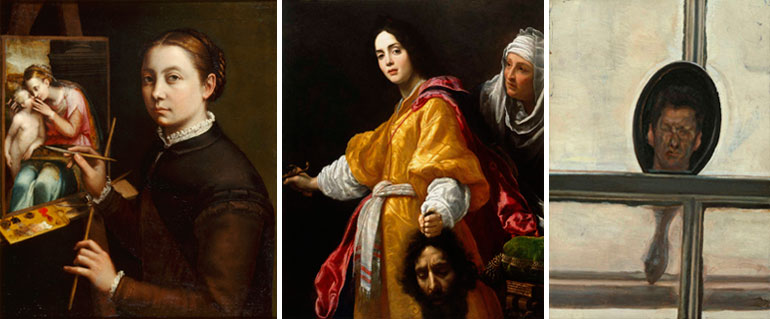 (left to right) Sofonisba Anguissola Self-portrait at the easel painting a devotional panel, 1556, Muzeum-Zamek, Lancut, Poland; Cristofano Allori Judith with the head of Holofernes 1613, lent by Her Majesty the Queen © The Royal Collection 2005 Her Majesty Queen Elizabeth ll;
Lucien Freud Interior with hand mirror (self-portrait) private collection © the artist
This major exhibition brings together painted self-portraits by some of the world's greatest artists from the mid 16th century to the beginning of the 21st century.
It features 50 carefully selected self-portraits in oil painting, including a mix of familiar faces and more surprising choices.
Major works by artists renowned for their self-portraits such as Velásquez, Van Gogh and Kahlo feature alongside works by less well-known artists whose self-portraits are of exceptional quality and interest.
The international range of artists represented also includes Carracci, Cézanne, Close, Freud, Hogarth, Reynolds, Rubens, Warhol, Whistler, Valadon and Hopper.
Exhibition co-organised by the Art Gallery of New South Wales, Sydney, and the National Portrait Gallery, London.

17 Feb – 14 May 2006
$12.00 adult
$9.00 member/concession
$15.00 joint ticket with Archibald Prize
$12.00 joint ticket with Archibald Prize – concession
Location:
Temporary exhibitions gallery
Related