From Spain to Paris: 1895–1905
When I was a child, I could draw like Raphael, but it took me a lifetime to learn to draw like a child.
- Pablo Picasso
Picasso's talent was evident from a young age, first recognised and nurtured by his art teacher father. Several early drawings in this room, made when he was around 13 years old, show his exceptional skills in figure drawing. During his teens, Picasso furthered his academic training at various art schools in Spain and at 19 took his first trip to Paris, when one of his works was selected for the Exposition Universelle. Over the next four years, Picasso moved restlessly between Paris and Barcelona, discovering the work of the post-impressionists and befriending fellow painter Carlos Casagemas, whose suicide in 1901 affected him deeply.
Picasso drew his subjects from the underbelly of modern city life: beggars, the homeless and prostitutes. Evoking the alienation of the disenfranchised in endless shades of blue and grey, this became known as his Blue Period. While these works were inspired by contemporary art and life, they were also rooted in history: the ashen features and elongated limbs of Picasso's figures recall paintings by his 16th-century compatriot El Greco.
Finally settling in Paris in 1904, Picasso took up a studio in the famed 'Bateau-Lavoir' – a complex of artists' studios in the bohemian quarter of Montmartre. His Rose Period paintings – so-called for their palette of dusty earth tones and pinkish reds – were largely inspired by the circus and theatre. Le fou (The jester) 1905, an early foray into bronze sculpture, was inspired by an evening at the Cirque Medrano, though it is also a 'portrait' of the poet Max Jacob, one of Picasso's broadening group of Parisian friends – a circle that included writers and artists who would come to define the modern era: Henri Matisse, André Derain, Gertrude Stein and Guillaume Apollinaire.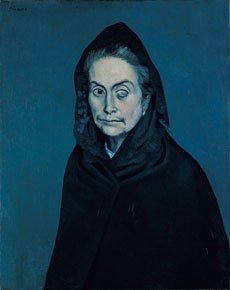 La Célestine
Celestina
1904
The subject of this painting is possibly based on a character from a 15th-century Spanish novel, a brothel keeper named Celestina. The milky appearance of the woman's leucoma-affected left eye is one of many references to blindness in the works from Picasso's Blue Period. Almost a monochrome of blue-grey, the figure is given only the slightest hint of warmth in the rose blush of her left cheek, suggesting the humanity of this forlorn woman, isolated in the cocoon of her inky blue cloak.