A return to classicism: 1916–1924
The art of the Greeks, of the Egyptians, of the great painters who lived in other times, is not an art of the past; perhaps it is more alive today than it ever was.
- Pablo Picasso
While World War I sent many Parisian artists to the front, Picasso, as a foreign national, continued to work largely undisturbed. He travelled to the south of France and to Italy for the first time, and his experience of the art of ancient Rome and Pompeii brought a renewed emphasis on classical beauty and naturalism.
In 1916 Picasso befriended the writer Jean Cocteau, who introduced him to the founder and artistic director of the Ballets Russes, Serge Diaghilev. The three collaborated on the ballet Parade, composed by Eric Satie. The avant-garde score and circus imagery of Parade called for a decorative use of pattern and colour that carried through to Picasso's work beyond the stage.
Perhaps in accord with the postwar mood described by Cocteau as a 'call to order' – a desire for stability, introspection and contemplation after the shock and destruction of the war – Picasso returned to the classics. The heavy sculptural quality of his 1920s figures could hardly be further from the flattened planes and abstractions of cubism, though they often retain the jagged bulk of his Oceanic-inspired work. Yet again, Picasso's sources were eclectic: the influence of Renoir's late paintings of robust female figures can be seen in La dance villageoise (The village dance) 1922, while domestic life inspired tender images of his new wife Olga and playful portraits of their first child, Paul.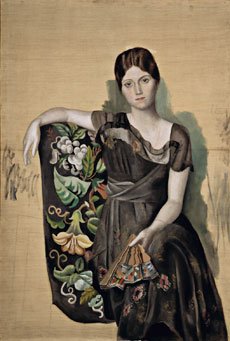 Portrait d'Olga dans un fauteuil
Portrait of Olga in an armchair
1918
This elegant portrait of his new wife, Ballets Russes dancer Olga Koklova, recalls classical Greek and Roman sculpture. The stylised twists and folds of Olga's dress and fan are echoed in the subtle wave and sheen of her hair. Likewise, the smooth modelling and cool tones of Olga's face, neck and arms give her flesh the appearance of marble.