Last decades: 1961–1972
I am a Spaniard. Just as a torero takes his bull through all kinds of passes, I like to take my pictures through all kinds of variations.
- Pablo Picasso
By now acclaimed as a master of modern art, Picasso worked with an urgent and defiant creativity. In printmaking, he collaborated with master printers Piero and Aldo Crommelynck. In sculpture, he produced new works in sheet metal based on cut and folded paper models, which also seemed to hark back to his cubist metal constructions – for example, La chaise (The chair) 1963. In his late self-portraits, Picasso cast himself in an array of roles: as a sword-wielding matador, an ageing artist with his young model and, most poignantly, as a wide-eyed, youthful artist, palette in hand.
At times, Picasso's late works drew criticism for being repetitive or derivative, including those inspired by iconic paintings from the history of European art by artists such as Velázquez, Goya, Poussin, Delacroix and Manet. Yet it was always Picasso's enduring bond with the history of painting that brought about innovation in his work, or as he put it: 'What does it mean for a painter to paint in the manner of So-and-So or to actually imitate someone else? What's wrong with that? On the contrary, it's a good idea… And it's at the very moment you make a botch of it that you're yourself.'
It is only more recently that the significance and innovation of Picasso's late works have come to be appreciated, with many art historians, critics and particularly artists acknowledging Picasso's continuing and insatiable creativity. As his close friend, the photographer Brassaï said: 'He thought that if he stopped working, that was death'. In Picasso's words : 'I paint just as I breathe'.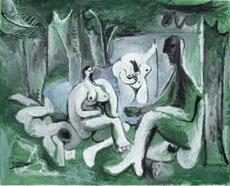 'Le Déjeuner sur l'herbe' d'après Manet
'The déjeuner sur l'herbe' after Manet
1961
Edouard Manet's Le Déjeuner sur l'herbe 1862–63 (Musée d'Orsay, Paris) created a sensation when it was first exhibited due to its unconventional juxtaposition of modern clothed men and a confronting female nude. Painted almost 100 years later, this is just one of dozens of versions Picasso made of Manet's composition, albeit with great artistic licence: he has altered the poses of all figures, eliminated the picnic in the foreground and increased the proportion of women to men, emphasising their voluptuous poses before the shadowy male observer.