The joy of life: 1952–1960
I paint the way some people write an autobiography. The paintings, finished or not, are the pages from my diary…
- Pablo Picasso
Picasso's work from the mid 1950s reflects a more cheerful outlook and time. In 1953 he met and fell in love with Jacqueline Roque and in 1955 they moved permanently to the south of France. Picasso depicted Jacqueline more than any other woman in his lifetime, creating in one year alone over 70 portraits of her.
In his later decades, Picasso reworked some of the themes, methods and styles of earlier years, particularly cubism. The planes of solid colour in La liseuse (Woman reading) and L'ombre (The shadow), both painted in 1953, evoke the quasi-abstract layers of earlier paper collages and assemblages. In Jacqueline aux mains croisées (Jacqueline with crossed hands) 1954 and Femmes à la toilette (Women at their toilette) 1956, Picasso interprets the body as a construction of grey and white planes, as if made of folded card, recalling the monochrome scaffolding of analytical cubism. In all of these paintings, the vividly coloured interiors reflect not only a more positive post-war outlook but also the influence of Henri Matisse. Picasso often visited Matisse in the years before the latter's death in 1954 and held a singular respect for Matisse's handling of complex colour.
In the summer of 1956, Picasso made an extraordinary series of sculptures inspired by bathers on the Mediterranean coast (on display in another room of the exhibition). Cast from assembled found objects – with picture frames turned into arms, parts of a bed into feet, a broom handle into a backbone – this series is one of his most striking and playful.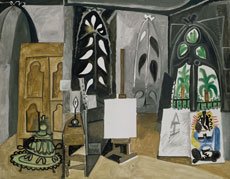 L'atelier de La Californie
The studio of La Californie
1956
Depicting his new house and studio in Cannes, this painting celebrates the fresh colour and clear light of the Mediterranean, and reveals the pervasive influence of Picasso's friend and rival Henri Matisse.
The interior is described in calligraphic, lyrical lines that play on the patterns created by the decoratively perforated windows. Jaunty palm trees outside are composed of quick, gestural strokes of pure colour in the manner of Matisse. The studio is scattered with canvases in various states of finish. On the sole easel at the very centre, one remains tantalisingly (or perhaps frustratingly) blank.