Nike Savvas

Rally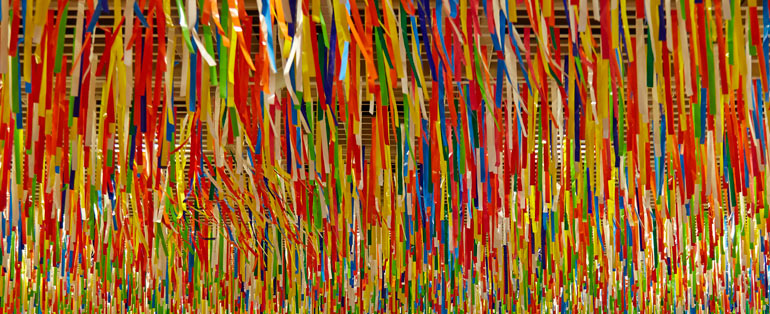 Nike Savvas Rally 2014 (detail)
Renowned for her physically immersive and optically dazzling installations, Sydney artist Nike Savvas energises the Gallery's 'main street' with a newly commissioned installation.
Inspired by the vibrant paintings of the post-Impressionists as well as the cheap exuberance of discount plastics and decorations, Rally is a vast billowing field of colour suspended above the Gallery's entrance court. Consisting of more than 60,000 strips of coloured plastic and stretching more than 50 metres through the building, it is one of the largest individual works ever staged at the Art Gallery of NSW.
A rally is a parade or protest that occurs in public space. And 'to rally' is also to come back forcefully from a position of retreat or disadvantage. Walking beneath this new work, viewers join a rally of Savvas's invention, drawn in and swept along by the power of colour in motion.
Commissioned with funds provided by the Art Gallery Society of NSW Contempo Group 2014. Supported by Three Green Promotions.