Giacometti

sculptures, prints and drawings from the Maeght Foundation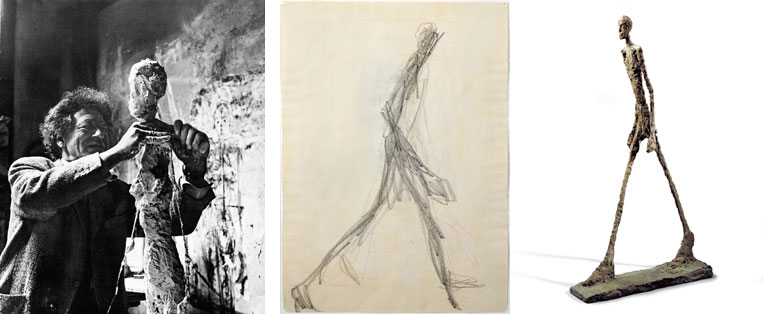 (left to right) Alberto Giacometti in his Paris studio, working on figure of the Walking man sculptures for the Chase Manhattan Plaza project, 1960 (detail). Photo Ernst Scheidegger © Neue Zürcher Zeitung 2006. Project for a book IV 1951 and Walking man II 1960, the Maguerite and Aimé Maeght Foundation © Alberto Giacometti/ADAGP. Licensed by Viscopy, Sydney, 2006
One of the most original and inventive artists of the 20th century, Alberto Giacometti stands beside Picasso and Matisse as one of the great masters of modern art.
Best known for his unforgettable, hauntingly beautiful sculptures of the human figure, Giacometti was an artist who worked relentlessly to render his distinctive vision. In his determined hands, the human form became extremely elongated and roughly textured – figures to be seen as if they were in the distance surrounded by an imaginary space.
Swiss-born, Giacometti (1901-1966) spent most of his life in Paris, becoming briefly involved with surrealism in the 1920s, immersing himself in the lively intellectual and artistic debates after the war and socialising with Picasso, Samuel Beckett, Jean Genet and the existentialists Jean-Paul Sartre and Simone de Beauvoir.
The first exhibition of Giacometti's work ever to be held in Australia, this is a rare opportunity to view his work and gain insight to his creative genius. Many of his celebrated sculptures, including the Women of Venice series, are among the 79 works in the exhibition, along with prints and drawings, on tour from the renowned Maeght Foundation, France.

18 Aug – 29 Oct 2006
$10.00 adult
$7.00 concession
$7.00 member
$27.00 family (2 adults + up to 3 children)

Location:
Temporary exhibitions gallery
Related