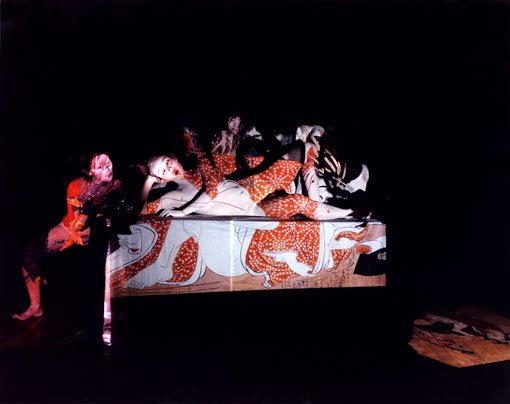 Ukiyo-e projections
When Hosoe heard the news that the Asbestos Dance Studio, founded by Tatsumi Hijikata and his wife Akiko Motofuji, was to close in April 2003 after 40 years of activity, he felt the need to pay tribute to the achievements of this experimental studio. With the help of Hijikata's widow, he organised a series of performances in 2002 and 2003, in which the dancers were asked to coordinate their movements in accordance with images from his own work, as well as from 19th-century Japanese paintings and woodblock prints projected on their naked, white-painted bodies.
The result of this 'photographic theatre' was stunning: a mysterious four-dimensional space transcending ordinary space and time was created as the two-dimensional images were projected on the three-dimensional bodies. The idea to use shunga – the erotic woodblock prints by noted ukiyo-e artists such as Utamaro, Hokusai and others – stemmed from Hosoe's conviction that Hijikata's archaic, ecstatic dance style had its roots in this particular art genre of the Edo period (1603−1868).
Exploring many of the themes that recur in Hosoe's work – sexuality, the human form, movement and the passage of time – this series epitomises his unique approach in synthesising photography with various forms of visual and performance arts.