Brett Whiteley

naked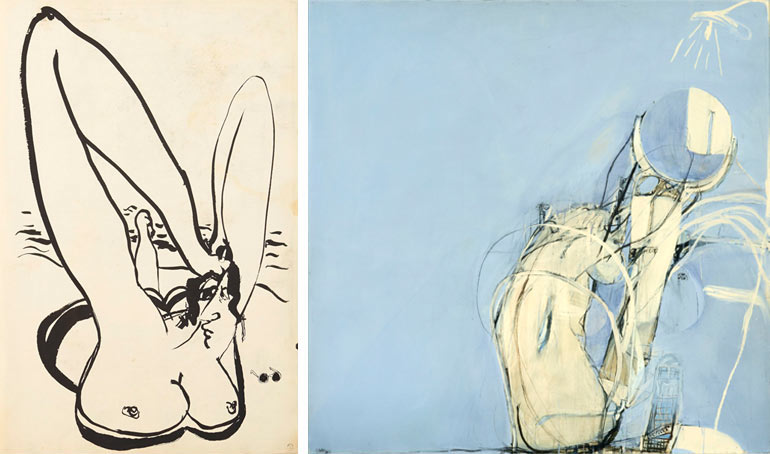 Left to right: Brett Whiteley (I gotta learn how not to burn myself out) c1975 (detail); Bather and mirror (second version) 1964. Brett Whiteley Studio collection © Wendy Whiteley
Most men, and certainly all artists, even if many never get around to actually painting it, carry in their heads the great nude.
- Brett Whiteley, 1981
After shifting away from the abstractions that had brought him critical acclaim, Brett Whiteley began painting nudes in the early 1960s. His first nude drawings and paintings were of Wendy Whiteley, whom he married in London in 1962.
While in the UK, he also visited the studio of William Scott where he saw a reproduction of Pierre Bonnard's Nude in the bath 1925. The original, held by Tate, is part of the exhibition Nude: art from the Tate collection at the Art Gallery of NSW.
From 1963 to 1964 Whiteley drew and painted Wendy in various poses in the bath. These intimate images – a celebration of love – are both erotic and sensual in form and subject, and the influence of artists such as Bonnard and Scott comes through. Some of the best of these are among the artist's works on display in Brett Whiteley: naked at the Brett Whiteley Studio, Surry Hills.
18 Nov – 19 Dec 2016
6 Jan – 14 May 2017
10am – 4pm
Closed
23-25, 31 Dec 2016, 1 Jan 2017
14 Apr 2017 (Good Friday)
Friday – Sunday only
Free admission made possible by J.P. Morgan
For education groups
Wednesday, Thursday
Bookings required
Charges apply
Location:
Brett Whiteley Studio, Surry Hills
Related