Extraordinary images of ordinary people

the photographs of August Sander
From the J Paul Getty Museum, Los Angeles
August Sander (1876-1964) is one of the 20th century's greatest photographers. His life's work was producing an 'atlas' documenting contemporary German people.
In one of the most ambitious undertakings in the history of photography, August Sander spent some 40 years taking portraits of hundreds of German citizens and then categorised them by social type and occupation – from farmers to professionals, skilled tradesmen to artists, women, the unemployed and his own family. Remarkable for their unflinching realism and deft analysis of character and lifestyle, Sander's individual images stand out as high points of photographic portraiture and collectively propose the idea of the archive as art.
The uncompromising directness of Sander's incisive portraits continues to influence artists today. His understanding of the nature of photography and of portraiture enabled him to develop a view of the social whole and of its parts that remains unparalleled. The engaging detail of these photographs arises from the minutiae of the gesture, the fold of the hands, and the subtlety of the glance.
This exhibition also includes photographs of the landscape in which his subjects lived, the interior of his home and studio, a number of experiments with photographs of facial features, examples of the postcards he produced in his daily work as a commercial photographer, and some of his publications.
Extraordinary images of ordinary people: the photographs of August Sander includes 155 photographs from the J Paul Getty Museum, which has the most substantial collection of his photographs outside Germany.
This is the first time a Sander exhibition has been seen in Australia, and the Art Gallery of NSW is the only venue.
Co-organised by the Art Gallery of New South Wales, Sydney and the J Paul Getty Museum, Los Angeles. Supported by the US Consulate, Sydney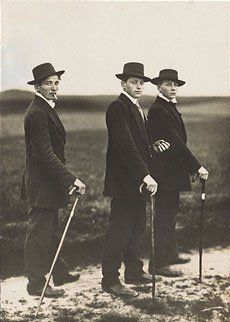 Related