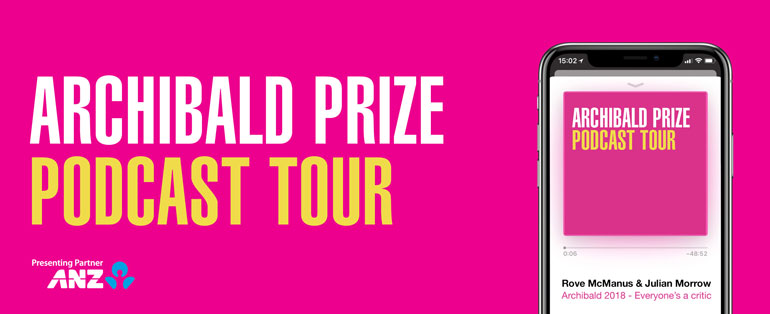 Celebrity podcast tour
The Archibald Prize, now with added celebrity
Celebrity guests Russell Crowe, Ben Quilty, Rove McManus, Yumi Stynes and Rachel Perkins dropped by the Gallery to tell us what they thought of this year's Archibald Prize exhibition.
In this first-ever Archibald Prize podcast tour – hosted by Julian Morrow – you'll hear from our guests as they take you on a tour through the exhibition. Hear about the paintings they liked and even the ones they disliked.
Five podcasts make up this series. Listen to your favourite celebrity speaking individually about the paintings that caught their eye or download the master tour podcast where you can hear selections from all the celebrities as they take you through the exhibition.
Listen now
Listen below or via Apple Podcasts or Spotify
Or read the transcripts
Tagged PDFs with images of the works
Master tour transcript (PDF 2.8 MB)
Russell Crowe and Ben Quilty tour transcript (PDF 2.0 MB)
Rove McManus tour transcript (PDF 2.1 MB)
Yumi Stynes tour transcript (PDF 2.2 MB)
Rachel Perkins tour transcript (PDF 1.5 MB)