More about the exhibition
People will never see more important archaeological objects and they will probably never see objects that have a more remarkable history
- Michael Brand, director, Art Gallery of NSW
Click on one of the small images to view slideshow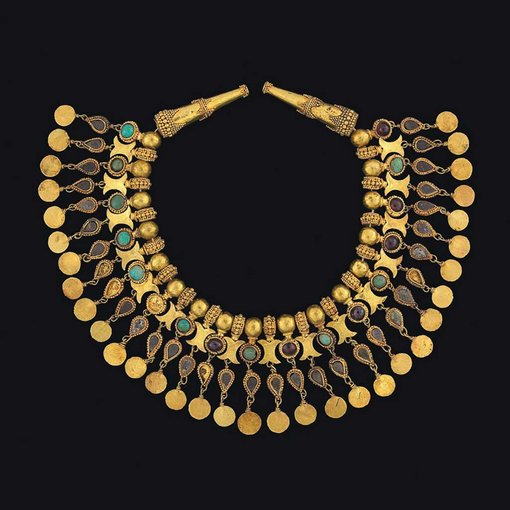 1/14
Ornament for the neck of a robe
gold, turquoise, garnet, pyrites, 29.1 cm l
Tillya Tepe, 1st century CE
National Museum of Afghanistan
2/14
Pair of bracelets (antelopes?)
gold, turquoise, carnelian, 8.5 × 6.3 cm
Tillya Tepe, 1st century CE
National Museum of Afghanistan
3/14
Two ornaments in the form of flowers
gold, pearls, 5.7 cm l
Tillya Tepe, 1st century CE
National Museum of Afghanistan
4/14
Belt
gold, 97.5 × 2 cm
Tillya Tepe, 1st century CE
National Museum of Afghanistan
5/14
Dagger with gold-covered shaft decorated with a depiction of struggling animals
iron, gold, turquoise, 37.5 cm h
Tillya Tepe, 1st century CE
National Museum of Afghanistan
6/14
Woman standing on a makara
ivory, 45cm
Begram, 1st century CE
National Museum of Afghanistan
7/14
Decorative plaque with women standing under gateways
ivory, 16 × 13.3 cm
Begram, 1st century CE
National Museum of Afghanistan
8/14
Decorative plaque with a narrative scene
ivory, paint, 5.9 × 11.3 cm
Begram, 1st century CE
National Museum of Afghanistan
9/14
Painted beaker
glass, 12.6cm h
Begram, 1st century CE
National Museum of Afghanistan
10/14
Fish-shaped flask
glass, 8.7 × 10.7 × 20 cm
Begram, 1st century CE
National Museum of Afghanistan
11/14
Rooster with a human head
bronze, 5.4 × 6 cm
Begram, 1st century CE
National Museum of Afghanistan
12/14
Circular medallion with Eros and Psyche
plaster, 16.5cm
Begram, 1st century CE
National Museum of Afghanistan
13/14
Gargoyle water spout
limestone, 21 × 40 × 19 cm
Ai Khanum, 2nd century BCE
National Museum of Afghanistan
14/14
Hermaic pillar
limestone, 77cm
Ai Khanum, 2nd century BCE
National Museum of Afghanistan
At the heart of the Silk Road, Afghanistan linked the great trading routes of ancient Iran, Central Asia, India and China, and the more distant cultures of Greece and Rome.
This stunning exhibition presents artefacts from four archaeological sites: the late Bronze Age Tepe Fullol; a city founded by followers of Alexander the Great, Ai Khanum ('Lady Moon'); a merchant's storeroom from the Silk Road entrepot of Begram; and a high-status burial of a nomad chieftan and his entourage, Tillye Tepe ('Hill of Gold').
As astonishing as the treasures are, the fact that there is an exhibition at all is almost as remarkable. For years, these were among artefacts thought lost or destroyed in the turmoil that followed the Soviet invasion in 1979 and the rise of the Taliban in 1996. In 2003 they were uncovered from vaults in the central bank of the presidential palace, where they had been hidden at great personal risk by a few brave staff from the National Museum, Kabul.
Visitors will encounter materials, ideas, motifs and styles related to Ancient Babylon, Alexander the Great, Persia and Imperial Rome to the Mauryan (Indian) and Kushan empires, as well as the religious beliefs that sustained them – animism, shamanism, Zoroastrianism, hinduism, buddhism and the Hellenistic pantheon.
Among the highlights on display are sensually carved ivory decorations for furniture; brightly painted glass beakers and goblets; a woven chased-gold belt that is breathtaking in its complexity; engraved rings from the Mediterranean; Chinese-inspired boot buckles that depict a man in a chariot being drawn by gryphons; daggers decorated with Siberian and Tibetan animalia; bracelets and toques with motifs that echo Persian high-style; dragon headdress ornaments of lapis lazuli, turquoise, pearls and carnelian; sequins in the shape of stepped pyramids and rams' heads; clasps and buttons that are an inventive mix of Hellenistic, Chinese and Nomadic motifs; and an extraordinarily beautiful and delicate crown that was flatpacked for easy transport and re-assembly.
This is a unique opportunity to discover the story of Afghanistan's ancient culture, its immense fragility, and the remarkable dedication to its survival and protection.