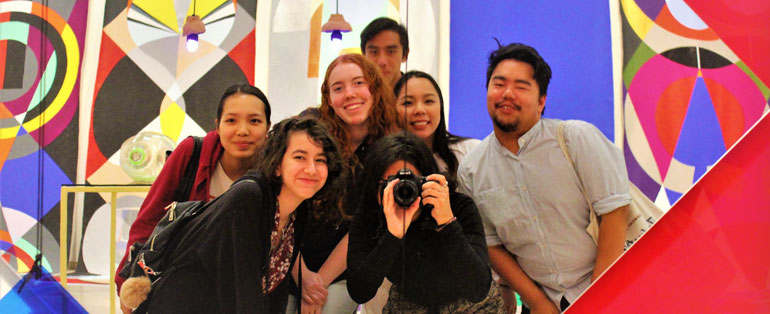 2018 Youth Collective members in front of Mikala Dwyer The letterbox Marys 2015-17, installation detail at the Art Gallery of New South Wales © Mikala Dwyer
Youth Collective
Applications now closed
Are you passionate about art? Do you want to meet like-minded art lovers? Would you like to gain hands-on experience creating events and programs at the Art Gallery of NSW?
In 2018, we are launching our first youth-led program and we're looking for enthusiastic culture vultures aged between 15 – 24 years to be part of the Art Gallery of NSW's inaugural Youth Collective. We want to give YOU direct access to a kaleidoscope of art experiences and empower you with the skills you need to reach your goals.
The Youth Collective will work closely with Art Gallery of NSW staff, industry professionals and artists to produce a monthly program featuring interviews and talks, performances by young musicians, collaborative workshops with local artists…. and more!
What's in it for you?
Exclusive behind-the-scenes access to the Art Gallery of NSW's collection, exhibitions and resources.
Get hands-on experience and professional mentorship from specialist staff such as curators, conservators, artists, program and education professionals.
A free ticket to all paying exhibitions in 2018.
1 year Student membership which includes the following benefits:
free members-only viewings and express entry to exhibitions
subscription to the members' exclusive 'Look' magazine, delivered to your door
discounts within the Gallery, including at the shop, cafe and restaurant
discounts with partner organisations in our 'Gallery Plus' program
reciprocal rights at many major interstate galleries
over 400 member events, including lectures, concerts, talks and workshops at special members' prices
exclusive access to the private members' lounge
Key dates
To be part of the 2018 Youth Collective, we ask members to commit to a minimum 12-month period.
How to apply
Applications now closed. Next round of applications open in October 2018.
Presenting partner