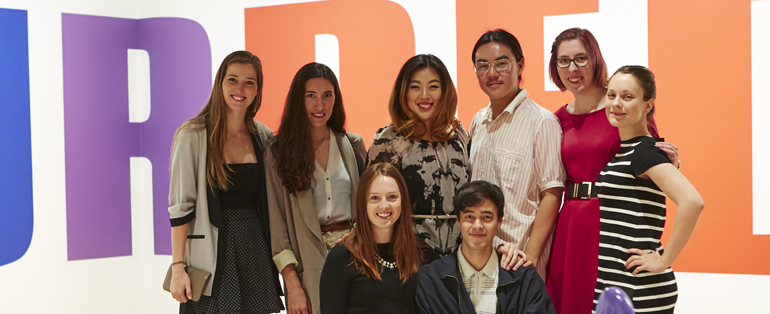 Internships
The Gallery usually offers two rounds of internships per year coinciding with Australian university semester schedules.
Second semester 2017
Applications close Thursday 17 August 2017 for the following:
Conservation: Painting (PDF 135.8 KB)
Curatorial: Asian art (PDF 135.4 KB)
How to apply
Step 1
Your application should respond to one of the calls for interns listed above. Download and read the description carefully. You will need to address the selection criteria in your cover letter.
Step 2
Download, print and complete the application form.
Application form (PDF 76.8 KB)
Step 3
Post or email the following:
completed application form
cover letter (as above)
curriculum vitae, with contact details of two referees
sample of written work (if specified)
to:
Tertiary programs co-ordinator
c/o Learning and Participation
Art Gallery of New South Wales
Art Gallery Road
The Domain, Sydney NSW 2000
Email tertiary@ag.nsw.gov.au
Conservation internships available
In addition to internships advertised in the two annual rounds, the Gallery accepts applications all year from applicants who are currently enrolled or recently graduated from a recognised tertiary degree in materials conservation in Australia or overseas.
Applications in the following areas of specialisation will be considered: paintings, paper, objects and frames. Successful applicants will work in their area of specialisation, undertaking treatment and research projects under the supervision of the relevant head of section.
Conservation internships can be any length from three weeks to one year.
Applications should include the internship application form, a cover letter clearly outlining your area of specialisation in art conservation, your experience to date, anticipated internship dates and any supervision requirements.
Guidelines
Internships are generally available only to currently enrolled tertiary-level students.
Priority is given to students enrolled in museum studies, art history, visual arts, art education or arts administration courses, and in particular to those students for whom an internship is a course requirement.
Preference is given to students enrolled in educational institutions in New South Wales.
Each application will be assessed on its merits.
Successful applicants will be interviewed to further determine their suitability and may be subject to security clearance and working-with-children checks.