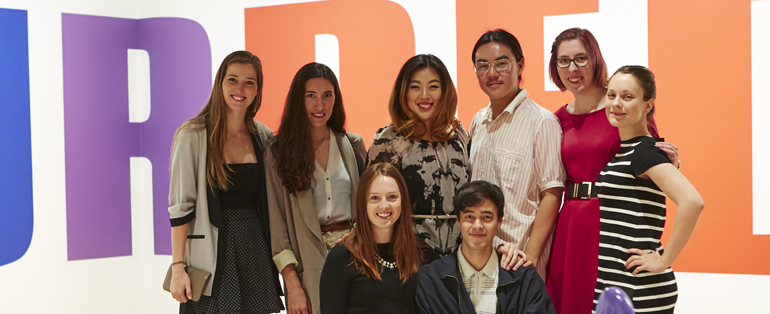 Internships
The Art Gallery of NSW offers two rounds of internships per year coinciding with Australian university semester schedules.
Current internships
Applications now closed
How to apply
Step 1
All applications must be received via the https://iworkfor.nsw.gov.au/ portal. Please carefully follow the prompts listed in the advertisement and create a login to submit your application online.
Step 2
Complete your application as directed and include the following;
A cover letter indicating
A current curriculum vitae (CV), with contact details of two referees
A Sample of written work (if specified)
Step 3
Your application will be reviewed by a panel of Art Gallery employees and if shortlisted for interview you will be contacted by the Tertiary Programs Producer, Learning & Participation team. If you require more information or have any inquiries please email tertiary@ag.nsw.gov.au
Conservation internships available
In addition to internships advertised in the two annual rounds, the Gallery accepts applications all year from applicants who are currently enrolled or recently graduated from a recognised tertiary degree in materials conservation in Australia or overseas.
Applications in the following areas of specialisation will be considered: paintings, paper, objects and frames. Successful applicants will work in their area of specialisation, undertaking treatment and research projects under the supervision of the relevant head of section.
Conservation internships can be any length from three weeks to one year.
Applications should include the internship application form, a cover letter clearly outlining your area of specialisation in art conservation, your experience to date, anticipated internship dates and any supervision requirements.
Guidelines
Internships are available only to currently enrolled tertiary-level students whom an internship is a course requirement.
International students residing in Australia must ensure that appropriate visa approvals are in place prior to registering interest in internships. Refer to the Australian Government's Department of Home Affairs website on Visa Entitlement Verification Online.
International applicants must ensure their eligibility for an Australian student visa prior to submitting an application. Refer to the Australian Government's Department of Home Affairs website on student visa options.
The Art Gallery of

NSW

is unable to provide administrative or financial support for visa applications.
Shortlisted applicants will be notified if progress is made to interviews. All other applicants will be notified by email if unsuccessful.
Successful applicants will be notified both verbally and in writing and may be subject to security clearance and working-with-children checks prior to offers of internship being made.