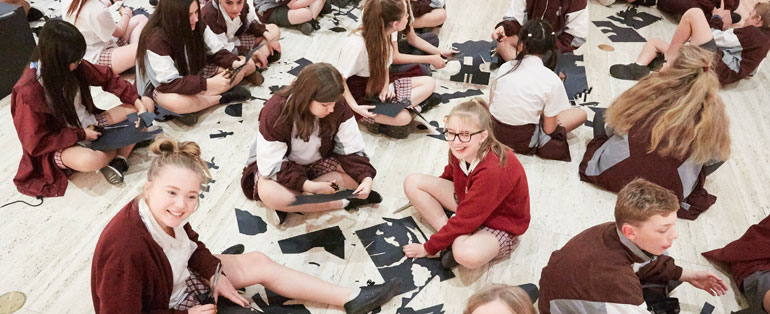 Artist experiences
Join a practising artist and be inspired to look at and think about art through their eyes. Artist educators are professionals working across a range of disciplines. Let them take you on an art journey using artist-devised experiences to stimulate critical and creative thinking and imaginative responses.
Let us do the organising for you: choose one of the following artist-devised experiences to inspire your students to think, talk and make art with confidence.
Syllabus links: Visual Arts: artmaking, art criticism, art history
Artist practice
See the world through the eyes of an artist. What material and conceptual choices do artists make? Find new ways of seeing and build confidence with contemporary art practices.
Shock of the old
An art journey through time to unpack how artists have interpreted their world. Discover the wonders of the Gallery's collection of art and how the meaning of art changes and evolves throughout history.
Snap: imaging our world
Taking inspiration from photography exhibitions, explore contemporary and traditional approaches to photography to discover how artists interpret the world around them.
Additional syllabus links: Photography and Digital Media: critically and historically interpret photographic and digital works
Naala ngara: look, listen, think
Connect with the diversity and strength of Indigenous art practices across the country. Consider and respond to historical and contemporary issues and ideas which inform artists and their work.
Additional syllabus links: Aboriginal studies: Aboriginal identities, Aboriginal autonomy, Aboriginal visual arts
Under the spotlight: exhibitions in focus
Discover the artworks, themes and narratives in our highlighted exhibitions throughout the year, which we've listed below. What is the thinking behind the selection of works? What is the role of the curator? And how does an exhibition aim to inspire an audience?
Making art public in focus
7 September 2019 – 16 February 2020
See Making art public
Quilty in focus
9 November 2019 – 2 February 2020
See Quilty
NIRIN: Biennale of Sydney 2020 in focus
14 March – 18 June 2020
See NIRIN: Biennale of Sydney 2020
Program details
Stages 4-6
Choose a 60-minute or longer session with an art-making focus
60/90/120-min duration
$165/$180/$225 per 15 students
plus exhibition entrance fee when stated