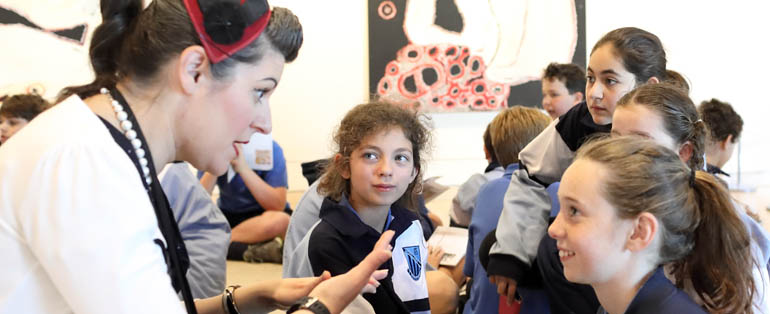 Carlene West Tjitjiti 2014 (detail), Art Gallery of New South Wales © Carlene West. Licensed by Viscopy, Sydney
Artist experiences
Step into the creative hands of a practicing artist and be inspired to look at and think about art through their eyes. Our engaging, fun and skilful artist educators are professional artists working across a range of artistic disciplines. Let them take you on an imaginative ride using artist-devised activities to stimulate critical and creative thinking and stir curiosity and wonder.
Through the looking glass
Step into a wonderland of artworks where stories, histories, cultures and ideas are revealed through fantastical art games, mirrored reflections and daring moves. Along the way, meet marvellous characters, encounter topsy-turvy ideas and discover curious secrets about the Gallery's prized collection of art.
Creative me
Meet an artist, be an artist and explore the collection together. Discover how artists interpret their world through materials and process. Create your own artwork using what you've seen and where you've been.
Program details
Stages 1–3
60/90/120-min duration
$165/$180/$225 per 15 students