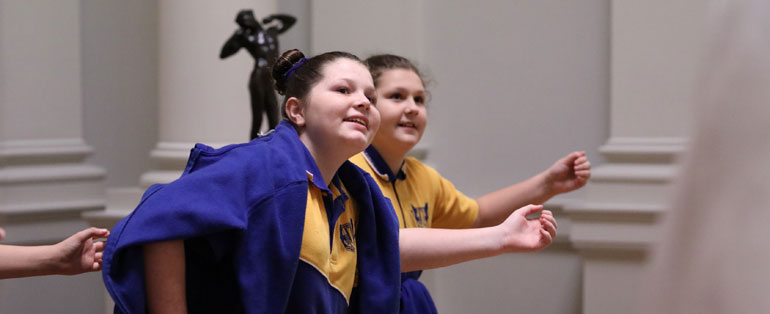 Art adventures
Share an art adventure with a children's guide who is ready to spark dynamic conversation, lead creative play and inspire you and your students with their love of art. Our specially trained children's guides lead Art Box experiences and the Art in Action program with artists.
---
Under the spotlight sessions
Be an art detective and shine a light on one of our fabulous exhibitions. Explore how artists experiment with colour and form and make their mark on the art world.
NIRIN: Biennale of Sydney 2020 in focus
14 March – 18 June 2020
See NIRIN: Biennale of Sydney 2020
Syllabus links: Creative Arts/Visual Arts: making, appreciating
Program details
Stages 2–3
Tuesday–Friday
10.30am, 11.30am, 12noon
Free with exhibition entry
---
Art box
Think outside of the box and unlock the wonders of the Gallery. Our playful art boxes contain specially designed materials that will spark your imagination and help you look, explore and discover new ideas about art and the world we live in.
Book a box and our friendly children's guides will lead you on an interactive art adventure to remember:
Look!
All STEAMed up
A place I call home
Syllabus links: Creative Arts/Visual Arts: making, appreciating
Look!
Art is all around us! Explore the collection of art that is old and art that is new and art that prompts a question or two. Look at what artists do and make. Look at the amazing worlds they create.
Additional syllabus links: English: thinking imaginatively and creatively, expressing themselves, speaking and listening, reading and viewing (visual texts)
All STEAMed up
Put A into STEM and then make it STEAM. Be curious and inquisitive through problem-based learning. Collaborate, investigate and ignite creative and imaginative thinking – are you up for an art challenge?
Additional syllabus links: Science: built environments, information. Mathematics: patterns and algebra
A place I call home
What is our Australian story? Discover how our nation has grown, and the land and the people that make this place home. Take a journey, find your connection with artworks and stories in our collection.
Additional syllabus links: HSIE: first contacts, the Australian colonies, Australia as a nation
Program details
Early Stage 1–3
Tuesday–Friday
10.30am, 11.30am, 12noon
60-min duration
$3.50 per student/free for low SES schools