Screenshot 2015
The Screenshot 2015 student photo competition attracted over 70 entries.
This year's competition was run in association with Rosemary Laing: transportation. In the works in that exhibition, Rosemary Laing explores relationships between technology, time and place. She is particularly interested in showing places of transition or movement in her photographs, places that we move through but never inhabit for very long, like airports.
Students were asked to submit a photograph or a series of photographs (maximum three images) that explores a site of transition or movement, and to think about intriguing places and spaces from their everyday environment – inside or outside – such as entrances, corridors, playgrounds, driveways, parking stations.
Prize-winners were selected by the Gallery's senior curator, photographs, Judy Annear.
Slideshow of winning and highly commended entries
Click on one of the small images to begin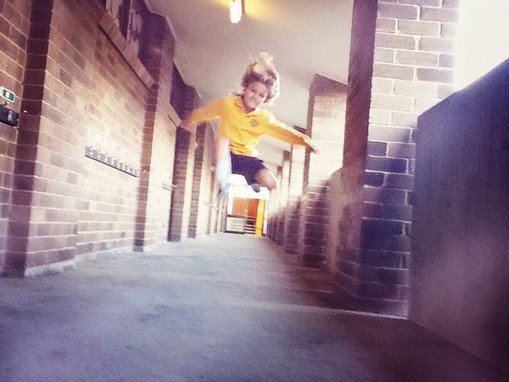 1/6
Junior
Winner
Finn Tyson, Bondi Beach Public School, Year 3
Late for class
2/6
Junior
Highly commended
Jade Fitzpatrick, Kenthurst Public School, Year 5
Parked
3/6
Intermediate
Winner
Annie Wu, North Sydney Girls High School, Year 9
Behind the doors of a lift
4/6
Intermediate
Highly commended
Nesrine Dannaoui, Salamah College, Year 9
Home 2
5/6
Intermediate
Highly commended
Georgie Macaw, St Catherine's School, Melbourne, Year 9
Walking on water
6/6
Intermediate
Highly commended
Liam Black, Turramurra High School, Year 10
Look
Junior (Years 3-6)
Winner
Finn Tyson, Bondi Beach Public School, Year 3
Late for class
Highly commended
Jade Fitzpatrick, Kenthurst Public School, Year 5
Parked
Intermediate (Years 7-10)
Winner
Annie Wu, North Sydney Girls High School, Year 9
Behind the doors of a lift
Highly commended
Nesrine Dannaoui, Salamah College, Year 9
Home 2
Georgie Macaw, St Catherine's School, Melbourne, Year 9
Walking on water
Liam Black, Turramurra High School, Year 10
Look
No works were selected from the senior category