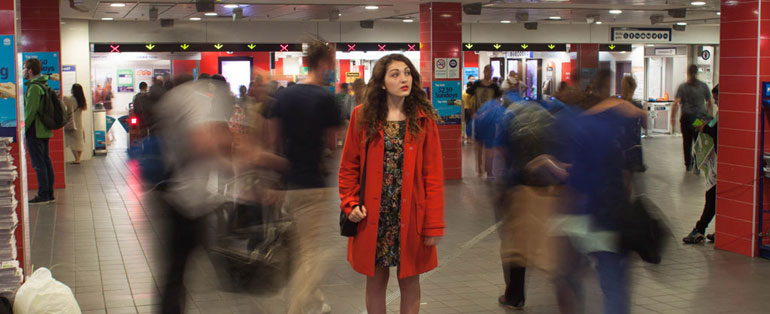 Riley Buchanan Stationary: Where are they going? (detail), Sutherland Shire Christian School, Year 12, Screenshot 2014, highly commended
Screenshot competition
The Gallery's annual student photography prize
Entries close Sunday 29 July 2018. Winners announced September 2018.
This competition offers students an opportunity to develop their photographic skills and gain recognition for their efforts.
In 2018, the competition is in association with the Hold still: the photographic performance.
Hold still examines the way a camera turns any subject into a performer and any scenario into a theatrical act
Artists in this exhibition explore the way we look, sit, stand, move and pose while having our photograph taken. It suggests that the instant of capture is itself a performance and the camera serves as a silent choreographer – dictating our movements. The exhibition explores the relationship between photographer and photographed, and how power dynamics can shift between the two.
For this competition, create an artwork which explores the idea of instruction and performance. Think about how you can produce a photograph or series of photographs by exaggerating and altering your subject. Experiment with lighting, background, props, spaces and consider the mood or story you would like to convey.
Students may submit up to three photographs each, in one of the following categories:
Junior (Years 3–6)
Intermediate (Years 7–10)
Senior (Years 11–12)
Each winner receives a photography book and two tickets to the next paying exhibition at the Gallery. Highly commended also receives two exhibition tickets. The winning and highly commended entries are published on the Gallery website.
How to enter
Email the following to education@ag.nsw.gov.au
Student's name (first name and surname)
Student's year at school
School's name
School's phone
Teacher's name
Level (ie Junior, Intermediate or Senior)
Between one and three titled photographs, as jpegs up to 1MB each
The file name for each jpeg should have the student surname and title of the photograph.
Terms and conditions
This competition is organised by the Art Gallery of

NSW

,

ABN

24 934 492 575, Art Gallery Rd, The Domain

NSW

2000
Entry is open to all Australian school students.
The competition begins at 10am (

AEST

) on Monday 18 September 2017 and closes at 5pm (

AEST

) on Sunday 29 July 2018.
Entries are limited to up to three photographs per entrant.
An entry must be the original work of the entrant themselves.
Entries may be digitally manipulated.
Entries will be judged by Gallery staff. The judges' decision is final and no correspondence will be entered into.
One winner and one highly commended will be awarded at each level. The Gallery reserves the right not to award a winning entry.
Only the winners and highly commended entrants will be contacted by the Gallery.
Entrants agree that the Gallery may use their personal details for the purpose of conducting the competition.
Winners and highly commended entrants agree to the publication of their name and school/state and entry on the Gallery website and any marketing, publicity, educational and publication uses associated with the competition. Entrants will not be entitled to any fee for such use.
Prizes cannot be transferred. Non-cash prizes cannot be redeemed for cash. If the winner is under the age of 18, the prize will be awarded to their parent or legal guardian.
Information about how to enter forms part of the terms and conditions.
Entering the competition indicates acceptance of these terms and conditions by the parent/teacher on behalf of children under the age of 18. The awarding of the winning entry is subject to confirmation of parental/teacher consent to these terms and conditions.
For more about how we handle your personal information, see our privacy statement
Explore Screenshot