Surrealism
Click on one of the small images to start the slideshow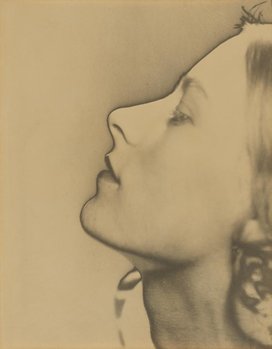 1/7
Man Ray
Untitled (solarised portrait, profile) 1930
gelatin silver photograph
2/7
Edmund Kesting
Semper Opera at night c1930
gelatin silver photograph
3/7
Werner Rohde
Untitled (mannequins) 1934
gelatin silver photograph
4/7
Francesca Woodman
from the Eel series, Rome 1977-78
gelatin silver photograph
5/7
Mari Mahr
13 clues to a fictitious crime circa 1940 – 1941 1984
from the series 13 clues to a fictitious crime circa 1940 – 1941
gelatin silver photograph
6/7
Pat Brassington
Feeding time 1998
inkjet print
7/7
Destiny Deacon
Oz games 5 1998
from the series Oz
Bubble jet print from Polaroid photograph
Surrealism originated as a philosophical, literary and artistic movement in France in the late 1910s. It was strongly influenced by psychoanalytical theory – in particular, Sigmund Freud's ideas about free association and dream imagery. Embracing chance, randomness and the unexpected, surrealist writers and artists thought that reason obstructed access to the imagination. They devised techniques such as automatic writing, drawing games and trance-like states to unblock the flow of creativity and develop spiritual awareness.
Photography's connection with surrealism lies in its ability to represent the material world in strange and abstract ways. Surrealist photographer Man Ray used double exposure, solarisation and reversed tonality to disturb the viewer's recognition of things and to suggest the overlapping of dream and reality.
Photographers continue to work in a surrealist aesthetic. In the work of Edmund Kesting, Werner Rohde, Pat Brassington, Destiny Deacon and Francesca Woodman, bodies and spaces are depicted in ways that make them strange and haunting, and ordinary objects are made to seem sinister and extraordinary. Mari Mahr, on the other hand, evokes a dream-like narrative composed of real and imagined memories.
Questions and activities
Select a number of ordinary objects from your immediate environment. Photograph these in a variety of contexts to create a series of strange and haunting images. Consider elements such as composition, lighting, scale, contrast and focus.
Recall and record a dream. How did it feel and look? Think about how dreams differ from real life and memory. Are there similarities? Create an artwork based on your dream images. Present your work to the class.
What techniques did surrealist photographers use to break old habits of seeing? Experiment with some of these techniques and compare your work to examples from the Gallery's photography collection.
Create a photographic body of work using chance, randomness and the unexpected as a theme. Try to imagine that you are seeing the world for the first time. Present your photographs to the class and discuss the challenges you faced as well as where you thought you were successful.
Photography is significant for its ability to represent the material world in strange and abstract ways. Choose an artwork from the list above. What makes it strange or abstract? Write a list of words that describe your immediate reaction to the work.
Describe the objects Destiny Deacon has selected to photograph in Oz games 5 1998? How have these objects been arranged and presented. Compare this work to Werner Rhode's Untitled (mannequins) 1934. Why do you think both artists chose to photograph 'dolls' rather than real people? What makes these works surreal?
Works from the collection