Realism
Click on one of the small images to start the slideshow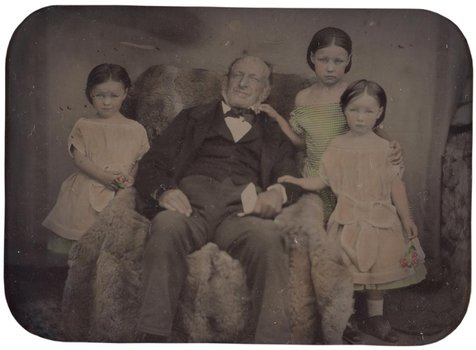 1/6
Glaister studio
Untitled (portrait of man and three girls) 1855-70
ambrotype
2/6
Unknown
The store and residence of John Bourne Crego and his partner, Henry Wilshire Webb 1862
ambrotype
3/6
Charles Bayliss
View from Dunlop Range, near Louth, Darling River (looking south), from the album New South Wales Royal Commission: Conservation of water. Views of scenery on the Darling and Lower Murray during the flood of 1886 1886
albumen photograph
4/6
Wolfgang Sievers
Shift change at Kelly & Lewis Engineering Works, Springvale, Melbourne 1949, printed 1989
gelatin silver photograph
5/6
Carol Jerrems
Lyn Gailey 1976
gelatin silver photograph
6/6
Ricky Maynard
The Healing Garden, Wybalenna, Flinders Island, Tasmania 2005, printed 2009
from the series Portrait of a distant land gelatin silver photograph, selenium toned
The term 'realism' can mean to depict things as they are, without idealising or making abstract. It is also a 19th-century art movement, particularly strong in France, which rebelled against traditional historical, mythological and religious subjects and instead depicted scenes from life.
In photography, realism is not so much a style, but rather one of its fundamental qualities. From its beginnings in the 1830s and 40s, photographers and viewers of photography marvelled at photography's ability to capture an imprint of nature. The fathers of photography, Louis-Jacques Mandé Daguerre (1787-1851) and William Henry Fox Talbot (1800-1877), both described it as a medium that allows nature to represent itself, seemingly without the intervention of the artist.
Photography's capacity to depict people, objects and places realistically made it suitable for trying to record and document individual likenesses, scientific discoveries and foreign places – concerns that were of particular interest for 19th-century Europeans. From the early 20th century, photographs were regularly published in newspapers as part of the representation of local and national events.
Photography in Australia is often thought to be characterised by realism. Whereas some early British and European photography explored interior and metaphysical states, much Australia-based photography then and now is focused on the physical and material aspects of life – the things, occurrences, people and places in the external world. In the hands of settler Australians, the camera was used to describe and document the colony and also the land's original inhabitants, who were often photographed for ethnographic study.
Questions and activities
Go for a walk in your local environment. Take photos of the ordinary places and things you see. Notice driveways, letterboxes, streetscapes, road signs and cars. Imagine you are describing this place to someone in another country. Make a collage of your photos to show your route and explain why you chose to photograph particular subjects.
Discuss how each of the photographs listed here depicts things as they are, without idealising and making abstract. In your opinion, are these artworks good examples of the term 'realism'? Create a photographic body of work based on your understanding of this approach.
Choose an artwork from the list. What does the image tell us about the things, people or places it depicts? What is it telling us about the world at the time it was created? Has the world changed since then? Discuss.
From the list, choose an artwork that features people. Think about who the people are and their relationship with each other. Write a journal entry about the day the image was taken through the eyes of one of the people portrayed.
Research various photographic techniques such as daguerreotypes, ambrotypes, albumen photographs and gelatin silver photographs. How do they compare with digital techniques? Collect examples of historical and contemporary photographs and discuss the challenges that photographers face in their era. Choose one of the photographs to analyse in depth, including research about the size of the camera that might have been required, the developing process etc.
In photography, realism is not so much a style, but rather one of its fundamental qualities. Consider this statement. How is photography different from other art mediums? Why do you think artists like Carol Jerems and Ricky Maynard are concerned with depicting the real world? Discuss.
Works from the collection