Photo-documentary
Click on one of the small images to start the slideshow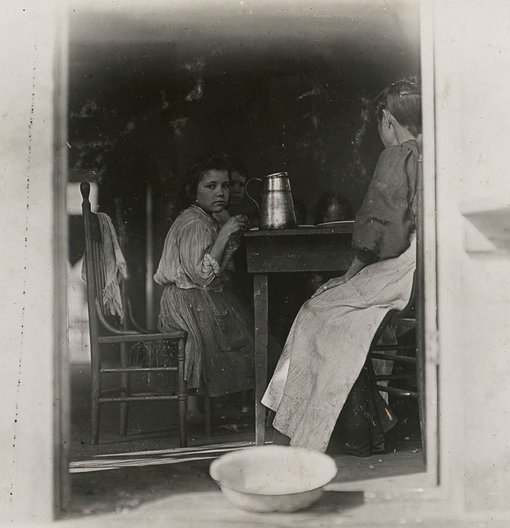 1/6
Lewis Wickes Hine
Dinnertime. Family of Mrs A J Young Tifton, GA 1909
gelatin silver photograph
2/6
David Moore
Migrants arriving in Sydney 1966
gelatin silver photograph
3/6
Hal Missingham
Surf Carnival, Cronulla 1968
Polaroid photograph
4/6
Mervyn Bishop
Lionel Rose at his press conference 1968, printed 1991
gelatin silver photograph
5/6
Sue Ford
Joy 1964, Joy 1974 1964, 1974, printed 1996
2 gelatin silver photographs
6/6
William Yang
Tea with Aunty Kath, Innisfail
from the series miscellaneous obsessions 1990, printed 2003
type C photograph
From its beginnings in the 19th century, photography was hailed as a recording device of great clarity and accuracy. In the late 19th and early 20th centuries it was increasingly used to convey the realities of life in the industrialised metropolis. In the US, Lewis Hine, for example, used photography as a tool to describe social conditions and effect social change.
In Australia, documentary photography has likewise been used to describe the diversity of life in cities, suburbs and rural areas. David Moore walked the streets of Sydney in the 1940s and 50s looking for scenes that might tell stories about hardship and social change in Australia. Hal Missingham, on the other hand, documented surf culture, revealing the prevailing masculine and feminine roles that shaped activities in the outdoors. Often featuring herself, her close friends and family, Sue Ford's photographs are collaborative images forming series that document the passing of time and its effects on her subjects.
Mervyn Bishop began as a photo-journalist, where the emphasis is on news and fast reporting. His photographs chronicled significant events of the day in legible, dynamic and objective ways. As press photographer for the Sydney Morning Herald, Bishop captured his subjects with candid directness. His later work with the Department of Aboriginal Affairs in Canberra allowed him to document more fully social conditions and political events.
William Yang considers himself a 'documentarian, a diarist mainly'. He draws his subject matter from his personal life and experiences, and his photographs tell stories about his childhood, family history, friendships and the impact of HIV/AIDS and death. Yang's documentary-style evokes the web of social and emotional connections that bind people together across times and places.
Questions and activities
Document a day in your life. Capture the people and events, the actions and interactions that occur. How would you use photography to create a story or narrative? In class, discuss photography's role in documenting the passing of time.
Base a case study on one of the works listed above. Carefully consider the photographer's approach and the way they have captured the subject in a photo-documentary style. How has this study impacted on your art practice?
Where does photo-documentary exist today? Collect examples of current images that convey realities of life. Compare these with the photographs in this section.
Discuss how the artists listed here have explored particular social or political issues. Compare their approaches. Which image do you prefer, and why?
Can stories be told more powerfully through words or photographs? Debate this in class, referencing examples from the list above.
Research Lewis Hine's photographic practice. What impact do you think these images had on audiences of the time? How do they make you feel today? Discuss the way the Australian documentary photographers above have captured the cultural and social diversity of life in this country?
Works from the collection
Sue Ford Joy 1964, Joy 1974 1964, 1974, printed 1996, 2 gelatin silver photographs