Living room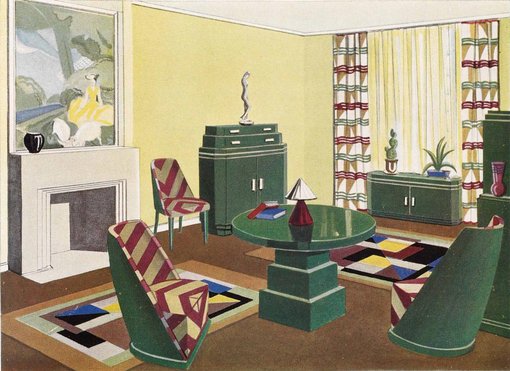 1/9
Hera Roberts' impression of her room for The Burdekin House exhibition, advertisement for Beard Watson, The Home, October 1929, courtesy HHTNSW
2/9
Realisation of the room in the Sydney moderns exhibition
3/9
Armchair
Engineered wood-fibre board, high-gloss lacquer finish based on a 1920s racing car green
Fabric custom-printed and sponsored by

SPARKK

, Sydney
Professional upholstery by Atelier Furniture, Sydney
Handcrafted by Luke James, Art Gallery of

NSW

carpenter
78 × 62 × 63 cm
4/9
Table
Engineered wood-fibre board, high-gloss lacquer finish based on a 1920s racing car green
Handcrafted by Luke James, Art Gallery of

NSW

carpenter
73 × 100 cm diameter
5/9
Skyscraper bookcase
Engineered wood-fibre board, high-gloss lacquer finish based on a 1920s racing car green
Custom-made polished perspex handles
Handcrafted by Luke James, Art Gallery of

NSW

carpenter
176.3 × 73.2 × 32.3 cm
6/9
Bureau
Engineered wood-fibre board, high-gloss lacquer finish based on a 1920s racing car green
Custom-made polished perspex handles
Handcrafted by Luke James, Art Gallery of

NSW

carpenter
132 × 804 × 60.3 cm
7/9
Sideboard
Engineered wood-fibre board, high-gloss lacquer finish based on a 1920s racing car green
Custom-made polished perspex handles
Handcrafted by Luke James, Art Gallery of

NSW

carpenter
69.3 × 104 × 40 cm
8/9
Carpet
Hand-tufted 100% New Zealand wool
Custom-designed and manufactured by Designer Rugs, Sydney
150 × 200 cm, 9 mm pile height
9/9
Curtain
Curtain ensemble digital-printed on polyester/linen, cotton lining
Fabric custom-printed and sponsored by

SPARKK

, Sydney
Manufactured and sponsored by No Chintz, Sydney
331 × 180 cm each
This display in Sydney moderns is an interpretation of the modern living room designed by Sydney graphic artist Hera Roberts for The Burdekin House exhibition in 1929. Staged in a colonial-era mansion on Sydney's Macquarie Street, the exhibition juxtaposed antiquarian interiors on the ground floor with six rooms of modern design upstairs. Created by local artist-designers – including Roy de Maistre, Thea Proctor, Adrian Feint, Frank Weitzel and Roberts, and architects Henry Pynor and Arthur Sadler – these rooms emphasised the new streamlined aesthetic and colour orders of cosmopolitan modernity.
Roberts' room design is an arresting mix of French style moderne (art deco) accents in chairs and moldings, American skyscraper-style bookcases, and a rug after the geometric compositions of German Bauhaus textiles. She also made use of cubes, cylinders and pyramids – the basic shapes that French architect Le Corbusier had promoted as the building blocks of modern design.
This reconstruction is based on black-and-white photographs of the exhibition taken by Harold Cazneaux and a colour impression of the room published in the October 1929 edition of The Home.
Click on one of the small images to browse the slideshow above, and watch video below about the reconstruction process.
Question and activities
How do the colours, patterns and furniture in this room reflect the trends in art, architecture and fashion of the late 1920s? Would you like a room like this in your home? Design and draw your own room design with furniture, curtains and a rug based on trends that are popular today. In class, compare your designs. Have you all picked up on similar trends?
Imagine visiting The Burdekin House exhibition as an art critic. Write two separate accounts of your experience for a newspaper article. Consider one in favour of modernity and one against. Illustrate your article with relevant images supporting each point of view.
Create a visual arts process diary for Hera Roberts to support her research for this living room design. Collect images and information on the influences mentioned above. Annotate the diary as if you are Roberts. What elements of the design might be the most difficult to realise? Create other designs for this room based on the same influences.