Focus works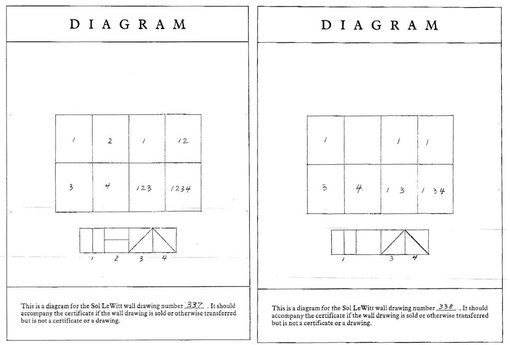 1/13
Diagram and instructions for Wall drawing #337 and Wall drawing #337
For LeWitt, it is not the completed drawing on the wall but this schematic diagram and instructions that is the artwork. As long as the idea has been documented, the work exists and need never be built.
Courtesy Sol LeWitt Studio/John Kaldor
2/13
Wall drawing #337 and Wall drawing #338 1971
3/13
Certificate of authenticity for Wall drawing #337 and Wall drawing #337
In 1968, LeWitt began making drawings directly onto the wall according to strict instructions. Initially, he executed the drawings himself but later handed them over to other authorised people to interpret his instructions and make the physical object.
Courtesy Sol LeWitt Studio/John Kaldor
4/13
Incomplete open cube 5/6 1974
5/13
Incomplete open cubes
The collection includes four examples of LeWitt's 'incomplete open cubes', all made from baked enamel on aluminium in 1974. From left to right: 4/5, 5/6, 5/8 and 7/21.
6/13
Non-geometric form (splotch) #5 1999
7/13
Non-geometric form (splotch) #1-#6 1999
The collection includes six works in this series, all made from painted fibreglass. Clockwise from front: #2, #1, #6, #5 (showing the reverse side), #3, #4.
9/13
Emily Kam Ngwarray
Anmatyerr, Central Desert Region, 1916-96
Untitled 1995
acrylic on polyester, 224 × 201 cm
Sol LeWitt estate © Emily Kam Ngwarray. Licensed by Viscopy, Sydney
Over his lifetime, LeWitt amassed more than 9000 objects in his personal art collection. Of these, more than 30 were gifts of Australian Indigenous artworks from Australian collector John Kaldor. This work by Ngwarray is one of Kaldor's first gifts to LeWitt. LeWitt requested one of Ngwarray's linear and gestural paintings from the 1990s because he was 'interested in the types with lines since this is what I am doing also'.
10/13
Wall drawing #1091: arcs, circles and bands (room) 2003
11/13
Wall drawing #1091 at home
This work was initially installed in June 2003 in the Sydney home of art collector John Kaldor, as seen in this photograph. It was drawn by trained drafters from the LeWitt estate: Lucinda Chambers, Stephen Stocks and Sachiko Cho.
12/13
Wall drawing #1091 at the Gallery
After John Kaldor donated Wall drawing #1091 to the Art Gallery of NSW in 2011, it was installed in the new contemporary galleries in a room that replicates the size and shape of the room in Kaldor's home where the work was originally installed. Sachiko Cho, a trained drafter from the LeWitt estate, coordinated the first installation in Kaldor's home then returned to Sydney to re-create it at the Gallery.
Click on one of the small images to view the slideshow
Wall drawing #337 and Wall drawing #338 1971
These two separate works are each subtitled Two part drawing. The wall is divided vertically into two parts. Each part is divided horizontally and vertically into four equal parts. 1st part: Lines in four directions, one direction in each quarter. 2nd part: Lines in four directions, superimposed progressively. From 1968, LeWitt created wall drawings based on little more than a couple of sentences describing the work's structure and appearance, along with a diagram. Apart from some early works, he did not execute the drawings himself; installers completed them using the title instructions.
View Wall drawing #337 in the collection
View Wall drawing #338 in the collection
Watch video of the installation
Incomplete open cube 5/6 1974
The cube is an essential form in LeWitt's practice, which he set out to take apart.
In order for a viewer to construct it mentally, a three-dimensional 'open cube' must have at least three edges. For it to be 'incomplete', it must be missing at least one of its 12 edges. LeWitt asked: how many variations can be created by systematically subtracting parts from an open cube? His conclusion, after a methodological process: 122.
Incomplete open cube 5/6 represents the sixth variation of a five-edged open cube. It exemplifies the use of a single idea to become, in LeWitt's words, 'a machine that makes the art'.
View in the collection
View all incomplete open cubes in the collection
Non-geometric form (splotch) #5 1999
In the 1990s, LeWitt's aesthetic expanded, becoming more dramatic, bold and even exuberant. You can see this transformation in this artwork – one of a series of non-geometric forms he produced.
Moving away from the fine geometric and linear constructions that characterised his earlier works, LeWitt's 'splotches' use random curvilinear shapes, acrylic paint and highly saturated colours. Despite these differences, this work is still a result of methodical and systematic processes. LeWitt's two-dimensional instructional drawings, which present the work from a bird's eye view, are fed through modelling software to create a three-dimensional form. Even LeWitt was surprised to see the result.
View in the collection
View all splotches in the collection
Tangled bands 2002
This is one of LeWitt's many gouaches on paper and continues his exploration of the line. 'There are three basic kinds of lines', LeWitt said, 'straight, not straight and broken'. In this work, not-straight horizontal lines intersect in a series of layers over an orange background. Unlike his earlier precise and machine-like linear works, Tangled bands is more gestural, loose and organic. Nonetheless, it still comes from LeWitt's systematic process: it is a variation on a theme and continues his strategies of sequential layering and linear patterning.
Wall drawing #1091: arcs, circles and bands (room) 2003
LeWitt used the elements of simple forms – square, cube, line and color – to produce logical systems. In this wall drawing, he uses all of them at once. Its exuberant, saturated colours distinguish it from earlier muted wall drawings in the Kaldor collection.
LeWitt spent his last years in Perugia, Italy, and the colourful artistic traditions of the region were undoubtedly an influence on his later work. Of LeWitt John Kaldor has said: 'I really admired how, when aged in his late 60s, he had a renaissance – like Matisse with his paper cut-outs – and his work became more colourful, full of life and joyous.'
View in the collection
Watch video of the installation
Pyramid 2005
This mesmerising sculpture seems to shift as you walk around. It is dense yet porous and, from some angles, translucent. Made using a system of interlocking, equally-sized geometric shapes, the work shows LeWitt's interest in repetition and seriality. Its structure echoes a type of pyramidal tower known as a ziggurat – an architectural form that LeWitt wrote an essay praising.
Questions and activities
LeWitt would write instructions for professional draughts people to follow in order to make the drawings. Experiment with writing your own set of instructions for a drawing and ask a group of your classmates to complete the task. Make it clear that no individuality or expression can be used to interpret the instructions. As the artist, how do you feel about allowing others to create the work? Compare your experience with those of the people who executed it. Do you think the artwork was successful? How close was it to your original vision?
Consider Incomplete open cube 5/6 as a single work and as part of a series. Compare it to other cube or grid works in the exhibition. How are they similar or different?
Design and create your own series of incomplete cubes using sticks, straws or wire. Photograph or draw your variations. Select three to display as a group, with particular attention to their placement.
Taking inspiration from LeWitt's non-geometric forms, plan your own 3D form based on one of your own drawings. Digitally manipulate your design and make decisions on composition and colour patterns.
Compare and contrast LeWitt's Untangled bands 2002 with the 1995 work Untitled by Indigenous Australian artist Emily Kam Ngwarray from his private collection (part of the slideshow on this page). Consider, in particular, their approach to line as a dominant element in their practices.
View Pyramid from different angles and describe what you see. How do shadows play a role in this sculpture? Plan and sketch designs for your own 3D sculpture based on repeated geometric shapes.