Madrid 1700s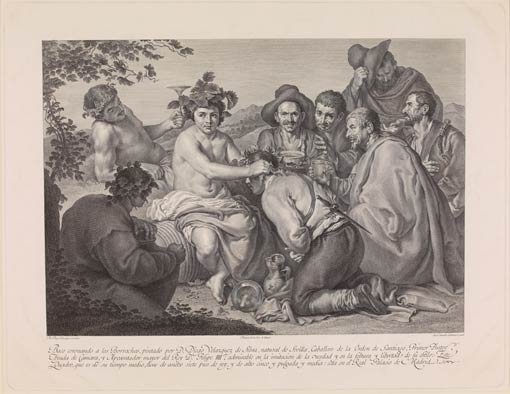 The installation of the Bourbon monarchy in Madrid at the beginning of the 18th century provided a strong impetus for French artists to move there. They played an important role in shaping artistic taste during the first half of the century and profoundly influenced their Spanish contemporaries. However, towards the middle decades of the century the French dominance decreased owing to the arrival of Italian artists such as Corrado Giaquinto in 1753, Giambattista Tiepolo and his sons Lorenzo and Domenico in 1762 and a year earlier, the German painter, Anton Raphael Mengs.
The event that had the most profound consequences for artistic practice and the professional recognition of artists working in Spain was the founding of the Academy of San Fernando in Madrid in 1744 where drawing was a fundamental aspect of teaching and printmaking became widely practised. By the late 1700s Spanish artists were professionally trained and had a thorough knowledge of the latest artistic trends.
Focus work
Manuel Salvador Carmona (1734–1820)
after Diego Velázquez (1599–1660)
The drunkards or The triumph of Bacchus 1793
etching and engraving, 47 × 61 cm
1845,1223.7
© The Trustees of the British Museum
In 1789 a society was formed to publish paintings that belonged to the royal collection to 'promote the glory of the Spanish old masters'. The project had approval from King Charles IV who allowed access to the paintings so they could be drawn and then engraved. Salvador Carmona – the best engraver working in Madrid at the time – made five prints for the society.
Questions and activities
View the original painting The triumph of Bacchus by Velázquez in the Prado collection online. Compare this painting with the etching by Carmona. Is Carmona's an accurate reproduction? Discuss the differences between the mediums.
Consider the juxtaposition of the figures in the image. What are the clues that suggest these figures come from different worlds? Which ones are mythical and which are from real life? Consider the scene the figures are placed in. Does this add to the meaning of the work?
Why was it important to 'spread the news' about the Spanish old masters throughout Europe? How do you think this benefited the Spanish royal family? Compare the role of prints then with how we communicate globally today.
British Museum links