Madrid 1600-1700: artistic capital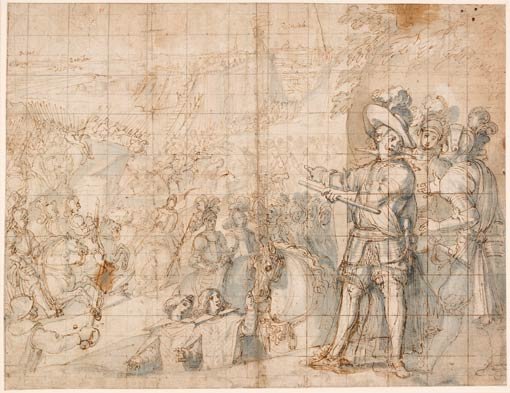 The main developments in prints and drawings in and around Madrid during the late 1500s and early 1600s are related to changes in techniques and practices in an environment receptive to innovation.
The masters who best reflect this transformation are the Italians who came to Spain as children, such as Vicente Carducho, or who belonged to the first generation born there, like Eugenio Cajés. They inherited the belief that drawing was key to creative processes. From around 1650 we may speak of the existence of a style of painting distinctive to Madrid. Artists, such as Francisco Rizi, Francisco Camilo and Francisco de Herrera the Younger, used highly varied drawing techniques, with mixed media and larger sheets of better-quality paper. Drawings were put to many uses, such as planning theatre design, triumphal entries and architectural projects.
Many artists were involved in printmaking, but this was generally a minor part of their activity. Local printmaking was restricted mainly to book illustration, and the demand for reproductive engravings was met from elsewhere in Europe.
Focus work
Vicente Carducho (c1576–1638)
The Duke of Feria at the siege of Rheinfelden 1634
pen and brown ink, blue and brown wash over black chalk, 31.8 × 41.5 cm
1850,0713.9
© The Trustees of the British Museum
One of Carducho's most ambitious drawings, this is preparatory for his painting for the Hall of Realms in the Buen Retiro, Madrid. The Siege was part of a program of 12 paintings to commemorate military victories during Philip IV's reign. In 1633, Spanish troops led by Gómez Suárez de Figueroa, third duke of Feria, shown standing to the right of the drawing, captured the Swiss city of Rheinfelden.
Questions and activities
Look closely at how this drawing has been divided into small squares. The grid suggests the drawing was a preparatory work used in transferring a composition to canvas. Experiment with drawing a grid over a small sketch then, on another piece of paper, enlarge the sketch so it is several times bigger. Compare your enlarged drawing to the original. Which do you prefer, and why?
Observe the action and suggested movement. Which figure is most important in this composition? Explain how the artist has made this the key figure.
Identify the event that is being commemorated. Why do you think ruling elites commission such narrative commemorative works? Plan a composition for a commemorative drawing that might be commissioned today.
British Museum links