Castile 1550-1600: importing graphic practices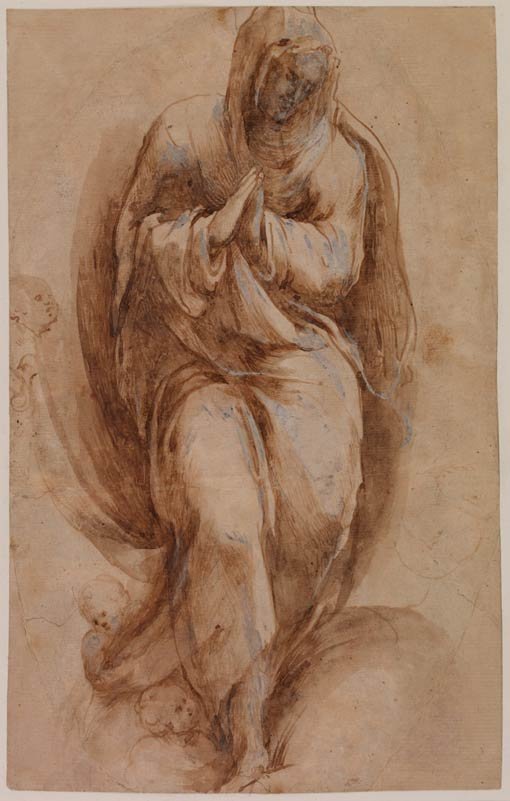 In 1561 Philip II established Madrid as his capital. Two years later he laid the foundation stone for the Escorial, which was conceived as a monastery, the burial place of the Hapsburg dynasty, a library and the repository for Philip's vast collections of art, relics and natural wonders. Completed in 1584, it required an enormous workforce including engineers, architects and artists from across Europe.
The time Philip had spent outside Spain during his youth, where he had seen the work of some of the best Flemish and Italian artists, shaped his taste for art. Renowned Italian painters such as Federico Zuccaro, Pellegrino Tibaldi and Luca Cambiaso were chosen for their ability as fresco painters and they executed most of the decoration of the Escorial. Their drawing styles and techniques and how they used drawings to prepare their compositions had a lasting impact on the Spanish artists working alongside them, as well as on future generations.
Focus work
Alonso Berruguete (c1489–1561)
Assumption of the Virgin 1555-61
brush and brown ink, brown wash and pen, heightened with white, over black chalk, 31.3 × 19.3 cm
1895,0915.866
© The Trustees of the British Museum
As a young man Berruguete spent a number of years in Italy where his exposure to art taught him how important drawing was for planning and preparing artworks. He is best known as a sculptor and this drawing was probably for a sculpture that no longer survives. The pen strokes describing the Virgin's garments resemble the effect of wood carving.
Questions and activities
This image depicts a significant event for Christians, particularly Catholics: the Virgin Mary rising to heaven and passing into eternal life. Describe the pose of the figure. How has the artist suggested that the figure is ascending? Is it difficult to draw a figure moving? What types of lines has the artist used? Try to draw a moving figure using the same approach.
Did you notice the small figures near the Virgin Mary's feet? These are called putti. A putto (the singular form) is an angel or cherub, usually represented as a winged child, symbolising love, whether divine or earthly. What do you think these figures contribute to the drawing's message? Discuss in class.
Do you think about this drawing differently knowing it was probably a preliminary work for a sculpture? What materials and tools might the artist have used to create the sculpture? Imagine all the things you need to consider when carving. How do you think the artist worked out where to carve and where to leave the material?
British Museum links