Made in Oz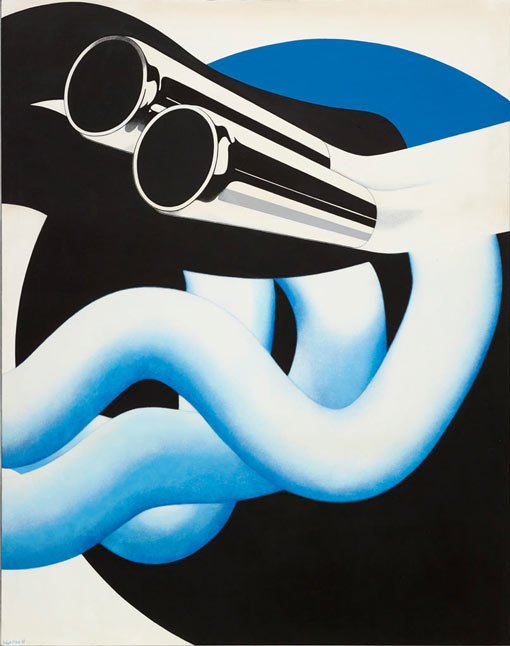 Focus work
Bridgid McLean
Australia 1946-
Untitled 1969
synthetic polymer paint on canvas
Art Gallery of NSW, Sydney. Patrick White Bequest 2013
© Bridgid McLean
Between 1968 and 1974, Bridgid McLean made numerous paintings of racing cars and racing-car drivers which merge man and machine. She was a fan of Formula One racing which had a high profile during this period, particularly with the international success of Australian driver Jack Brabham.
McLean's vivid, graphic pop style was critically well-received. James Gleeson described her first exhibition in 1973 as a 'spectacular debut', noting 'She does not admire the automobile as a symbol of our time but as an object of aesthetic beauty'. In this painting McLean meticulously emulates the flawless effect of airbrushing, but in fact she hand-painted it using a dry-brush technique.
See also
This work also appears in the children's (K-6) audio guide, available for rent, and in the free children's trail.
Issues for consideration
Pop to popism at the Art Gallery of

NSW

is the first pop exhibition to display Australian artists with their overseas counterparts. Why is this dialogue important? How does it shape the way audiences in Australia understand art practices of the 1960s and 70s?
As a fan of Formula 1, Bridgid McLean produced paintings of racing cars and drivers that were true to the pop art style. 'She does not admire the automobile as a symbol of our time but as an object of aesthetic beauty'. Do you agree with this quote by James Gleeson?
Experiment with close-up compositions and a monochrome palette to portray a common object. What is the effect of this approach? How does it help the viewer to see the object differently?
In the 1950s Australia shared the same postwar booming economic conditions as much of the western world. By the early 1960s Australian artists were using pop culture references to reflect the growing dominance of advertising and consumerism. Many were also reacting against the expressive abstraction prevalent in Sydney, or the anxious figurative art of the largely Melbourne-based Antipodean Group.
By 1964 pop art provided an alternative to both these movements, and critic and curator Daniel Thomas declared it to be 'really proliferating. It is undeniably pop art, clearly acknowledging its source material in signs, trademarks, advertisements, comic strips.'
Australian pop is energetic, daring and often erotic, as exemplified by the work of Richard Larter. During the 1960s Australia's deeply conservative society started to become more open. Along the way, some pop artists – such as Mike Brown and Martin Sharp – challenged what they saw as repressive social norms resulting in high-profile court cases.
In common with British pop art, Australian pop often used a collage aesthetic and painterly style, and included abstract elements. Inevitably pop was discussed within the context of ongoing debates about regionalism versus internationalism, and Australian pop was often an unruly hybrid of local and international styles and subjects.
1963 Counterculture magazine Oz launched in Sydney; the editors face their first obscenity charges
1965 Prime minister Robert Menzies sends first Australian combat troops to the war in Vietnam
1965 Mike Brown arrested for showing obscene works at his Paintin' a-go-go exhibition at Gallery A in Sydney
1966 End of the White Australia Policy
1966 Bob Dylan's first Australian tour
1967 Two decades of American painting exhibition tours National Gallery of Victoria and the Art Gallery of NSW
Perhaps I'm sort of a mixture between Mickey Mouse and Van Gogh. – Martin Sharp, 1970