Introduction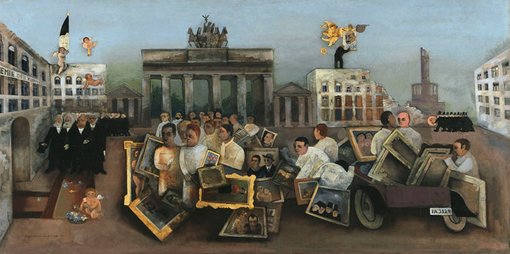 In contrast to France and England, for example, Germany in the last decade of the 19th and first decades of the 20th centuries had no fixed cultural capital. Until the end of the First World War, the emergence of avant-garde movements in Germany was characterised by decentralisation and regionalism.
– Jacqueline Strecker, exhibition curator
This exhibition explores the radically different ways in which artists responded to modern life in Germany during one of the most exciting and tumultuous periods in 20th-century history. It features works by leading artists of the era and shows the great diversity and innovation of key avant-garde movements – Expressionism, Dada, Bauhaus, Constructivism and New Objectivity – which emerged in a number of German cities. The broad range of art represented here is linked by a shared interest in creative freedom and experimentation. With their combination of satire, observation and emotion, these works offer powerful interpretations of the often traumatic transformation of modern society from an imperial system to a brave new era of democracy and technological change.
The title – The mad square – is drawn directly from Felix Nussbaum's 1931 painting, included in this exhibition, depicting Berlin's famous Pariser Platz as a crazy and fantastic place. The 'mad square' is both a place – the city, represented in so many works in the exhibition – and a state of mind that gives these works their edginess. The 'square' can also be seen as a modernist construct that saw artists moving away from figurative representations towards increasingly abstract forms.
The evolution of dense, urban cities in the turbulent period of the Weimar Republic was the subject of endless fascination for artists of the time, who depicted the metropolis with intrigue, attraction, lust and loathing. The city was seen as both the site and cause of the excesses of human behaviour. Berlin was the ultimate metropolis of the time and it was an emblem of modernity in the Weimar period – restless, stimulating and ultimately fragile.
— Maggie Finch