Fans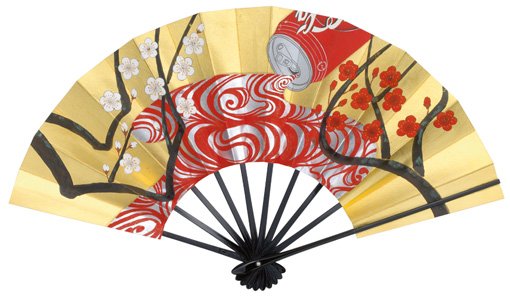 In Japan, the fan is much more than a device for cooling oneself in hot weather. It has an important place in Japanese culture and has long been a format for painting and calligraphy.
There are two forms of hand-held fans: rounded (uchiwa) and folding (ogi) with slats that open to a pie shape. Both types are used by men and women alike. The folding fan is carried as an accessory at formal and ceremonial occasions such as weddings and funerals. The earliest folding fans from the 10th century were for exclusive use in court rituals. Later, specific forms were designed for military use, kabuki and nō theatre, Japanese dance and tea ceremony.
Fan paintings were sometimes 'recycled' and mounted in albums, scrolls or screens.
Focus works
Kamisaka Sekka references this tradition in his pair of folding screens (displayed 22 June – 22 July), where decorated fans are scattered over a gold-leaf background. Each fan has a different motif, drawn from courtly novels and poetry and the tradition of 'bird-and-flower' painting. This style is known as 'picture in a picture' (gachūga).
Sekka's round fan (displayed 25 July – 26 August) is more typically associated with summer, and his use of autumnal flowers as a motif is intended to inspire feelings of coolness.
Tarō Yamamoto has updated the recurring Rinpa motif of red-and-white plum blossoms with a symbol of today's consumer culture – the cola can (displayed 22 June – 22 July).
K-6: activities
Research different ways fans have been used in Japan. Choose two contrasting uses, such as by samurai or actors, and find out more about the size, shape and patterns of these specific fans and why they are important in the particular rituals or ceremonies.
Look closely at the fan by Tarō Yamamoto and the way he combines the traditional motif of the blossom with the contemporary cola can. Did you spot the can straight away? Think of a recognisable everyday object you see or use. Design a pattern for a fan, either round or folding, and combine your chosen object with an organic, plant-like form, camouflaging the two together.
7-12 Visual Arts: issues for consideration
Consider both the functionality and aesthetic qualities of the fan in Japan. Research the distinction between 'fine' and 'applied' arts in Japanese and Western traditions. Can artworks be functional? Debate in class, using examples.
Select a significant object in your life and use it as a motif for a body of work. Consider why it is important to you. How can you express this to the audience?