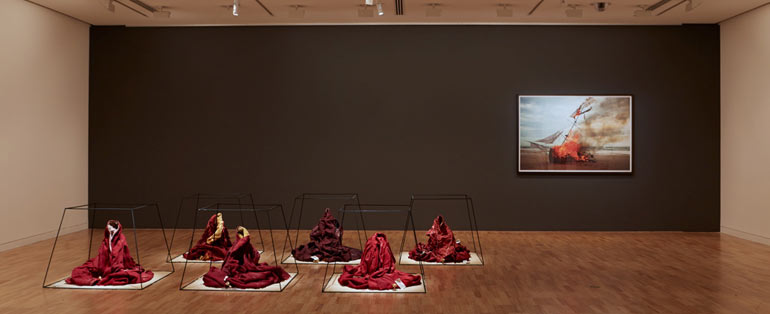 Left to right: Nortse Zen meditation 2012; Dinh Q Lê Erasure (still #1) 2011. All works from The Gene & Brian Sherman Collection, and Sherman Contemporary Art Foundation, Sydney © the artist
Introduction
From hand-embroidered Chinese characters to crumpled Tibetan monks robes, performance art and images made out of ash, the works in Go East capture the material and cultural diversity of contemporary Asian art.
Australian philanthropists Gene and Brian Sherman have been collecting art from the region for nearly 30 years. This exhibition showcases works from their expansive collection. The Shermans migrated east from Johannesburg to Sydney seeking a new life. Like so many other migrants, they looked towards the promise encapsulated by the open horizons of this island continent.
The selection of works in the exhibition exemplifies two key interests that emerge across the Sherman collection: a fascination with art built around text and language, and a commitment to issues of social justice. These themes are also clearly seen in Jitish Kallat's Public notice 2.
Issues for consideration
Select specific works in the exhibition and analyse how they are built around text and language and reflect social justice issues.
Is art political? Can art change the way we think about the world? Can it assert change? Debate these ideas, directly addressing the works in Go East.
Select works in the exhibition that resonate with you personally. How do they make you feel? What thoughts do they provoke or inspire? Create a visual and written journal of your connection with the works.
This exhibition presents a selection of works from the private art collection of Gene and Brian Sherman. Just from observing the works in the exhibition, what type of art do you think they are interested in? Discuss the role of the collector, both private and public, in the art world.