Streets of Paris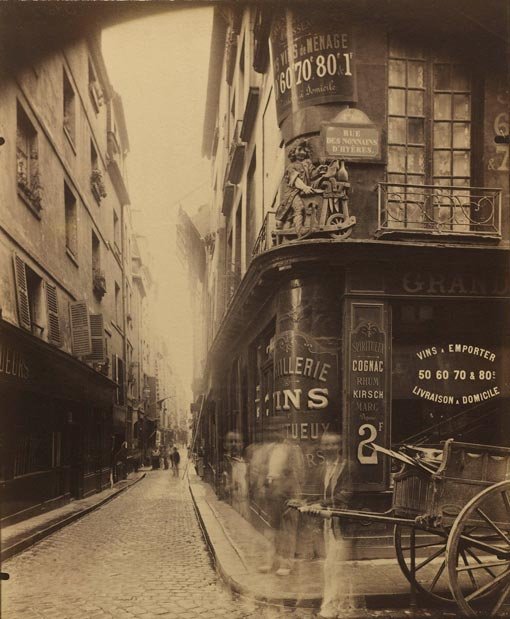 His general note is lyrical understanding of the street, trained observation of it, special feeling for patina, eye for prevailing detail, over all of which is thrown a poetry which is not 'the poetry of the street' or 'the poetry of Paris', but the projection of Atget's person.
Walker Evans, 1931*
The most known and celebrated works by Atget are his photographs of the street, which comprise the largest group of images in this exhibition. Atget's roads, alleys, façades, squares, courtyards and adjoining houses and buildings show a Paris quite remote from the grand gestures (Art Nouveau buildings, large department stores, Folies Bergère and other such spectacles) of the Belle Époque. Few of Atget's photographs of the street include people so that the city seems depopulated, except for the wraiths and blurs left as traces on his plates from the long exposures.
Atget's photography became a tool of preservation, an historical testimony and relic of that which disappeared. The way he numbered his negatives chronologically enables us to understand how he proceeded from general to detailed views. Thus in his photographs of Hôtel de la Monnaie, which appear in his series on streets, ornaments and interiors, we can imagine him strolling from façade to stairway to sculpted motif.
*'The reappearance of photography', Hound and Horn, Oct–Dec 1931, p 126
Focus work
Eugène Atget
Shop sign au Rémouleur on the corner of rue des Nonnains-d'Hyères and rue de l'Hôtel-de-Ville, 4th arrondissement July 1899
K-6 activities
Atget was particularly interested in documenting shop signs, façades and details. Look at signs, railings, windows and façades in your neighbourhood and document your findings. Compare your images in class and discuss how old you think some of the things you have found are. Create a collaborative artwork based on your images.
Atget's photography is described as a 'tool of preservation'. What do you think that means? What do his photographs tell us about the way people lived in the past? Photograph your class and write information about what you do in school every day. Use this to create a 'time capsule' that will tell people in the future what your school was like in 2012.
7-12 issues for consideration
Look closely at this image and describe what you see. Other than the ghostly figures, what is the audience drawn towards? Discuss whether these details would be noticed if the street was full of people.
Atget titled his images using their street addresses. Choose four works in the exhibition and research what these places are like today. Develop a class presentation, including images, and highlight the similarities and differences.