Small trades, shops and shop displays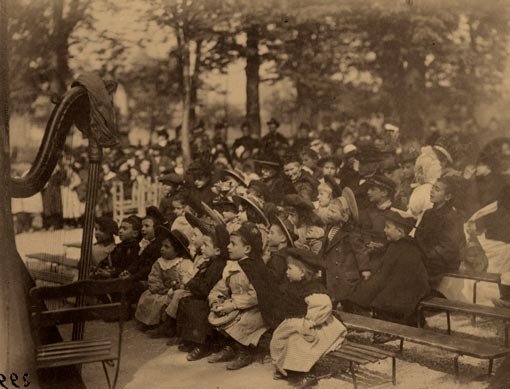 It is generally believed that Atget photographed a disappearing Paris, but it would be more accurate to say that he photographed the parts of the city not affected by the demolition and modernisation that the civic planner Baron Haussmann (1809–91) embarked upon in the 1850s. Huge areas of Paris were demolished, both then and in subsequent decades, to make way for the grand boulevards, green spaces, railway stations, the metro and so on. Atget would notate his photographs and albums if he knew a place was to be demolished and this information is reflected in the labels in this exhibition and the captions for the images in this education kit.
After lengthy stays in the city from 1878, Atget moved permanently to Paris in 1890 where he experienced the tail end of the demolitions. However, the ongoing pressure of the process of modernisation and 'cleansing' must have seemed relentless. Certainly the street vendors were disappearing and people as a central subject also disappeared from Atget's photographs from 1902, with the exception of the rag pickers on the 'zone' (1910–14) and prostitutes (early 1920s). The local and intimate aspects of the city we see in Atget's photographs – whether shop signs, building façades or staircases – often still exist in Paris today.
Focus work
Eugène Atget
Children at the puppet show, jardin du Luxembourg, 6th arrondissement 1899
K-6 activities
Look at this group of children watching a puppet show. Notice how they are dressed. What would this scene look like today? Research what games and toys children played with in the 19th century and what forms of entertainment were available to them. Are any of them the same as what you do today? Create a collage of images that represent variations and similarities.
Hold a theme or mufti day at your school inspired by Old Paris. Find inspiration for your outfits, activities, music, entertainment and food from this photograph and from your research.
7-12 issues for consideration
Respond to your local area and develop a photo essay that represents its history. Observe how historical and contemporary elements unite to form the character of a place.
What makes this image intriguing? Why do you think Atget focused on the audience rather than the puppet show in this image? Jacques Henri Lartigue (1894-1986), who would himself become a renowned photographer, is a boy in the audience (standing in the third row, with a round hat pushed back on his head). How does this knowledge add another layer of meaning to the work?