Introduction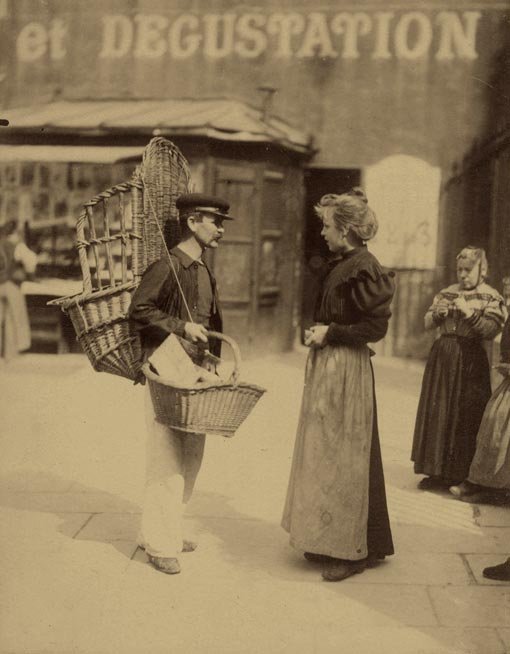 Between 1898 and 1927 Eugène Atget (1857–1927) explored the old quarters of Paris photographing street peddlers (small trades), shop fronts, the courtyards of 17th- and 18th- century townhouses, interiors, gardens and statues, as well as docks and bridges along the River Seine. He relentlessly tracked down the vestiges of 'Old Paris'.
Atget made about 30,000 prints in his lifetime. He sold his photographs to artists, artisans and history enthusiasts, and to Paris libraries, archives and museums. His images were used as models or documents. In this exhibition, 181 prints belong to the Musée Carnavalet – Histoire de Paris (the museum of the history of Paris – one of Atget's primary clients), and are shown alongside albums he put together, a glass negative and other adjunct material.
Man Ray (1890–1976), the famous American artist who settled in Paris's Montparnasse neighborhood in 1921, purchased Atget's photographs. He introduced them to the Parisian avant-garde who were inspired by the mysterious and poetic visions of the city. A selection of Man Ray's collection of Atget photographs – on loan from George Eastman House, International Museum of Photography and Film in Rochester, New York – is included in this exhibition. Two Atget photographs from the collection of the Art Gallery of NSW are also featured.
This is the first in-depth exhibition of Atget's work in Australia and presents his images in the series he constructed, focusing on small trades, Parisian 'types' and shops, the streets of Paris, ornaments, interiors, vehicles, gardens, the River Seine, and outside the city centre (the 'zone').
Focus work
Eugène Atget
Street vendor, place Saint-Médard, 5th arrondissement September 1898
exhibited in the section 'Small trades, shops and shop displays'
K-6 activities
Look closely at the two main figures in this scene. What do you think the man is selling? Does the woman look interested in his goods? Will he make a sale today? Invent a story for the scene and write the dialogue. Act out your scene in class.
List all the ways we buy food, products and services today. Compare today's methods with those depicted in this photograph. Can you still buy goods from street vendors today? What are the advantages and disadvantages of both current and old ways of shopping? Chart your results.
7-12 issues for consideration
Research Paris between 1898 and 1927. Consider the historical, cultural and social issues, in particular Baron Haussmann's modernisation of the city. Imagine living in Paris at this time. Create a visual and written journal entry of a day in your life based on your research.
Atget self-consciously preserved that which threatened to disappear. Choose a social issue in your area to represent visually. How has this issue impacted on your life and those around you? Write extended labels to accompany your images. Exhibit your work at school and invite students and teachers to attend. Do you think your images have made a difference? Have the labels added more meaning to your work?